Main purpose
Insulating buildings sustainably with safe, natural and breathable materials. Protecting from cold in winter and overheating in summer.
Use it on
Roofs, walls, ceilings and floors between rafters, joists and studs. Can also be used in lofts between and over ceiling joists.
Overview
Thermo Hemp is a natural insulation manufactured from fast-growing hemp in a very quick and environmentally sensitive process with no chemicals or pesticides. It is carbon negative and an ideal insulation for both new buildings and renovations (retrofit). It is entirely safe to handle with no safety precautions required, making it a simple and effective D.I.Y product, particularly as loft insulation or in timber frame constructions.
Where to use it
Thermo-Hemp can be installed between rafters and joists to insulate roofs, lofts, walls and floors. It is suitable for pitched roofs of any angle, flat roofs and internal or external timber frame stud walls. It is also a perfect solution for insulating suspended timber floors.
What it does
Thermo Natur Thermo Hemp insulation has extremely high thermal resistance and can absorb and release moisture without affecting thermal performance. Hemp fibres are capillary active, hygroscopic and highly absorbent which help regulate and manage humidity to prevent any damaging moisture from being trapped in the insulated space. Thermo Hemp is naturally mould resistant and contributes toward a healthy living environment for the building occupants.
Thermo Hemp's density of 38kg/m³ means it is flexible and light, so it remains stable anywhere it is installed. This ensures it won't slump, fall out or compact when installed between vertical timber frame studs or in ceilings. Holding its shape, without compacting, ensures the thermal performance will not reduce over time. Thermo Hemp will also offer good sound proofing properties when used in these areas.
Thermo Hemp is a fantastic loft and roof insulation. It provides some of the best summer overheating protection possible due to its high heat storage capacity. When compared to mineral wool insulation, you would need less than half as much Hemp (220mm versus 450mm) to provide the same overheating protection benefit.
Why we love it
The Thermo Hemp manufacturing process uses 100% renewable energy and is zero carbon. As Hemp plants absorb 2 tons of CO2 per hectare when they grow, therefore Thermo-hemp is a carbon negative product and a perfect low impact building material for environmentally conscious designers and homeowners.
Thermo Hemp is a non-hazardous natural material that is perfect for self-builders and DIY enthusiasts.
The flexibility and spring of Thermo Hemp allows it to fill any space and stay in-place whatever the angle of wall, ceiling or roof.
Thermo-Hemp has been independently tested, verified and approved with European Technical Approval (ETA-05/0037). It also has natureplus® certification proving its inclusion of the highest natural and safe standards.
Features
High performance natural thermal insulation.
Plant based, contains no harmful substances
Carbon negative insulation
Breathable
Mould resistant
All year-round cold and heat protection
Insect and rodent resistant
Fire resistant
Extremely durable
Benefits
Reduces home energy consumption to reduce heating bills.
Made from the hemp plant; a natural and renewable resource with no health hazards.
Carbon negative insulation produced using 100% renewable electricity. All helps to reduce the carbon footprint of a build.
No worry of skin or respiratory irritation during installation.
Allows moisture to evaporate, reducing risk of condensation and mould and improves indoor air quality.
Keeps you comfortable all year round by preventing summer overheating and keeping you warm in winter.
Lasts for decades due to the stable and tear resistant hemp fibres.
The raw material does not promote mould growth.
Hemp contains no nutrients/proteins to support insect life.
Contains fire-retardant (sodium bicarbonate, baking soda) for excellent fire. protection and complies with building regulations.
Questions
There are currently no questions and answers published for this product
Technical Details
Key Technical Data
Installation Guide
How to Install
The matt of insulation can be easily cut with a Hemp knife or similar large serrated knife.
Simply measure the space between the rafters or studs and cut a piece 2cm larger than you need. The insulation should then be squeezed into place.
375mm wide Thermo Hemp can be compressed by up to 10mm without compromising the effectiveness of the insulation.
The friction between the insulation and the studs/rafters plus the spring of the hemp fibres mean the installation will stay in place without slumping or falling out.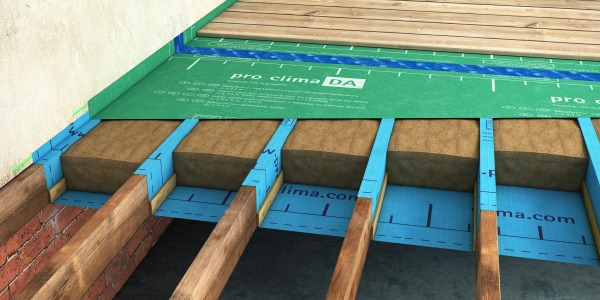 Hints & Tips
Thermo Hemp contains natural materials and is 100% safe to use without gloves, dust mask or protective safety equipment. A loft or attic is a dusty place, so we would still recommend wearing a dust mask when working; especially in locations where harmful fibreglass or mineral wool insulation has been previously installed.