Retrofit to the Fore at Energy Show 2022
Thursday 7th April 2022
It was a busy few days in Dublin at the SEAI Energy Show 2022 with over 3000 visitors attending over two days. The event was jam-packed with live technology demonstrations, expert talks, seminars, and face-to-face networking. What was most encouraging though, were the clear signs that the drive towards sustainable building is gathering momentum.
Over the course of Energy Show 2022, the Irish Government approved a new landmark Circular Economy Bill that will see the introduction of 'world-leading moves to reduce waste and influence behaviour'. This is a significant development and is long overdue. The Bill marks Ireland's shift from a linear model of waste disposal to a more sustainable model, aiming to minimise waste through the re-use of resources to tackle our greenhouse gas emissions. The use of more natural materials with lower embodied carbon will be vital in the challenge of creating circularity in the building sector, and this is something which was quite apparent at the Energy Show judging by the level of enthusiasm and eagerness shown in our insulation solutions.
Ecological's Eco Passive Wall proved popular with attendees, which features the Pro Clima suite of airtight & windtight solutions, and Finsa Superpan VapourStop airtight structural board.
This unique system developed by Ecological Building Systems, which has been used on multiple nZEB and Passive House builds throughout Ireland and the U.K, is the perfect example of combining low energy building with more sustainable materials.
With airtightness taking centre focus it is critical to ensure this is coupled with a robust ventilation strategy. Our award winning Inventer range of decentralised single room heat recovery units garnered great interest from delegates seeking a convenient and effective ventilation solution for retrofit and new build with market leading acoustic performance and energy efficiency.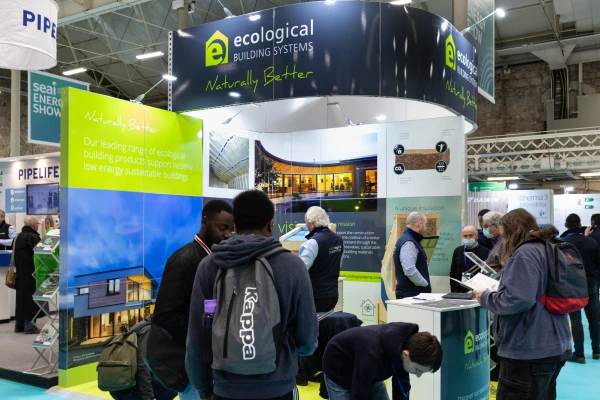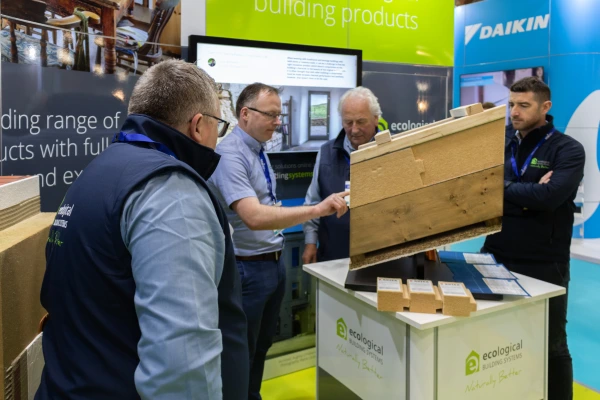 Retrofit was to the fore on our stand with our range of Gutex woodfibre, Diasen cork thermal plaster, and Hempflax Thermo Hemp Combi Jute insulation. This theme was continued into the Energy Theatre with a number of speakers providing insightful presentations, including an information session targeted at contractors outlining the new grants roll-out by the SEAI. Minister Eamonn Ryan also delivered a speech and visited trade stands at the show. His enthusiasm was reflected in a tweet which stated that:
"The transition is well underway and we're going to throw the kitchen sink at making it happen. A just and substantial transition for the good of our society and our planet".
It is encouraging to see this reflected in the government's substantial commitments to fund deep retrofit with SEAI grant funding to optimise building fabric, energy efficiency, and utilise more renewable energy.
In tandem with this, we were delighted to see and congratulate the team at Waterford & Wexford ETB (WWETB) who scooped both the 'Overall Product of the Show' and 'Best Service Provider' awards. This reflects the SEAI's recognition of the critical need to upskill the construction industry to meet our national ambitious retrofit targets of getting 500,000 houses to a B2 BER standard by 2030. Our technical team are delighted to have provided input and support to WWETB and all the national ETB training centres in the past and look forward to the years to come.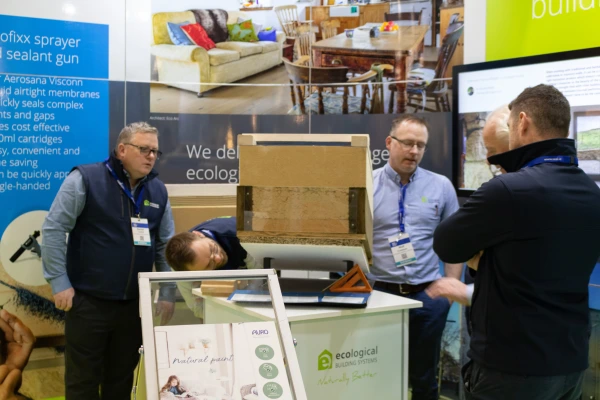 We were also pleased to see how popular our Auro range of natural paints proved to delegates. Thankfully, there is now increased awareness regarding the environmental impact of paints on our ecosystems, and according to a recent research report by Swiss-based Environmental Action (EA), 1.9 million tonnes of paint ends up in the oceans and waterways every year, which represents 58% of all the microplastics in the water and outweighs other sources of microplastics, including textile fibres and tyre dust. As we move to a circular economy, using more natural paints and finishes such as Auro will make this transition more feasible.
Ecological Building Systems would like to thank all of our customers and visitors who made the trip to the RDS in Dublin and dropped by to visit us at Stand D4. We are already looking forward to next year's show and once again meeting colleagues and seeing what new developments are in store in 2023. There are exciting times ahead, but we all need to work together to get there. Right now, the biggest challenge is raising awareness that the decisions made today in terms of material selection will affect others down the road.
For more information on how Ecological Building Systems can assist you in creating a low-energy, sustainably-focused build, get in touch at info@ecologicalbuildingsystems.com
Blog author
Niall Crosson
Technical Director (BTech, MEngSc, MIEI, CEPHC)
Niall is the Technical Director for Ecological Building Systems and was also the company's first employee. Niall holds a first class honours degree as a Bachelor of Technology and a Masters in Eng.Sc. Niall is a certified Passivhaus Consultant and has provided technical guidance on many award winning low energy projects in Ireland and the UK, and has authored or co-authored several chapters in both the Passivhaus Handbook and the Passivhaus Designers Manual. Niall is also on the board of directors of the Irish Green Building Council and provides guidance on several national standards committees. Along with this, Niall has contributed to several construction publications including The Journal of the RIAI.