Simplifying Airtightness and Weathertightness in Modular and Offsite Construction
Tuesday 31st May 2022
Keeping buildings dry during the construction phase is often a significant challenge, especially in exposed and damp climates. In response to the new challenges brought by modular and offsite construction, Pro Clima have developed Solitex Adhero, a windtight monolithic breather membrane, to provide rapid protection against the elements.
Where is Solitex Adhero used?
Many modern methods of construction include prefabricated elements. These often need exceptional weather protection while in transport, or when being erected on site before the final external cladding is applied. Solitex Adhero from Pro Clima is ideal for use in these situations. Solitex Adhero is a windtight monolithic breather membrane and is fitted externally behind the cladding. It can be used on commercial or residential buildings, pitched roofs, CLT construction, or on any application which requires a weather resistant, vapour permeable breathable membrane. Solitex Adhero offers outstanding temporary protection for walls and pitched roofs and can be left exposed for up to 5 months on walls and 4 months on pitched roofs before the wall or roof cladding is applied. The adhesive bonds extremely well on almost all building materials such as OSB, Plywood, CLT, and masonry or plastered substrates, without the need for a primer. It can be installed at cold temperatures and can be applied horizontally or vertically.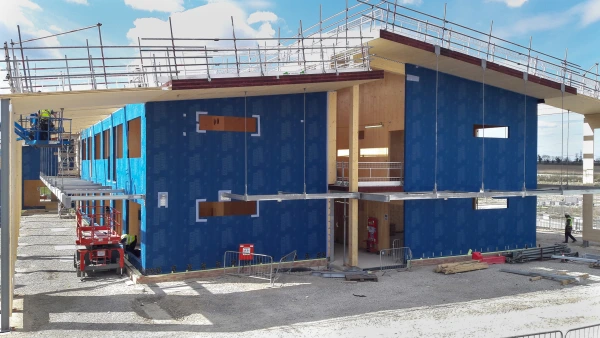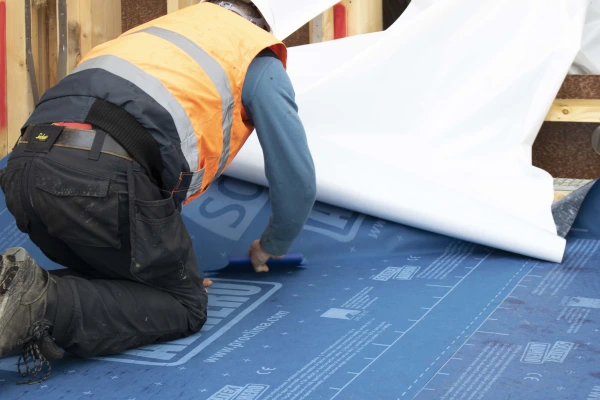 With its 25cm top-release strip, the membrane can be applied in a convenient two-step process:
1. Remove the top release strip to hang the membrane in position, while leaving the larger 125cm release in place
2. Remove the second release strip, ensuring the lower section can be pressurized easily without creases
Solitex Adhero may also be used to provide temporary protection for intermediate ceilings during construction on multi-storey timber element buildings, as well as to achieve airtightness on the interior and exterior of timber-based constructions such as CLT. Solitex Adhero may also be applied as a nail-sealing pre-underlay on roof decking underneath slate coverings, and on suitable wood-based panels too (e.g. cement bonded particleboard in accordance with IS EN 634-1).
What makes Solitex Adhero unique?
Unlike conventional wall lining breather membranes, Solitex Adhero has no pores and is exceptionally water resistant, airtight and vapour permeable. The membrane relies on active vapour diffusion through a unique closed cell central film within the membrane. Similar to other Solitex membranes in the Pro Clima family, Adhero utilises a monolithic TEEE vapour-open central membrane which has been pioneered by Pro Clima for over two decades in Ireland and the U.K. This TEEE membrane actively transports the vapour outward by passing it along a molecular chain within. It is incredibly water resistant, with a tested water column exceeding 10m in height. This technology ensures windtightness is optimised combined with higher levels of protection against wind driven rain, which we are all too familiar within our exposed damp climates.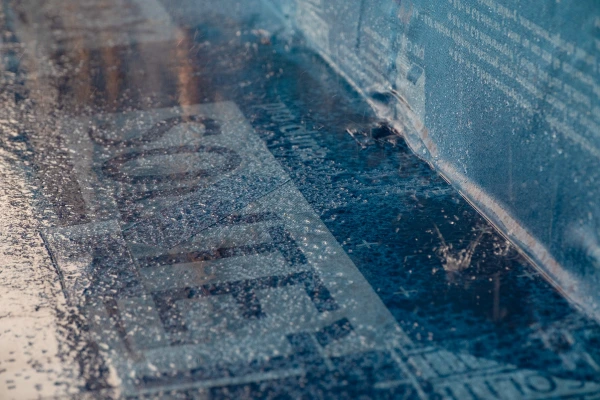 The combination of Pro Clima's trusted monolithic technology with a high-performing acrylic adhesive delivers a vapour permeable, weathertight membrane which is easy to apply. This optimises efficiency on site and within factory settings, streamlining airtightness and weathertightness in modular and offsite construction.
Blog author
Niall Crosson
Technical Director (BTech, MEngSc, MIEI, CEPHC)
Niall is the Technical Director for Ecological Building Systems and was also the company's first employee. Niall holds a first class honours degree as a Bachelor of Technology and a Masters in Eng.Sc. Niall is a certified Passivhaus Consultant and has provided technical guidance on many award winning low energy projects in Ireland and the UK, and has authored or co-authored several chapters in both the Passivhaus Handbook and the Passivhaus Designers Manual. Niall is also on the board of directors of the Irish Green Building Council and provides guidance on several national standards committees. Along with this, Niall has contributed to several construction publications including The Journal of the RIAI.