Trees Brought to Life with Auro Natural Paint
Thursday 3rd March 2022
Auro paint, made from natural raw materials and plant extracts, was recently used on this wonderful series of tree murals for Derryounce Lakes & Trails.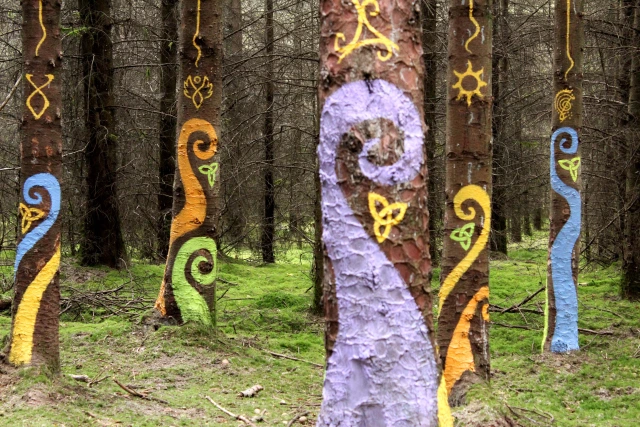 Ireland is full of hidden gems: forest walkways, mountain trails, beautiful scenery, lakes and rivers – all on our doorstep. Now we have a new gem to add to the list; Derryounce Lakes & Trails is located in Portarlington, Co. Laois and is a recent redevelopment of the 355-acre forest and bogland that has been leased from the peat and forestry bodies Bord na Móna and Coillte. The site is remarkable for its walkways, paths, and forested trails, but it also has something else to offer; something different and unique – Colourful trees!
Talented local artists Beta França and Brian Flynn were commissioned to design a series of 'tree murals' which could bring the park to life through colour and design. The artists were conscious of not harming the trees or the environment around them so they decided to use an organic paint made from natural materials - as natural as the environment which they were going into – and chose Auro natural paint.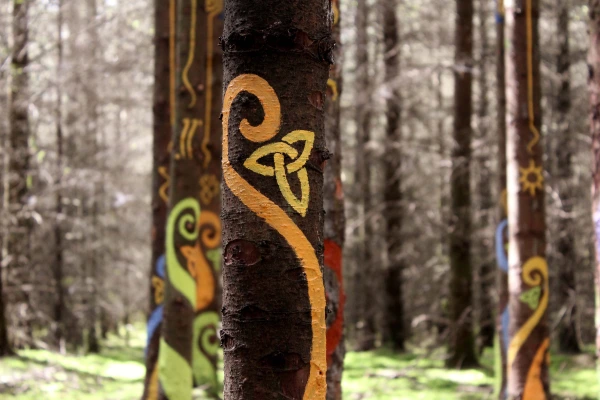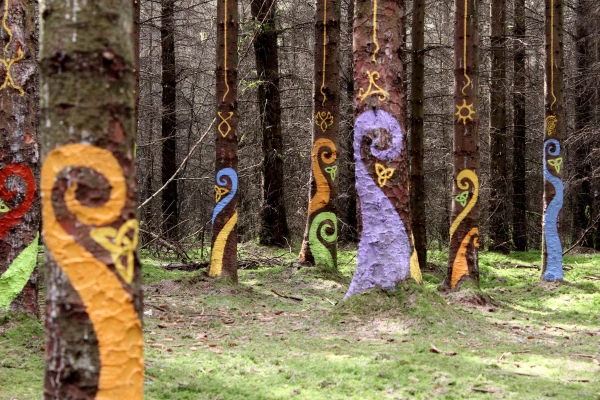 The coloured pigments used in the making of Auro are natural earth pigments ranging from Yellow Ochre to Ultramarine Blue to Lamp Black. As there are no plastics or harmful chemicals in Auro either, this means that the paint is completely breathable and will not interfere with the respiration of the trees. The paint was ready mixed by Ecological Building Systems using a state-of-the-art tinting machine, and as always was delivered to site in sustainable packaging.
Auro generously sponsored these unique murals, which all take individual names such as 'Entwine', 'Harmony' and 'The Fairy Garden' and span the breadth of the park. Auro is the market leader in eco-friendly paints and has been at the forefront of paint innovation since 1983. Their 'Colours for Life' range, supplied by Ecological Building Systems, is the largest selection of natural paint colour in Ireland. Natural paints for all around the home (and trees!).
Derryounce Lakes & Trails is certainly worth a visit, and with so much to see, keep your eyes open for these wonderful pieces of art. A beautiful job done by all involved and another gem to add to our island's map.
Blog author
Paul Mcgovern
Technical Sales
Paul is responsible for the Auro natural paints department and has over a decade of expertise in the industry. Paul graduated from Athlone I.T with a BA in Management and previously worked in the paint sector for over 7 years in both Sales and Management, he has brought a great wealth of knowledge and experience with him when he arrived at Ecological in 2017. As the paint sector is rapidly evolving, Paul is at the forefront with regard to training, insights and awareness of sustainable products.