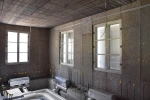 Cewood Wood Wool Board
Main purpose
A breathable thermal and acoustic insulation panel that can be directly plastered on to.
Use it on
Internal or external walls and ceilings. When 25mm thick Cewood is used externally, a supporting board (e.g. OSB) is required directly behind. If no supporting board is used, a thicker Cewood board will be needed. For 400mm centres, a 35mm thick board must be used; for 600mm centres, a 50mm thick board must be used.
Overview
Cewood Wood Wool Construction boards are thermal and acoustic insulation boards made from 3.00mm wide wood wool strands bound together with cement. The wiry 'bird's nest' structure has a huge surface area which provides an excellent key for direct plastering. As a breathable (vapour open) carrier board, it is ideal for plastering with lime-based plasters and provides an alternative to gypsum plasterboard for internal finishes on any type of wall. Cewood wood wool boards are B-S1,d0 Euro fire class rated.
Where to use it
Cewood wood wool boards can be used internally or externally on any wall or ceiling in new or existing buildings.
When used externally, a 25mm thick Cewood board must always have a supporting board such as OSB directly underneath. To fix directly to studs, without a supporting board, a thicker Cewood panel will be needed. 400mm centres require a 35mm Cewood board thickness. At 600mm centres a 50mm thick Cewood board is required.
What it does
Wood Wool boards are breathable insulated construction panels that provide a robust and stable internal lining which can be plastered over with any lime plaster. When left un-plastered, they can be painted with a breathable natural paint and used as acoustic insulation. The large surface area and irregular "birds nest" texture of the wood strands provide excellent acoustic dampening of airborne noise within rooms and reduces sound transmission within the building.
Why we love it
Cewood boards are breathable and offer great flexibility of uses. They provide the ideal surface for plastering allowing for a smooth plaster finish with additional thermal and acoustic insulation. They allow breathable lime plasters to be used for final finishing instead of gypsum plasterboard in new build and retrofit projects. The breathability, compatibility with lime plaster and robustness makes Cewood wood wool boards an excellent choice for historic buildings with solid masonry construction.
At 25mm thick and made from strongly bonded timber strands, walls finished with Cewood wood wool boards can have lightweight pictures, mirrors and shelving hung on them without the use of special plasterboard fixings. Be sure to use wood screws that are short enough to prevent puncturing the airtightness layer behind.
Features
Provides thermal and acoustic insulation
Moisture vapour diffusion open
Can be used internally or externally
Strong and stable carrier board for plaster or render
Ideal for newbuild and refurbishments / retrofit
Benefits
Fibrous "birds nest" structure provides an excellent key for lime plaster or render
In historic buildings or new build construction allows moisture vapour to diffuse through the building envelope in both directions.
Highly stable; will not shrink or compress over time so is ideal for older buildings with changing/variable humidity levels.
Improves U-value and thermal mass of the building element, which reduces heat loss in winter and reduces overheating in summer
The fibrous structure and density provides better acoustic noise reduction, improved acoustics and higher comfort levels for occupants.
Questions
There are currently no questions and answers published for this product
Technical Details
Key Technical Data
Cewood Wood Wool boards can be directly fixed to timber studs, rafters or battened walls using galvanised 45mm x 4.5mm wood screws or with galvanised nails with washer (diameter ≥ 20mm). Twelve fixings per board are required for the 2400 x 600mm boards and 6 fixings for the 1200mm x 600mm board.
The boards should be installed perpendicular to timber studs/rafters parallel to horizontal battens. The smaller boards should be staggered and installed in a brick style pattern on large areas.
Once fixed, Cewood Wood Wool boards can be directly plastered onto. No primer is required.