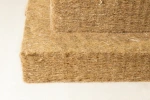 Hemp Flax Thermo Hemp Combi Jute
Main Purpose
To provide sustainable, safe, natural, and breathable thermal and acoustic insulation that protects buildings and occupants from cold in the winter and overheating in the summer.
Use it on
Timber frame roofs, walls and suspended floors and as loft insulation installed between ceiling joists in a loft space.
Overview
Thermo Hemp Combi Jute is a natural flexible insulation material made from a mixture of upcycled natural jute fibres and carbon negative hemp.
Manufactured using discarded cocoa and coffee bean bags, processed using 100% renewable energy, and hemp which is renowned for its ecological credentials, Thermo Hemp Combi Jute uses the best properties of each material to create a unique high-performance insulation product.
Ideal for both new builds and renovations (retrofit), Thermo Hemp Combi Jute natural flexible insulation is totally safe to handle and requires no special equipment or extra precautions to use.
Where to use it
Thermo Hemp Combi Jute can be installed between rafters, joists, and within cavities in roofs, walls, ceilings, and lofts in almost any type of building. It is especially suitable for a new build timber frame, or as part of a refurbishment or retrofit project. It is also a perfect solution for insulating suspended timber floors.
What it does
Thermo Hemp Combi Jute works to ensure your building is warmer and more cost effective whilst conserving energy.
Its excellent ability to prevent summer overheating is thanks to its high heat storage capacity, due to the natural properties of both hemp and jute fibres. This is paired with Thermo Hemp Combi Jute's effective thermal performance due to a low thermal conductivity.
Thermo Hemp Combi Jute also provides valuable soundproofing, due to its Class A sound absorption rating according to EN ISO 11654 - the highest rating in this metric that a material can achieve.
As a natural, non-hazardous material, Thermo Hemp Combi Jute is the perfect DIY and self-builder insulation and is one of the most cost-effective natural, flexible insulations available.
How it Works
Thermo Hemp Combi Jute uses both Hemp and Jute's natural hygroscopic breathable qualities, meaning that it assists in regulating humidity within the building envelope to prevent moisture becoming trapped and mould formation. The combination of Hemp and Jute fibres and their hydroscopic properties allow them to readily absorb and release a high percentage of water vapour compared to synthetic fibre insulation without adversely affecting thermal performance.
Being entirely mould resistant, having achieved the highest score of "0" in EN ISO 846:1997 tests, Thermo Hemp Combi Jute contributes to a durable, healthy, safe, and comfortable environment for your building and its occupants.
With a density of 37kg/m3, Thermo Hemp Combi Jute is light and flexible, meaning it's easy to work with and it remains stable anywhere it is installed. This ensures it won't slump, fall out or compact when installed between vertical timber frame studs or in ceilings. Holding its shape, without compacting, ensures the thermal performance will not reduce over time.
Why we love it
Using a combination of two excellent natural materials, Thermo Hemp Combi Jute represents an ecological success story.
The jute used to make Thermo Hemp Combi Jute is upcycled from cocoa and coffee bean bags. Hemp Flax have been converting the woven fabric of these bags into fibres which are then formed into a stable and tear resistant jute matt (also known as a batt). This state-of-the-art process uses 100% renewable solar electricity and is zero carbon.
Hemp is a much-celebrated natural material, thanks to its properties as a quick growing, low maintenance plant which absorbs 2 tons of CO2 per hectare, making it a carbon negative resource.
With Hemp Flax's manufacturing processes that use 100% renewable energy, too, Thermo Hemp Combi Jute is a perfect low impact, natural, flexible building material for environmentally conscious designers and homeowners.
Features
Building authority approved insulation
Made from upcycled jute bags and carbon negative hemp fibres
Provides high-performance thermal insulation (very low thermal conductivity)
Excellent heat protection in summer due to high heat storage capacity
Very good soundproofing properties
Humidity regulating due to high moisture absorption capacity
Contains no nutrients for rodents and insects
Very high resistance to mould growth
Fire resistant



Benefits
Reduces energy consumption and therefore heating bills
Robust and durable; designed to last the lifetime of the building, and totally recyclable
Dampens sound from outside to create calmer, quieter, more private space
Natural insulation and totally safe, contributing to a healthy climate within the building
Easy to install, with no need for specialist equipment or PPE
Allows moisture to evaporate, reducing the risk of condensation and improving indoor air quality.
Questions
There are currently no questions and answers published for this product
Technical Details
Key Technical Data
How to Install
The matt of Thermo Hemp Combi Jute can be very easily cut with a Bahco Profcut Insulation Saw. The material must be protected from rain and moisture during storage, transport, and installation.
For an installation free from gaps, make sure you cut the insulation 10-20mm larger on each side. The natural flexible insulation should then be squeezed into place.
When installed slightly oversized, the insulation is compressed slightly and pushes against the sides of the timbers, meaning it will stay in place without slumping or falling out.
After installation, the insulation must be immediately covered with a suitable vapour control layer such as Intello Plus.
Make sure the Thermo Hemp Combi Jute is protected from rain and moisture during transportation, storage and installation.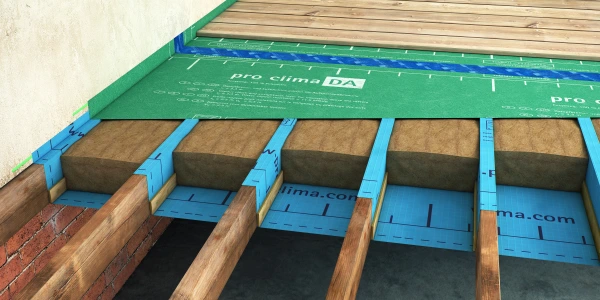 https://www.youtube.com/embed/xCymZANgxgg?rel=0