Virtual Breathable Internal Wall Insulation Systems for Single Leaf Masonry Walls
In this CPD we will discuss the impact of moisture on solid stone/brick walls, considering the causes of moisture ingress and how walls function before and after applying insulation. We will cover the necessity of moisture management in solid masonry walls and the importance of using diffusion open materials. We will use case studies to share best practice examples of various solid masonry wall insulation systems using breathable materials to ensure building structural safety and longevity.
Ideal for
Architects
Specifiers
Building Surveyors
Contractors
Consultants (Energy, Passivhaus)
Historic/Listed Building Consultants
Damp Specialists
Students
Anyone interested in sustainable, energy efficient building
Key learning
Reduce heat loss without condensation risk
Eliminate thermal bridges at key junctions
The impact of moisture on solid walls
Primary drivers of moisture ingress
Moisture control in solid masonry walls
Importance of diffusion open materials
Options for internal insulation of solid walls
Using compatible paints and finishes
Description
Who it is for
This training is aimed at professionals from all disciplines of the building design and construction industry who are interested in the management of moisture in buildings with masonry walls and are looking for robust breathable internal wall insulation solutions.
What you learn
Modern cavity wall buildings are usually insulated within the cavity, however, in the UK 28% (approximately 7 million) houses have solid wall construction where cavity insulation isn't a solution for thermal upgrade.
External wall insulation could be an option, however it is not always preferable or permissible, either because it inevitable changes the external appearance of the building or because of regulatory restrictions (e.g. listed buildings).
Internal wall insulation is more difficult and sometimes more expensive to apply, however, the thermal comfort, potential energy savings and moisture regulation make it worthwhile. It can incorporate risks and may create more problems than benefits if not well-thought-out and designed appropriately.
In this CPD we will discuss all the parameters to be considered when specifying internal wall insulation, including:
The importance of taking into account the local climate and the primary drivers of moisture ingress when considering thermal solutions for solid masonry walls.
The impact on internal air quality and the need for ventilation.
Thermal imaging comparison and consequences of uninsulated and insulated internal walls.
The importance of vapour permeable materials to ensure building structural safety, longevity and internal/external wall aesthetics.
Different approaches to moisture control in solid masonry walls and minimising risk factors with the help of Hygrothermal Modelling (WUFi).
How to avoid thermal bridges at critical junctions.
A range of internal wall insulation systems suitable for single leaf masonry walls using diffusion open solutions including:
Semi rigid natural insulation between stud partition with internal Intelligent vapour control system
Directly rendered natural insulation system
Mineral based capillary active insulation systems
Examples of best practice solutions will be shared through a range of case studies.
What you will do?
You will receive industry leading training from a highly experienced technical professional. We actively encourage you to share details and drawings in advance of a suitable project so that it can be included in the presentation, making the session as relevant as possible for all involved. We will bring product samples for you to see and there will be the opportunity to ask questions.
What happens on the day?
We will generally arrive at your offices around 30 minutes before the CPD starts to set up. A dedicated meeting room with projector/screen would be helpful, although not essential, and we will bring a laptop to present from. The presentation will start at the time you have chosen and generally last around an hour. Following the CPD, we can arrange for our technical professional to meet with you to discuss specific projects, review drawings and make recommendations etc. Please let us know in advance if you would like this additional free service.
What you will gain from attending this CPD
the impact of moisture on stolid stone and brick walls
how project specifics impact on moisture management strategies
the need to improved breathability of conventional approach
solutions for breathable internal wall insulation
Points Gained
This CPD is a 1 hour stand-alone CPD providing 1 point towards maintaining your professional standard. This can be doubled with an additional 1-2 hour related activity.
Sustainable architecture is a rapidly developing area and is a RIBA core curriculum topic. There is a requirement for a minimum of 2 hours to be spent on each of the core 10 topics.
Continued Development
The content of this CPD is great background knowledge for sustainable, energy efficient retrofits, particularly with heritage buildings. Our other CPDs develop these concepts for different types of insulation and building methods.
We have a dedicated Training Area at our UK office in Cumbria and our Ecological Centre of Knowledge in Co Meath in Ireland, where we have examples of all the systems covered in this CPD and run regular training providing attendees with the opportunity to see and try the different solutions first-hand.
We periodically present thorughout the UK and Ireland focusing on 'How to internally insulate solid stone and brick walls' and provide demos at various shows and regional training events.
We regularly do on-site training, toolbox talks etc with all key stakeholders and trades involved in specific projects.
Agenda
The impact of moisture on solid walls
Primary drivers of moisture ingress
Building physics and how the wall functions before and after applying insulation
The necessity of moisture management
The importance of using diffusion open materials to ensure structural safety and longevity
Insulation options including what to avoid and why
Best practice depending on the property and condition of the existing wall
Avoiding thermal bridges at key junctions
Internal insulation of solid wall case studies and discussion
Summary
Speakers
Niall Crosson
Group Technical Manager (BTech, MEngSc, MIEI, CEPHC)
Niall is the Group Technical Manager for Ecological Building Systems and was also the company's first employee. Niall holds a first class honours degree as a Bachelor of Technology and a Masters in Eng.Sc. Niall is a certified Passivhaus Consultant and has provided technical guidance on many award winning low energy projects in Ireland and the UK, and has authored or co-authored several chapters in both the Passivhaus Handbook and the Passivhaus Designers Manual. Niall is also on the board of directors of the Irish Green Building Council and provides guidance on several national standards committees. Along with this, Niall has contributed to several construction publications including The Journal of the RIAI.
Ilias Igoumenidis
Technical Support Engineer (MEng Civil Engineer, CEPHD)
Born and raised in Greece, Ilias graduated from the Polytechnic school of Civil Engineers of Patras University and for many years ran his own Design and Construction company prior to moving to the UK to join Ecological. Since 2013, he has been heavily involved with low energy consumption in building projects. He was the first person in the Hellenic Passive House Institute to gain the International Certification of a Certified Passive House Designer. Ilias played a significant part of the first Certified Passive House project (Enerphit) in the south eastern Mediterranean area "Passivistas".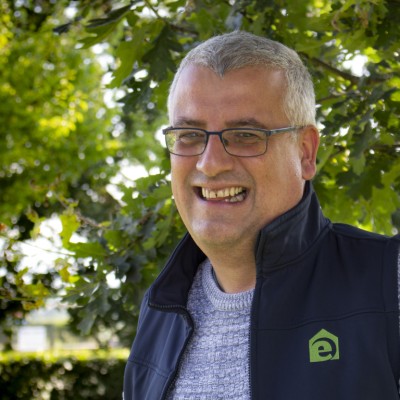 Neil Turner
Technical Sales Manager (BSc Hons)
Technical Sales Manager at Ecological Building Systems. A BBA-competent U-value assessor, who has been involved in developing CEN (Comité Européen de Normalisation) European standards, Neil has extensive experience in the building products sector. Neil advises architects, contractors and timber frame specialists on the specification of sustainable insulation products and has been involved in numerous sustainable projects throughout the UK.
Fintan Wallace
Architectural Technologist (MEngSc BTech, MIEI, CEPHC, CEPHT)
Fintan Wallace is an Architectural Technologist at Ecological Building Systems. Graduating from Dublin Institute of Technology in 2011 with a B.Sc (Hons) in Architectural Technology, it was here in D.I.T's Bolton Street where Fintan developed a strong interest in low energy and Passivhaus design. From here he continued his studies becoming both a Certified European Passivhaus designer and tradesperson. Fintan has travelled to Baden Württemberg in Germany to study passive housing and sustainable energy technology, gaining significant knowledge regarding the use of natural insulations in timber frame and solid wall constructions. Fintan has been involved extensively in a deep energy retrofit of a property to the Enerphit standard in the west of Ireland and now advises on numerous projects throughout the UK for newbuild and retrofit.