Gutex Thermoroom
Main purpose
Breathable wall insulation for the internal side of solid masonry external walls
Gutex Thermoroom is a component of the Retro EcoWall solution.
Use it on
A level surface on the interior side of external solid masonry walls. Walls must be rendered on the outside and have no damp or moisture problems.
Overview
Gutex Thermoroom is a fully breathable natural wood fibre insulation board for internal walls made from recycled waste wood chips. It can be used as a high-performance interior insulation system on solid masonry external walls. Thermoroom provides excellent thermal insulation in Winter and prevents overheating in Summer. It also provides highly effective sound insulation to protect the building from external noise. The breathability of the system helps provide a healthy indoor environment by allowing moisture and humidity to pass through the wall in order to prevent condensation and mould problems occurring.
Where to use it
Gutex Thermoroom insulation boards can be used on the interior side of external solid masonry walls where the wall is rendered on the outside and has no moisture problems.
It can also be applied on top of timber sheeting such as Elka Strong Board or OSB to insulate the interior side of roofs, ceilings and timber frame walls.
What it does
Gutex Thermoroom is a breathable (moisture vapour diffusion open) wood fibre insulation board for internal walls. Its breathability means moisture vapour can diffuse through the wall in both directions to prevent the risk of condensation and mould that can lead to structural damage.
Gutex Thermoroom insulates against cold in Winter and protects against overheating in the Summer. In hot weather, the insulation absorbs heat and releases it very slowly. This prevents the wall from contributing to an uncomfortable rise of indoor temperature.
Gutex wood fibre insulation provides highly effective sound insulation to protect the building from external noise. This improves the indoor comfort and acoustics for the occupants of the building. The sound absorbing characteristics of the Gutex boards come from the low dynamic stiffness and open pore structure of the wood fibres.
Gutex Thermoroom is manufactured with a straight square edge and uniform board sizes so the boards can be easily tiled onto the wall.
Why we love it
Gutex has been manufacturing wood fibre insulation boards since 1932. The recycled wood chips (waste from sawmills) are then converted by Gutex into wood fibre insulation products.
The recycled wood chips came from timber originally sourced from sustainably managed woodlands in the Black Forest region of Germany. These trees absorb huge amounts carbon from the atmosphere as they grow. By converting waste wood chips into wood fibre insulation, this stored carbon is locked into the building when the insulation is installed.
Gutex Thermoroom is fully certified in accordance with EN13171 and also has an Environmental Product Declaration in accordance with EN14025 and EN15804, as well as Natureplus certification. This gives verification of the declared performance of the product, ease of acceptance by building control and peace of mind.
Features
Excellent insulator
Highly breathable
Prevents summer overheating
Excellent sound insulator
Improves a building's carbon footprint
Certified by Natureplus
Easy installation
Fire resistant; Chars rather than burns.
Carbon negative, fully recyclable and safe.
Benefits
Allows moisture vapour to move in both directions through a solid masonry wall which helps regulate humidity and moisture.
A carbon negative insulation made from waste woodchips originally from sustainable timber sources.
Reduces impact of external noise and the transfer of noise between rooms.
Certifications prove Thermoroom has healthy natural and environmental properties.
Bonded to the wall with Gutex adhesive and tiled into place (no mechanical fixings are required) then finished with Lime Green Solo breathable plaster.
Will char rather than burn. The final plastered surface ensures no rapid spread of flame when the wall is exposed to fire.
With multiple thicknesses available, you can easily tailor the wall's U value to what you need.
Due to its high thermal mass, wood fibre absorbs heat and releases it very slowly so the building does not overheat.
Questions
Can Thermoroom be finished with gypsum type plaster?
No, we would not recommend this because it would create an impermeable non-breathable layer. We recommend a lime-based finish like Lime Green Solo to maintain the breathability of the wall. Remember to also use a natural breathable paint.
Can the Thermoroom adhesive be dot and dabbed?
No, the adhesive must be applied on to the entire surface of the back face of the Thermoroom board and then be completely bonded to a level wall.
How do I fix a curtain pole or heavy item to the insulated wall?
The best way to fix a curtain pole or heavier item to the wall (and avoid a thermal bridge) would be to use a special fixing anchored into the stone or brick behind the insulation. We recommend using a Fischer Thermax fixing. For this fixing, you can drill through the insulation and then into the wall behind to fix the item. Don't worry about the drill bit getting hot while drilling into stone/masonry, this poses no risk to the Gutex woodfibre insulation.
Technical Details
Key Technical Data
How to Install
As Gutex Thermoroom is a rigid board, the wall should first be levelled with a lime-based plaster such as Diathonite (for faster drying and additional insulation) or some other breathable lime-based plaster. After the levelling plaster is fully dry, Gutex's breathable adhesive mortar should be applied to the back of the boards using a 5-8mm notched trowel. The adhesive should cover the entire surface of the board with no gaps. The boards can then be tiled into place. Tap the boards firmly onto the wall so every bit of adhesive is in contact with the board.
If you find the adhesive on the back of the board does not fully contact the wall after tapping into place, the wall may not be fully level and you will need additional adhesive. Remove the board and apply additional adhesive to the wall with a notched trowel.
Then re-apply the adhesive to the back of the board (with the same notched trowel) to make sure it is fully covered and combed to a uniform thickness. Re-apply the board immediately and tap into place to ensure there are no airgaps and the entire board is adhered to the wall.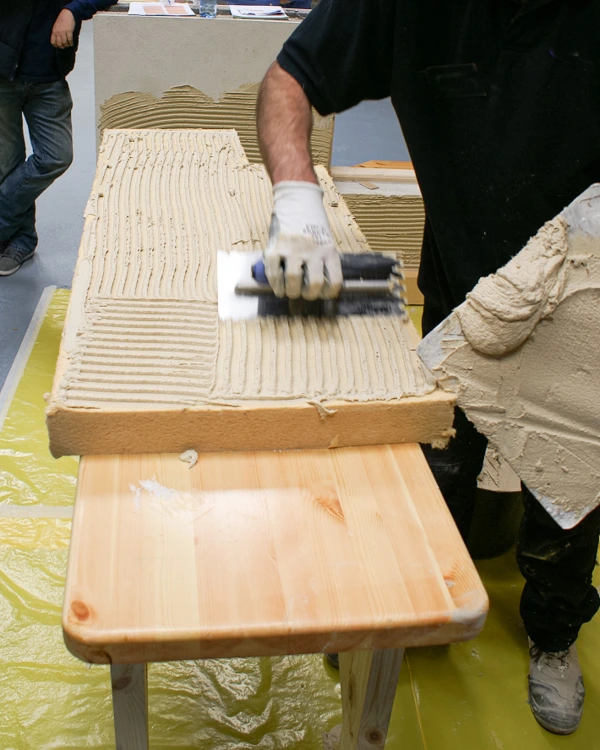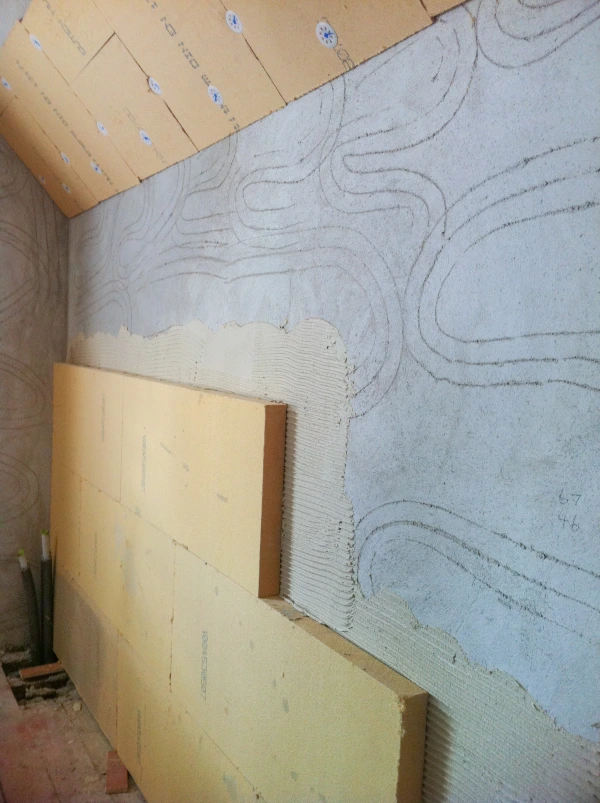 Using a trowel with a wider notch so the thickness of adhesive is slightly greater (e.g. 8-10mm notch instead of 5mm) may be useful if you discover parts of the wall are not perfectly level or smooth. The system can be finished off with a breathable plaster like Lime Green Solo Plaster.
Lime Green Solo has been tested and approved by Gutex for use as a breathable base coat and finishing plaster for Thermoroom boards. If used, apply a 5mm coat then cover with Thermoroom reinforcing mesh.
Use a trowel to gently embed the mesh into the surface of the plaster. Immediately apply a second 5mm coat of Solo on top. Use a wide plaster spatula to preliminarily smooth the surface; it doesn't need to be perfect at this stage. Once the plaster begins to set and is firm enough so that touching it with your finger does not cause an indentation (approximately 2 hours), use a damp sponge to gently smooth out the surface and level out any trowel marks or uneven areas.
The sponge provides a level final finish with a semi-smooth texture. If you would prefer a smoother finish, use a flexible trowel 30 minutes after sponging to polish the surface. The Lime Green Solo should then be painted with a natural breathable paint like Auro.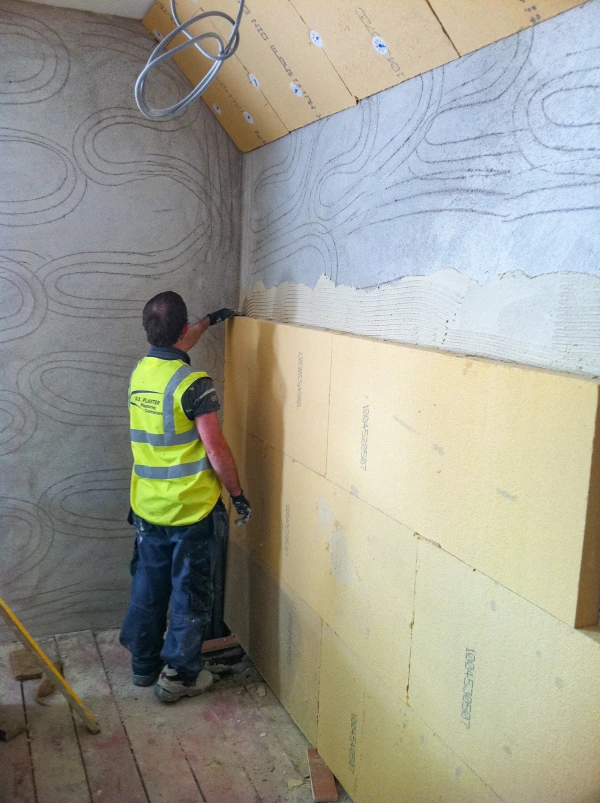 Hints & Tips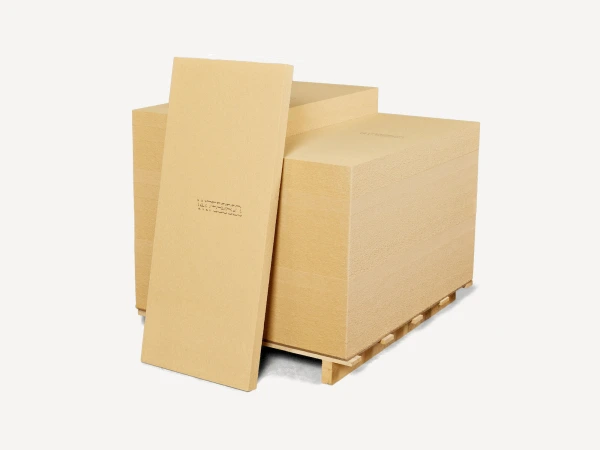 The boards should be stored in a dry location and must only be installed when dry.