Elka Strong Board
Main purpose
Breathable internal or external sheathing and racking board and as sarking for roof structures. Can be used in humid conditions and as loft flooring for storage only.
Use it on
External or internal timber frame walls, on top of ceiling joists in cold attic spaces, (it is not suitable for walking on in lofts 18mm boards must be used for safe foot traffic) and on timber frame roofs.
Overview
Elka Strong Board is a breathable high performance structural P5 racking board suitable for use in humid conditions. It is up to five times more breathable than OSB3, and has less risk of swelling compared to OSB3. Unlike OSB3, it has a high tensile strength along both its length and width. OSB3 is half as strong across its width. Elka Strong Board also has low levels of VOCs (Volatile Organic Compounds) and is certified in accordance with EN312 and PEFC.
Where to use it
Elka Strong Board can be fixed to the internal or external face of timber frame studs, rafters or on ceiling joists.
In attic spaces, the boards can be used above ceiling joists as flooring for light-weight storage purposes only; at 12mm thick the board is not suitable for walking over.
What it does
Elka Strong Board is a breathable (vapour open) racking board. Racking boards provide rigidity and strength to a timber frame structure by preventing movement and bending of the timber frame.
Why we love it
Elka Strongboard is up to 5 times more breathable (vapour open) than OSB3 and has greater tensile strength. The boards contain recycled wood chips from a sawmill near the ELKA factory and all the wood used originally came from sustainably managed forests. Elka Strong Boards have very low VOC emissions. The boards are an ideal alternative to OSB3 when breathable natural insulation is used in between timber.
Features
Vapour open racking board
Creates a 'breathable' construction
Low VOC content
High swelling resistance
High bending strength in both directions
Precise fit and finish
Benefits
5 times more vapour open than OSB3 or plywood and is therefore perfect for use with natural insulation.
Contributes to improved moisture management and mould growth reduction in the building.
Improves indoor air quality due to low VOC content and comes with full environmental product declaration.
Less risk of swelling, compared to OSB3, in UK and Ireland's humid and wet climate.
Removal of screws and nails is much easier compared to OSB3.
Elka maintains the same bending strength across its width and length, unlike OSB3 where the bending strength is halved across the width.
Easy to install. Can be left exposed internally, showing its natural wood finish or can be painted.
Questions
There are currently no questions and answers published for this product
Technical Details
Key Technical Data
How to Install
When installing Elka Strong Board, a 4mm expansion gap should be left around the edges of the boards. Like all timber boards, a small degree of expansion or shrinkage may occur when directly exposed to the elements.
The boards should be fixed in place using galvanised screws, nails or staples. If using nails, (e.g. clout nails, shank nails and nail-gun nails) a minimum diameter of 2.8mm and a minimum length of 50mm must be used. Fixings around the outer edges of the board should be at least 8mm away from the edge and should be no more than 150mm apart. When fixing to studs on the rest of the board (not at the edges) the fixings can be 300mm apart. Fix to 38mm or wider timber studs that are no more than 610mm apart.
If the boards are used externally, they must be covered with a suitable breather membrane like Pro Clima Solitex Fronta WA or Pro Clima Solitex Fronta Quattro
When used internally, they are perfect for use in conjunction with Pro Clima Intello Plus Intelligent vapour control membrane.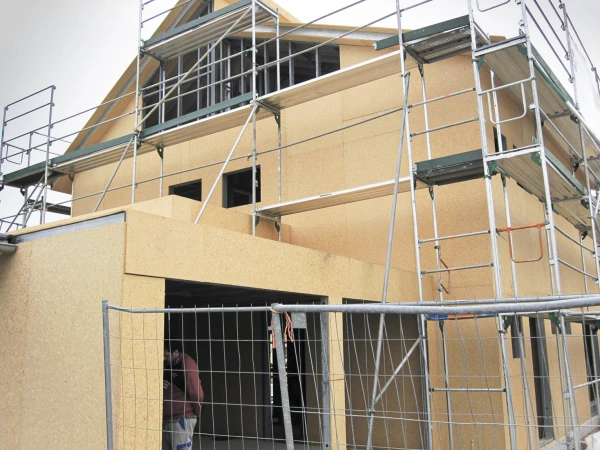 Elka Strong Board should be stored under dry conditions and stacked flat.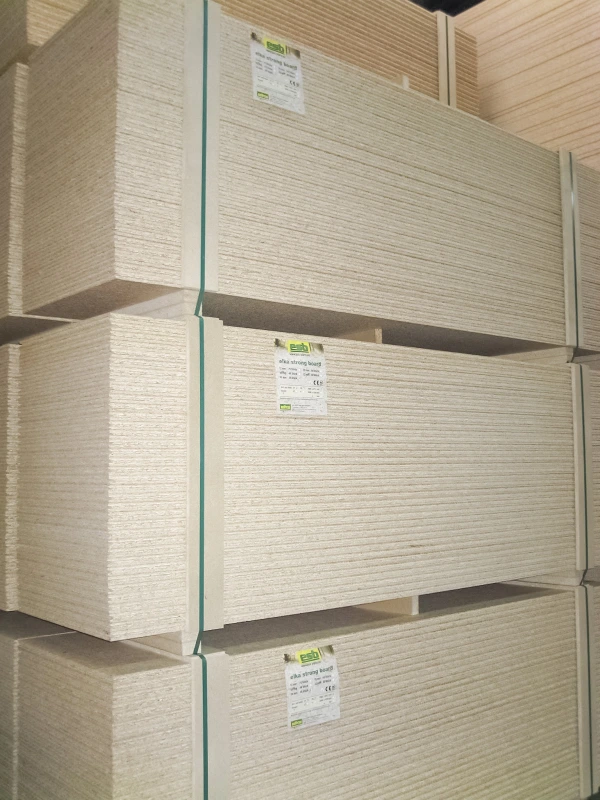 Hints and Tips
Fix the boards to the timber frame working outwards from the centre of the board. This ensures the board is installed "square" and allows the installer to adjust the board for squareness as required while it is being installed.
If you chose to paint the board, and it is been applied internally a breathable paint, like Auro 524 Plantordecor White Paint or the even more breathable Auro Clay Paint 535 in multiple colours) is recommended. The glue in the Elka board shows through many paints so these are likely to give the best finish.