Pro Clima Solitex Fronta WA
Main purpose
Windtight weatherproof and breathable protective layer for timber frame walls finished with closed screen cladding
Use it on
External walls of timber frame buildings behind timber cladding that has no gaps (closed screen cladding)
Overview
Pro Clima Solitex Fronta WA is used to weatherproof external timber frame walls. Its 3-month UV exposure resistance protects the timber frame building from the weather during the construction phase (before external protective cladding is added) as well as long term once the external closed timber cladding is completed. It is fully windtight and its high vapour diffusion openness (breathability) gives Fronta WA a very low resistance to moisture that greatly helps in the drying of the wall and releases any moisture in the timber or insulation that needs to escape.
Where to use it
Pro Clima Solitex Fronta WA vapour permeable membrane can be used on walls of timber frame buildings where the wall will have closed screen (no gaps) timber cladding on top of the membrane.
What it does
Solitex Fronta WA is a lightweight and robust 3-ply membrane consisting of a protective underlayer, TEEE windtight breather membrane with a polypropylene microfibre fleece cover. It is lightweight yet highly robust offering optimum protection for the structure against driving rain, snow and wind. It also protects the structure from dust during construction.
Before the cladding is installed, the membrane can be exposed to the elements for 3 months which provides easier scheduling of on-site works.
How it works
The membrane in Solitex Fronta WA is monolithic which means moisture vapour actively diffuses through it. This makes it fully windtight and breathable at all times; even when there is no air movement around the membrane. Microporous membranes need air movement to pass vapour through millions of microscopic holes, this means they can never be truly windtight. Unlike Microporous membranes, Monolithic membranes resist contamination from oils on site or turpentine in wood which may affect watertightness.
Why we love it
The active moisture transfer capability of the membrane offers a high degree of safety against condensation issues in the UK and Irish climate. Excellent drying capacity is essential to safely deal with any unforeseen moisture ingress, leaks or high humidity/wetness during the construction phase.
The printed face of Solitex Fronta WA has handy installation guidelines printed on it to make is easier for installers to correctly measure lengths, space out staples and align overlaps to the optimum depth for taping.
System warranty
Pro Clima provide a limited system warranty, backed-up with public liability insurance, for all airtightness system, roof and wall sealing system and construction products that they supply. A 10-year warranty is provided for these products when correctly installed in combination with approved thermal insulation materials and other Pro Clima system products. When correctly installed in combination with other manufacturers' products (not made by Pro Clima), a 6-year warranty is provided.
Features
Black membrane
Fully breathable yet wind & watertight
Easy to install
UV resistant for 3 months
Benefits
Black membrane ideal for use behind vented timber cladding with no gaps (closed screen cladding).
Moisture will actively diffuse through but wind & rain won't – protecting the insulation & ensuring performance.
Lightweight yet highly tear resistant, a robust solution against on-site wear and tear.
Can be exposed to weather and sunlight before external protective cladding is installed for easier on-site scheduling of works.
Questions
There are currently no questions and answers published for this product
Technical Details
Key Technical Data
How to install
Roll out the membrane horizontally and fix to the structure with at least 10mm wide and 8mm long galvanised staples. Overlap each length of membrane so any water run-off cannot get behind the membrane. Line up the edges of overlapping membrane with the dotted line to obtain the correct amount of overlap.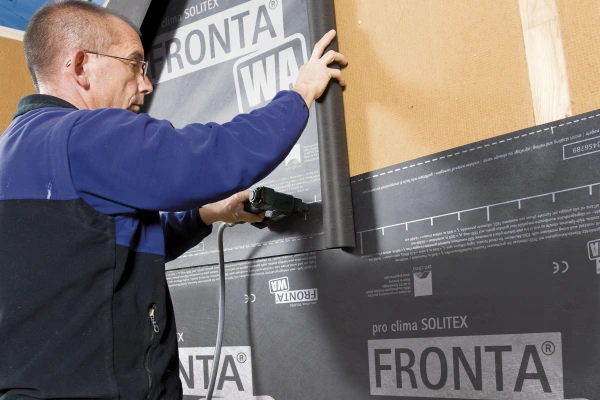 Hints & Tips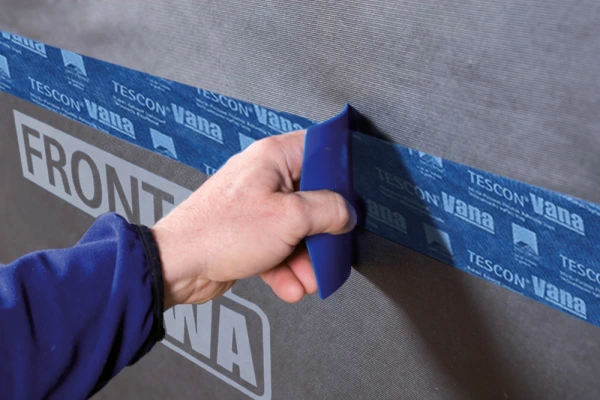 To seal the overlap use Tescon Invis airtight tape, for a matching black finish, or Tescon Vana if you prefer. Be careful to avoid any wrinkles. Firmly press the tape onto the surface with a Pressfix Tool. For sealing onto rough surfaces or concrete use Orcon F Airtight Adhesive. To seal to a window or door frame use Tescon Profil Airtight Window Tape.