Pro Clima Orcon F
Main purpose
To create a flexible airtight and windtight seal between membranes and uneven surfaces.
Use it on
Concrete, brick, plaster, timber, hard plastic, rust-proof metal, chipboard, OSB, plywood and MDF internally or externally.
Overview
Orcon F is a multi-purpose airtight and windtight flexible adhesive sealant for sealing membranes and airtight components (for 100 years) internally and externally. It remains flexible and will not crack or breakdown over time. This ensures a permanent airtight seal can be achieved especially on uneven surfaces and on difficult or hard-to-tape areas.
Where to use it
Pro Clima Orcon F airtight sealant can be used on concrete, brick, plaster, timber (smooth planed, rough sawn and painted), hard plastic, rust-proof metal, chipboard, OSB, plywood and MDF to seal all types of absorptive airtight and windtight membrane.
What it does
Orcon F will permanently stick internal or external airtight and windtight membranes to any surface commonly found on a building site. It is commonly used and ideal for sealing airtight membranes (airtight vapour checks) to concrete floor surfaces.
With its high resistance to adverse weather conditions, the adhesive can be stored in low temperatures in the event of frost or freezing conditions (down to -20°C). It can also be applied to plaster and concrete that has set but not yet fully dried.
When applying a 5-8mm bead of Orcon F: The 310ml cartridge can seal 6-15m. The 600ml foil tube can seal 12-30m.
How it works
The powerful acrylate based adhesive glue penetrates deep into surfaces ensuring an airtight adhesive bond is maintained at a molecular level.
Why we love it
Orcon F is very elastic remaining permanently flexible to ensure superior protection of airtight connections for the lifetime of a building. Orcon F, unlike other standard silicone type caulking, won't harden, crack or become brittle and cause air leakage at critical junctions.
It provides airtight bonds according to DIN 4108-7, SIA 180 and OENORM B 8110-2 and is also Passivhaus certified in conjunction with Pro Clima Intello Plus membrane and Tescon Vana tape achieving the best system airtightness results ever achieved.
It also achieved excellent values in the hazardous substance test, has been tested according to the ISO 16000 evaluation scheme.
System warranty
Pro Clima provide a limited system warranty, backed-up with public liability insurance, for all airtightness system, roof and wall sealing system and construction products that they supply. A 10-year warranty is provided for these products when correctly installed in combination with approved thermal insulation materials and other Pro Clima system products. When correctly installed in combination with other manufacturers' products (not made by Pro Clima), a 6-year warranty is provided.
Features
Super flexible
Exceptionally high adhesion
Independently tested for 100 year airtightness
Use indoors & out
Passive House certified component
Low VOC rating
Can be applied & stored when cold
Benefits
Won't crack or dry out so provides a permanent airtight seal; even when adjoined surfaces move over time.
Provides a robust, reliable connection, perfect for rough & uneven surfaces, like timber & screed.
Can be applied in temperatures as low as -20⁰C and remains airtight even in harsh weather conditions.
Certification provides specifiers with confidence in Pro Clima systems.
Low VOC emissions make it safe to apply.
Frost resistant to -20 degrees Celsius, can be used at sub-zero temperatures.
Questions
There are currently no questions and answers published for this product
Technical Details
Key Technical Data
How to Install
Make sure the area is brushed to remove dust/debris and is free of any water repelling contaminants like grease or silicone. Apply a 5-8mm bead on the surface you will be bonding to. It is important not to flatten the bead completely when sticking an airtight membrane to it; this ensures long term elasticity.
When applying to concrete floor screed and rough uneven concrete slabs, it is recommended to prime the area first with Tescon Primer RP or Tescon Sprimer to ensure enhanced adhesion.
Thanks to its very high adhesion and excellent quick drying time, no pressure lath/timber baton is required. If blown-in insulation will be used, a baton should be installed to prevent the weight or pressure of the insulation pulling on the adhesive.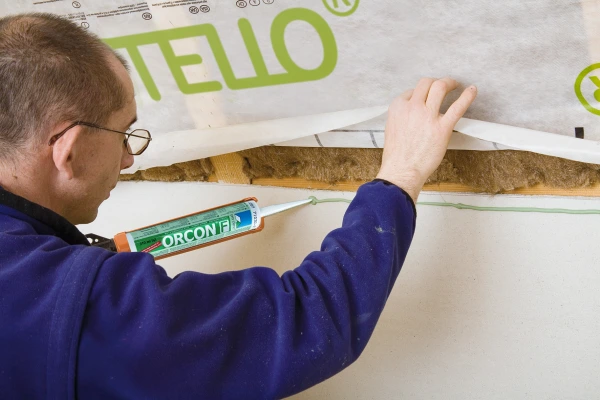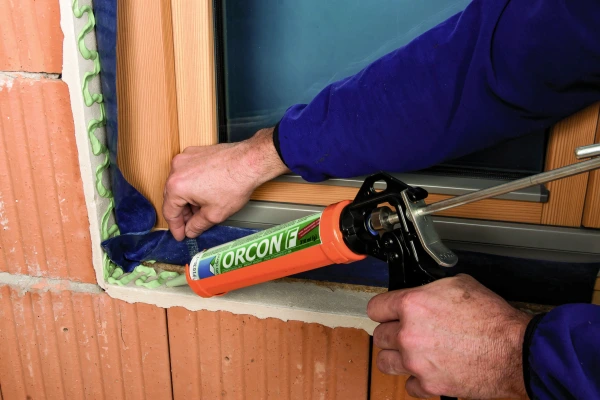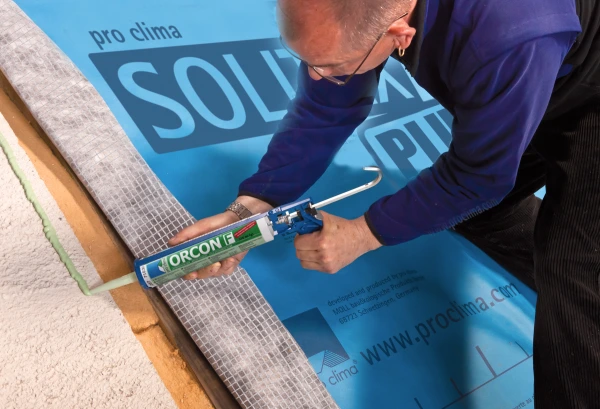 Hints and Tips
If you ever need to seal a membrane to a floor without using tape; for example with Pro Clima DA-S, we would recommend using the 600ml foil tube, large applicator gun and a double nozzle. This nozzle will apply two beads side-by-side, one on the floor and one on the membrane, at the same time.
Applying Orcon F
https://www.youtube.com/embed/erjJgex9gk8