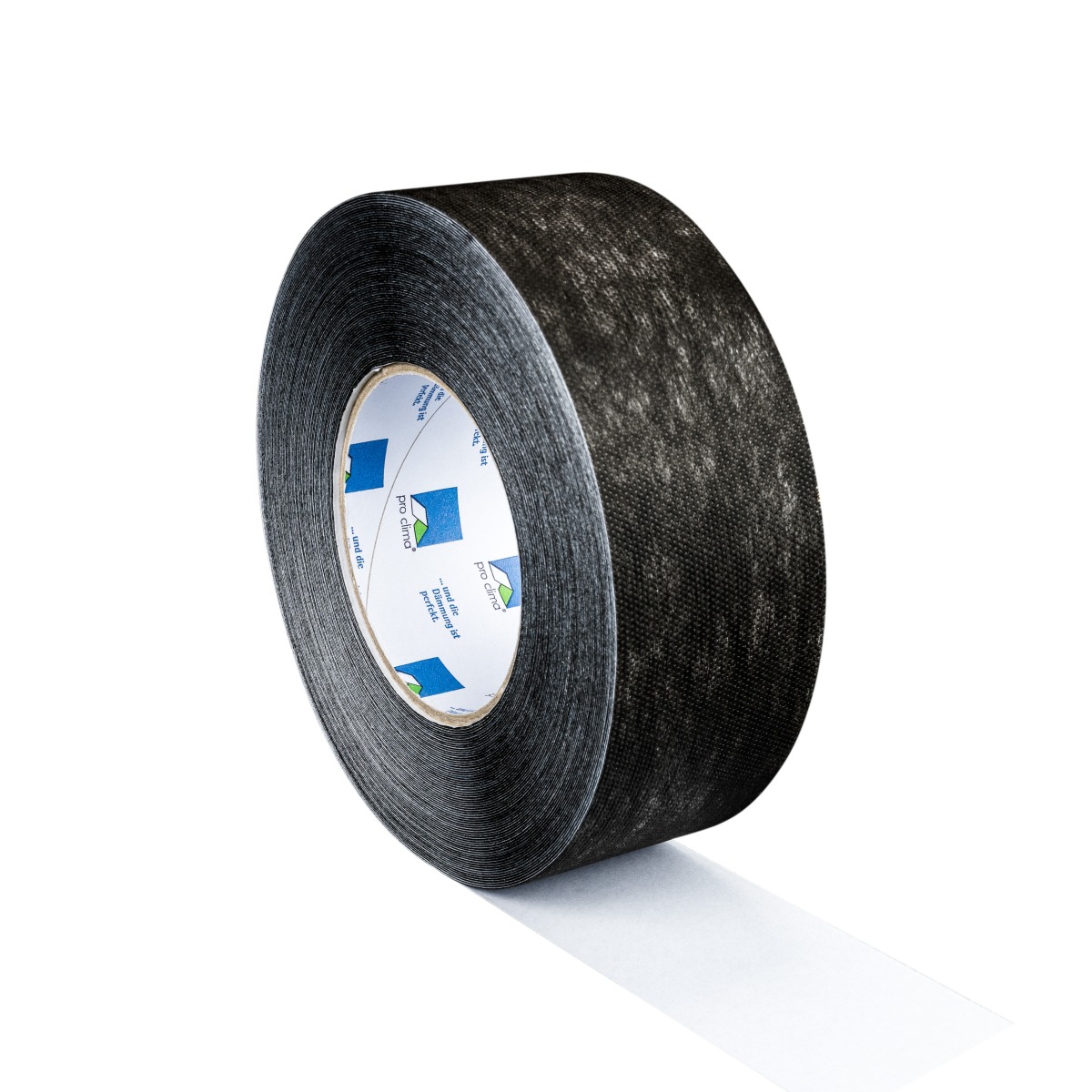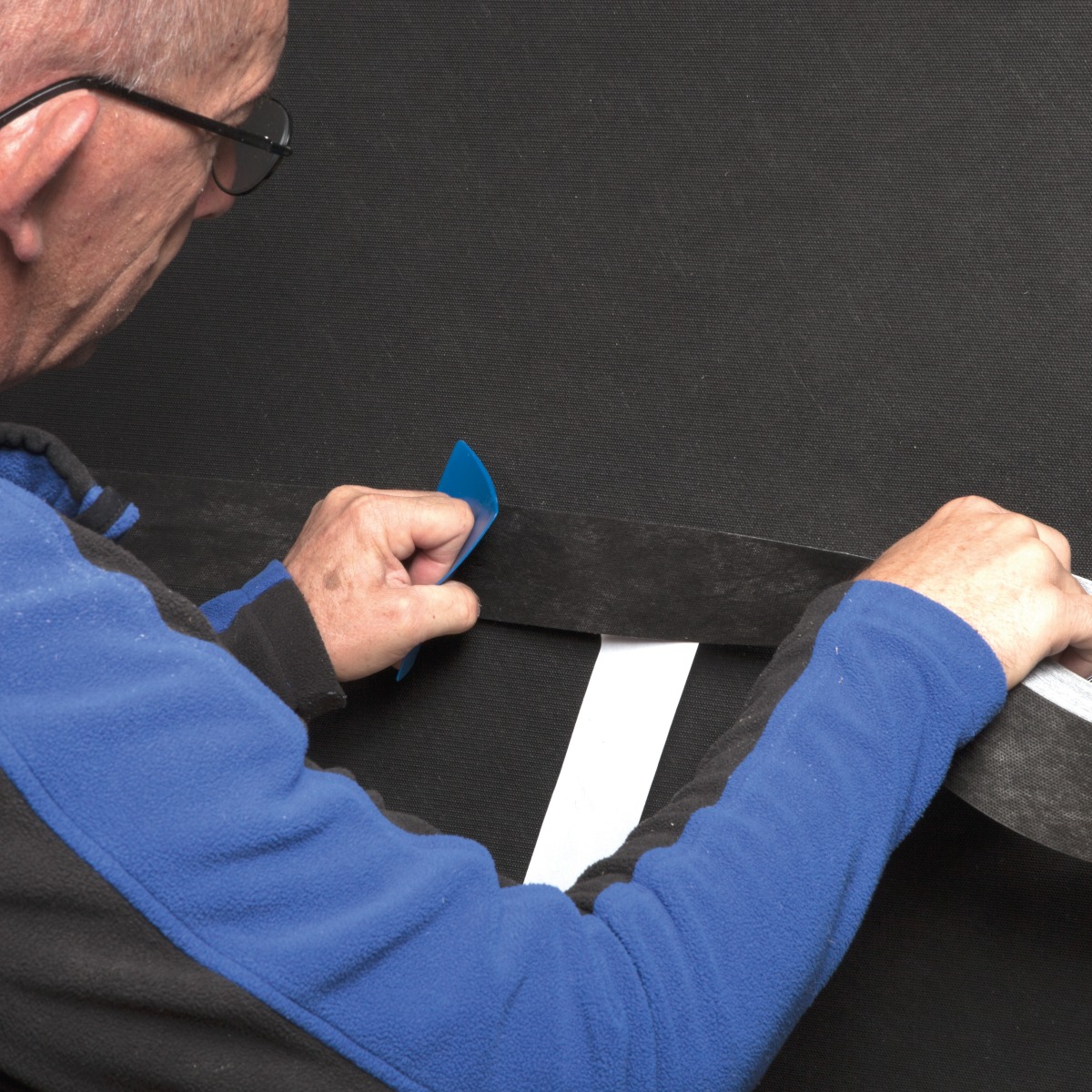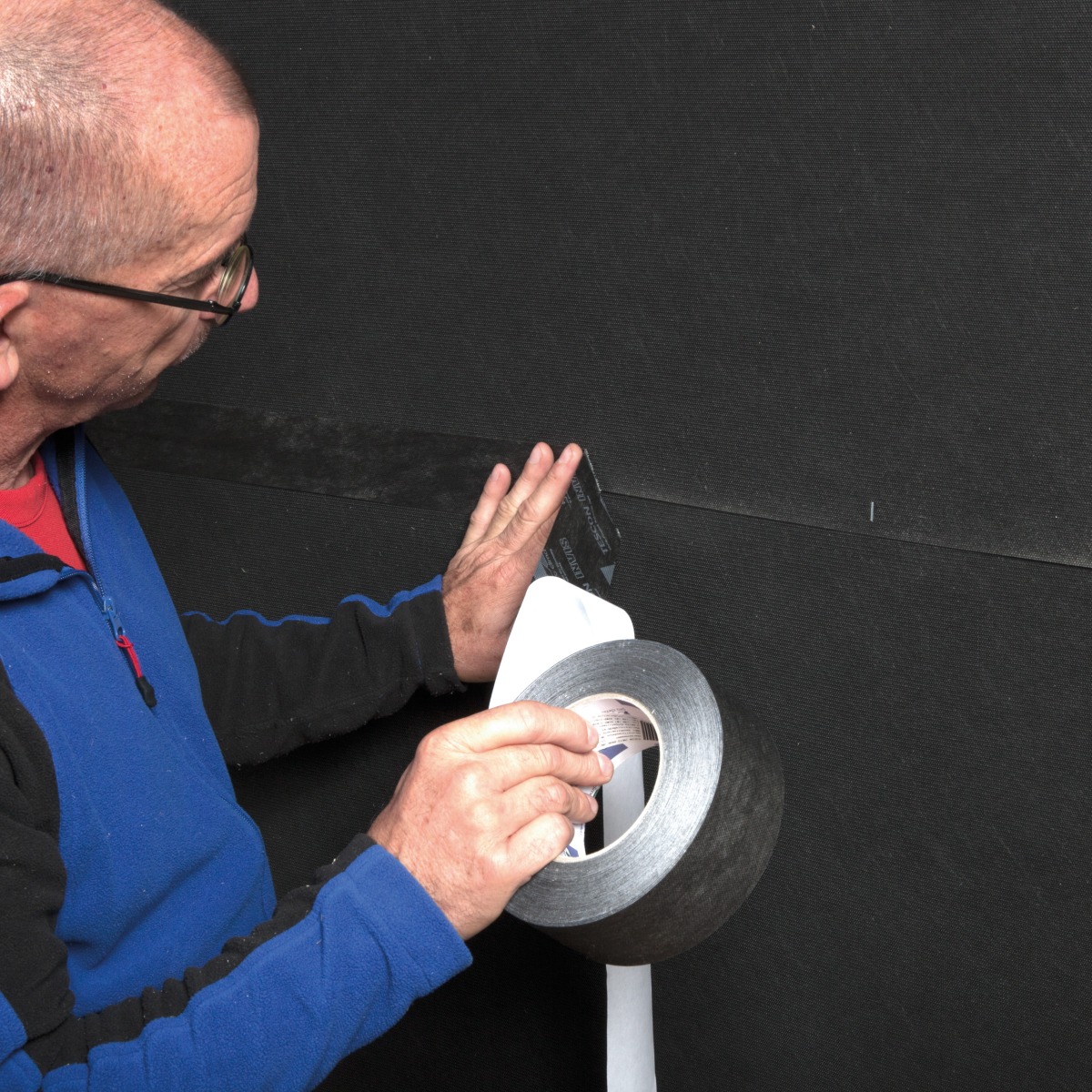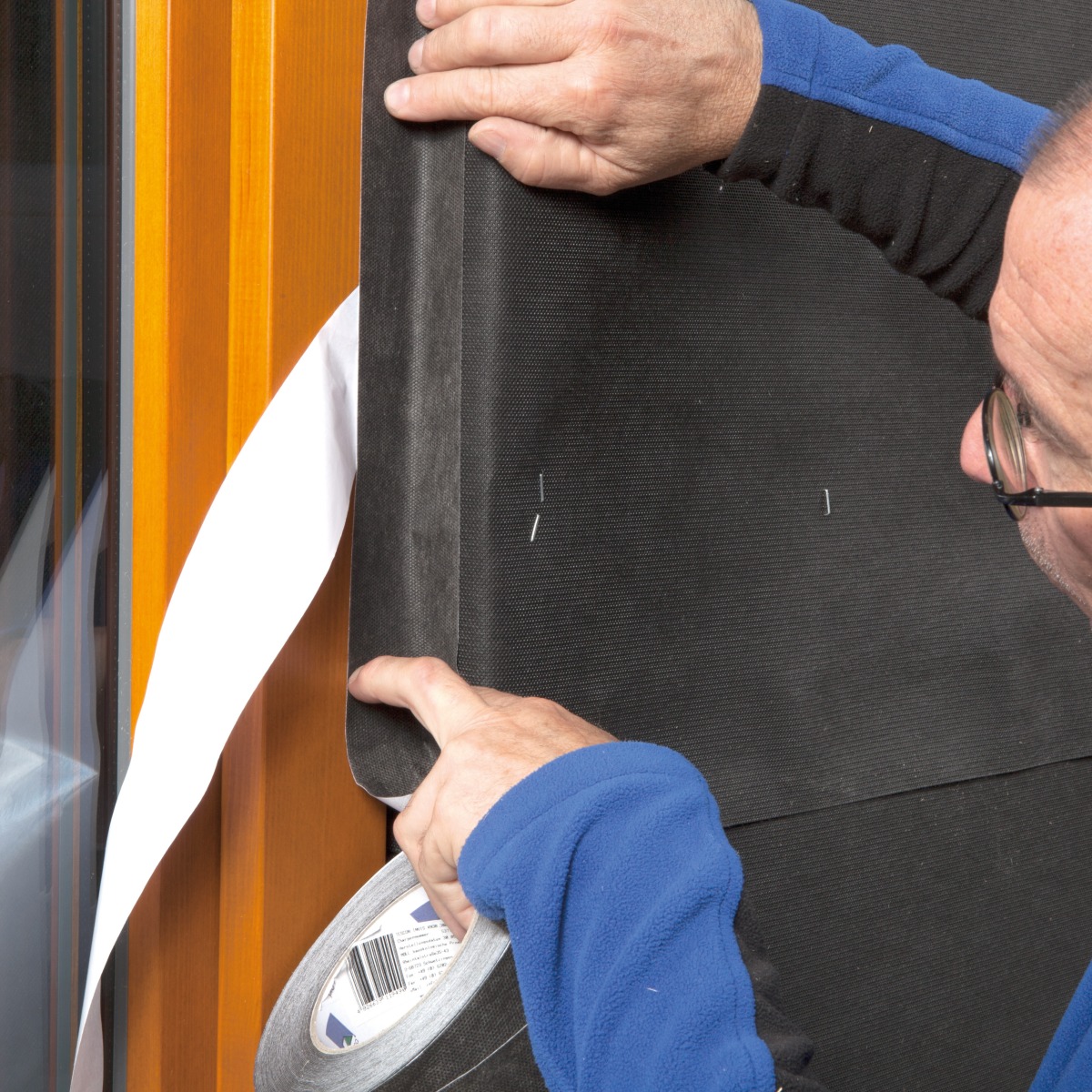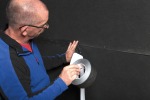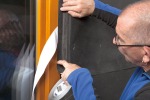 Pro Clima Tescon Invis
Pro Clima Tescon Invis
Airtight fully black discreet UV resistant adhesive tape
Main purpose
Sealing overlaps of Solitex Fronta Quattro and Solitex Fronta WA membrane
Use it on
External timber frame open clad walls with Solitex Fronta Quattro membrane and Solitex Fronta WA membrane.
Overview
Tescon Invis provides a permanent seal for overlaps in Solitex Fronta Quattro and Solitex Fronta WA membrane. It is a plain black airtight tape with nothing printed on the top side, so is ideal for use on timber frame buildings where the membrane and tape can be seen through gaps in external cladding (open jointed cladding).
Where to use it
Tescon Invis is a 60mm, 100mm or 150mm wide pure black breathable airtight tape designed primarily for use with Pro Clima's plain black external windtight breather membrane Solitex Fronta Quattro and Solitex Fronta WA. The plain appearance is ideal for when the tape and black membrane can be seen through gaps in open cladding installed on the exterior of a building.
Apart from the colour and plain design, Tescon Invis is identical to Tescon Vana, a tape that has been tested and certified to last 100 years. The two tapes have the same solid acrylic glue and can be used in exactly the same way.
What it does
Pro Clima Tescon Invis tape provides a fully windtight watertight seal at all overlaps, edges and junctions of any airtight or windtight membrane. The solid acrylic glue is unaffected by rain, moisture and the weather. It can be safely exposed to UV for up to 6 months during construction before the external cladding is installed.
The 100mm and 150mm sizes are useful for sealing wider gaps, patching damaged membrane, sealing adjacent lengths of membrane where a recommended overlap of 100mm cannot be achieved, sealing over large holes (e.g. the holes needed for installation of cellulose or wood fibre loose-fill insulation) and for roof valleys and ridges.
Why we love it
Tescon Invis is entirely black with no printed lettering or branding on the top side. This makes it almost invisible when seen through gaps in cladding installed over Solitex Fronta Quattro. It combines vapour openness and weather resistance with a clean aesthetic.
The bond created by Invis, like all Pro Clima tapes, gets stronger over time. After 24 hours, you will not be able to remove the tape. You will get a permanent seal that lasts for the life of the building.
System warranty
Pro Clima provide a limited system warranty, backed-up with public liability insurance, for all airtightness system, roof and wall sealing system and construction products that they supply. A 10-year warranty is provided for these products when correctly installed in combination with approved thermal insulation materials and other Pro Clima system products. When correctly installed in combination with other manufacturers' products (not made by Pro Clima), a 6-year warranty is provided.
Features
Black, unprinted tape
Weather resistant
Vapour open
Non hazardous
Robust
Benefits
Discreet "invisible" appearance, especially on pro clima's black Solitex Fronta WA and Solitex Fronta Quattro membranes.
Fully water resistant and can be exposed externally to UV and weather for up to 6 months during construction.
Creates a totally vapour open system when used to seal Pro Clima Solitex Fronta WA and Solitex Fronta Quattro membrane overlaps and edges.
Solid acrylic glue is solvent and VOC free and provides the most durable permanent airtight seal.
Robust and versatile multi-purpose tape is ideal for any application where a permanent seal is required.
Questions
There are currently no questions and answers published for this product
Surface Primer
Use a primer for maximum adhesion to concrete/masonry and wood fibre
Stabilises masonry and fibrous surfaces
Maximises adhesion and lifetime of airtight bonds
Flexible airtight glue
Sticks membrane to uneven surfaces
For primed brick, concrete and masonry
For primed wood fibre insulation
Best Practice Installation
Maximises airtight adhesive bond of tapes
Provides best and most long-lasting results
Evenly applies pressure to tape and is easy-to-use
Technical Details
Key Technical Data
Has the same adhesive as Tescon Vana; a tape which is airtight for 100 years.
Aluminium, Aluminium / foil membranes, Chipboard, Hard plastics, MDF, Metal, OSB, PE, PA, PP, PET and foil membranes, Painted timber, Plywood, Pro Clima membranes, Rough sawn timber, Smooth planed timber
Dust producing surfaces, Gypsum plaster, Lime plaster, Rough/uneven surfaces, Smooth cement (plaster or render), Smooth concrete, Surfaces that may come-away or delaminate, Wood fibre rigid insulation boards
10 years (when correctly installed with Pro Clima system products only), 6 years (when correctly installed with non-Pro Clima products)
Cross Laminated Timber (CLT), Lightweight construction, Metal frame, Prefabricated (off-site manufactured) timber frame, Timber frame
Walls (timber frame), Walls with closed timber cladding (no gaps), Walls with open timber cladding (up to 35mm gaps )
Cable penetrations, Membrane edges and overlaps, Pipe penetrations, Window heads
Airtightness, Wind/Weatherproofing
Installation Guide
How to install
Ensure the face of the membrane is dust, grease and silicone free. Cut a manageable length of tape, then remove the release paper. Apply the tape being careful to avoid wrinkles. Ensure a Pressfix tool is used to fully adhere the tape to the face of the membrane.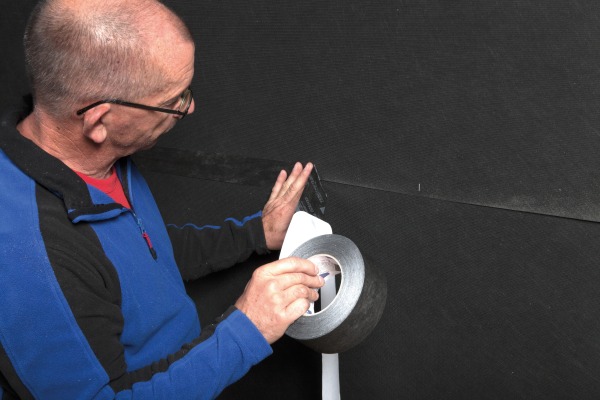 Hints and Tips
Where Tescon Invis is accidently applied with too much overlap around window and door frames (so it was visible after plastering or final finish is applied), the excess tape and its adhesive residue can be removed with Pro Clima Glumex Adhesive Remover.
Tescon Invis can be used for repairing items in and around the home. E.g. bags, suitcases, carpet, clothing etc.