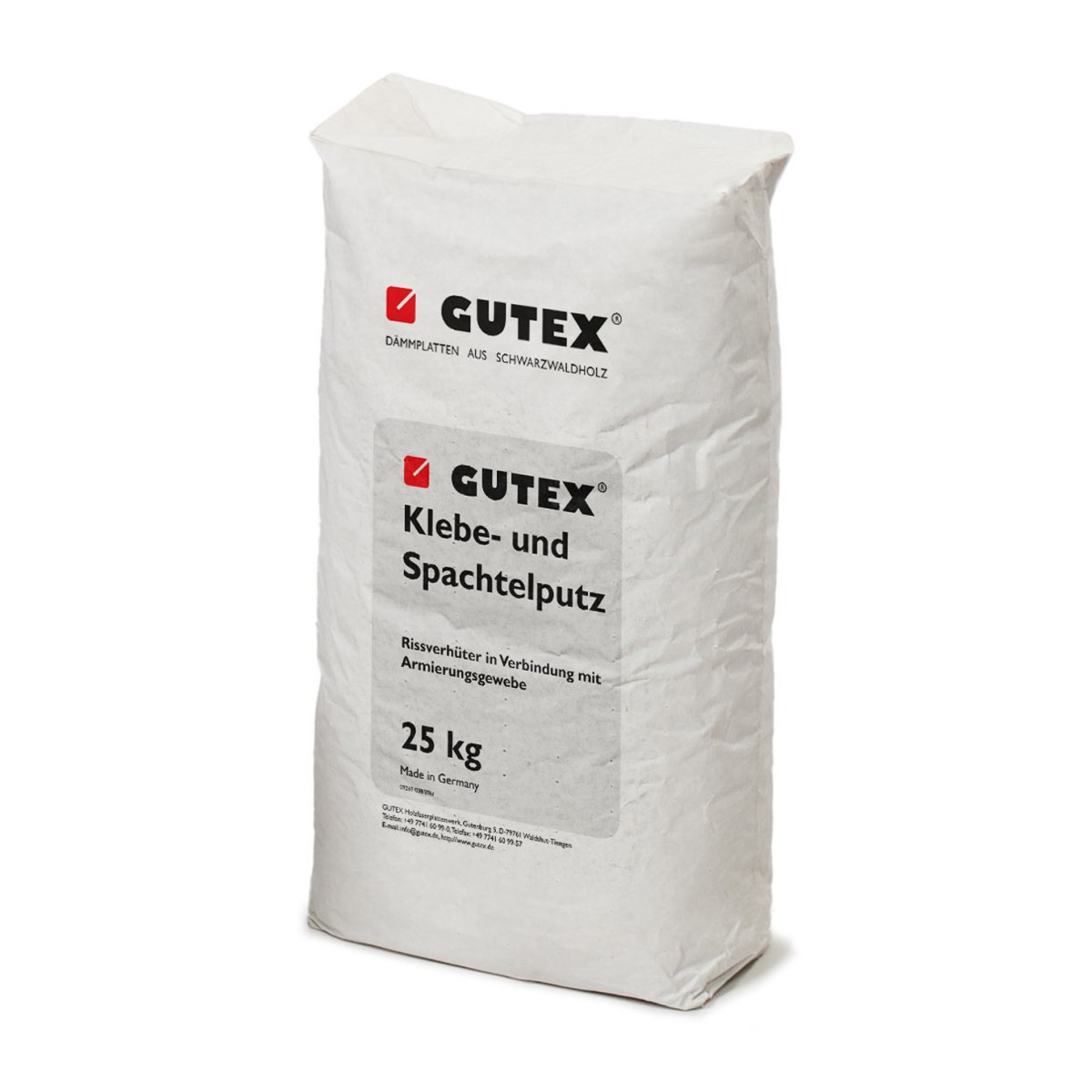 Gutex Thermoroom Adhesive
Gutex Thermoroom Adhesive
Adhesive mortar for Thermoroom insulation boards
Main purpose
To bond Gutex Thermoroom insulation boards to the internal face of solid masonry walls.
Use it on
The interior side of external walls made from solid stone, brick or masonry. The wall must be levelled with a lime-based plaster before use.
Overview
Gutex Thermoroom adhesive (Klebe und Spachtelputz) is used to bond Gutex Thermoroom boards to pre-levelled internal faces of solid masonry walls (stone and brick). The adhesive mortar has a high degree of breathability, bonds strongly to the wall and is quick and easy to apply.
Where to use it
The adhesive should be applied to the rear face of Thermoroom boards prior to the boards being applied to a wall. The adhesive is suitable for use on the internal face of solid masonry walls (stone and brick).
What it does
The adhesive bonds Thermoroom boards to the internal face of solid masonry (brick or stone walls) and preserves the breathability of the Thermoroom insulation system.
How it works
Gutex Thermoroom adhesive is specially formulated to bond the highly absorbent Thermoroom boards directly to the wall. No mechanical fixings are required when bonded directly to masonry walls except in cases where heavy tiles are applied directly to the boards.
Why we love it
The Gutex adhesive mortar is easy to prepare and apply and is highly moisture vapour diffusion open (allows moisture vapour to move in both directions in summer and winter) hence eliminating the risk of interstitial condensation. This helps eliminate mould and improves indoor air quality and comfort for the building's occupants.
Features
Excellent bond
High water vapour permeability/breathable
High capillarity
Easy to mix and apply
Benefits
Specially formulated for easy fixing of Thermoroom insulation boards to a wall.
Allows moisture vapour to move in both directions through the wall, giving protection against moisture and mould.
Excellent workability of the mix, reducing installation time.
Questions
Is this adhesive breathable?
Yes, it is lime-based so is breathable.
Finishing Plaster
Always use mesh to maximise strength and achieve a long-lasting quality finish
Technical Details
25kg Bag
Key Technical Data
Installation Guide
How to Install
Prior to applying the Gutex Thermoroom adhesive, the internal face of the masonry wall should be levelled using a lime plaster or an insulating lime plaster such as Diasen Diathonite. A flat, level wall ensures that there are no air gaps behind the insulation boards which eliminates the potential for moisture build up behind the insulation and improves coverage of the Gutex Thermoroom adhesive.
Similar to other insulation systems, any existing penetrating moisture or rising damp issues must be addressed prior to applying Thermoroom.
A lime-based or capillary active levelling coat is essential to retain the breathability of the wall (it allows the passage of moisture vapour in both directions through the wall). When applying the adhesive over existing lime plaster; ensure the surface is intact and any loose material has been removed and repaired with new lime plaster.
After the wall has been levelled, Gutex Thermoroom boards can then be applied to the wall. Thermoroom adhesive should be applied onto the whole surface of the back face of the board and then completely bonded to the wall. Use a stainless steel trowel or a serrated trowel to apply the adhesive.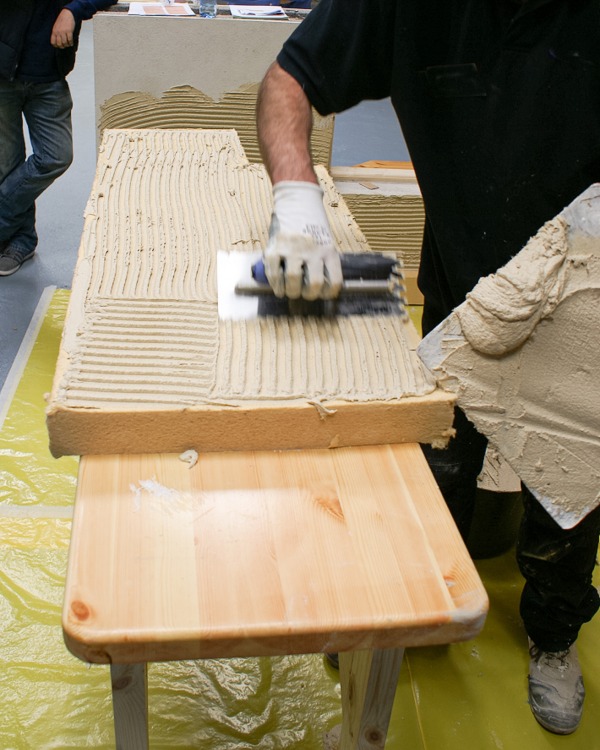 Hints & Tips
If the existing wall has any gypsum plaster on it, then this must be removed and a lime plaster applied in its place. A reliable lime plaster that we recommend is Lime Green Solo.