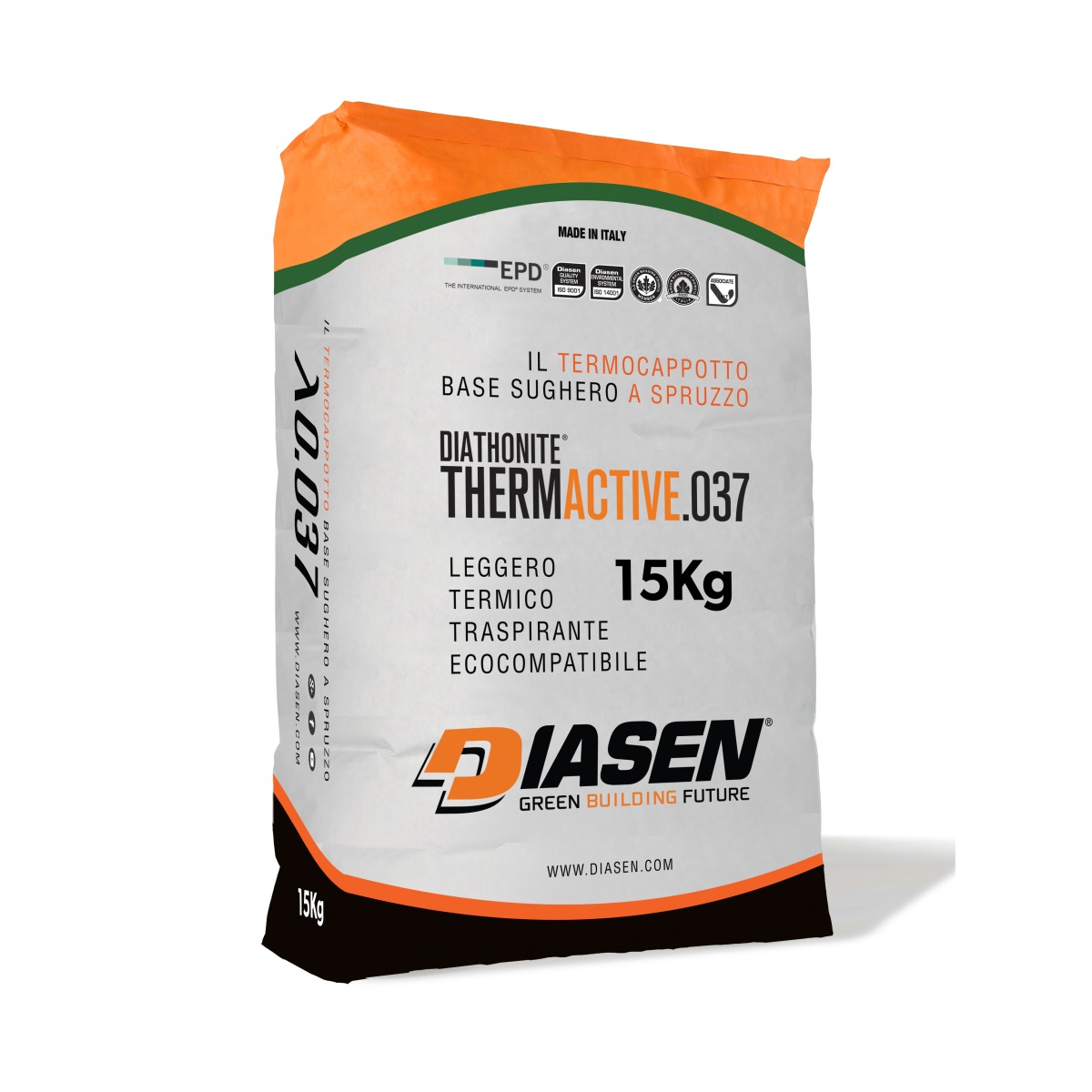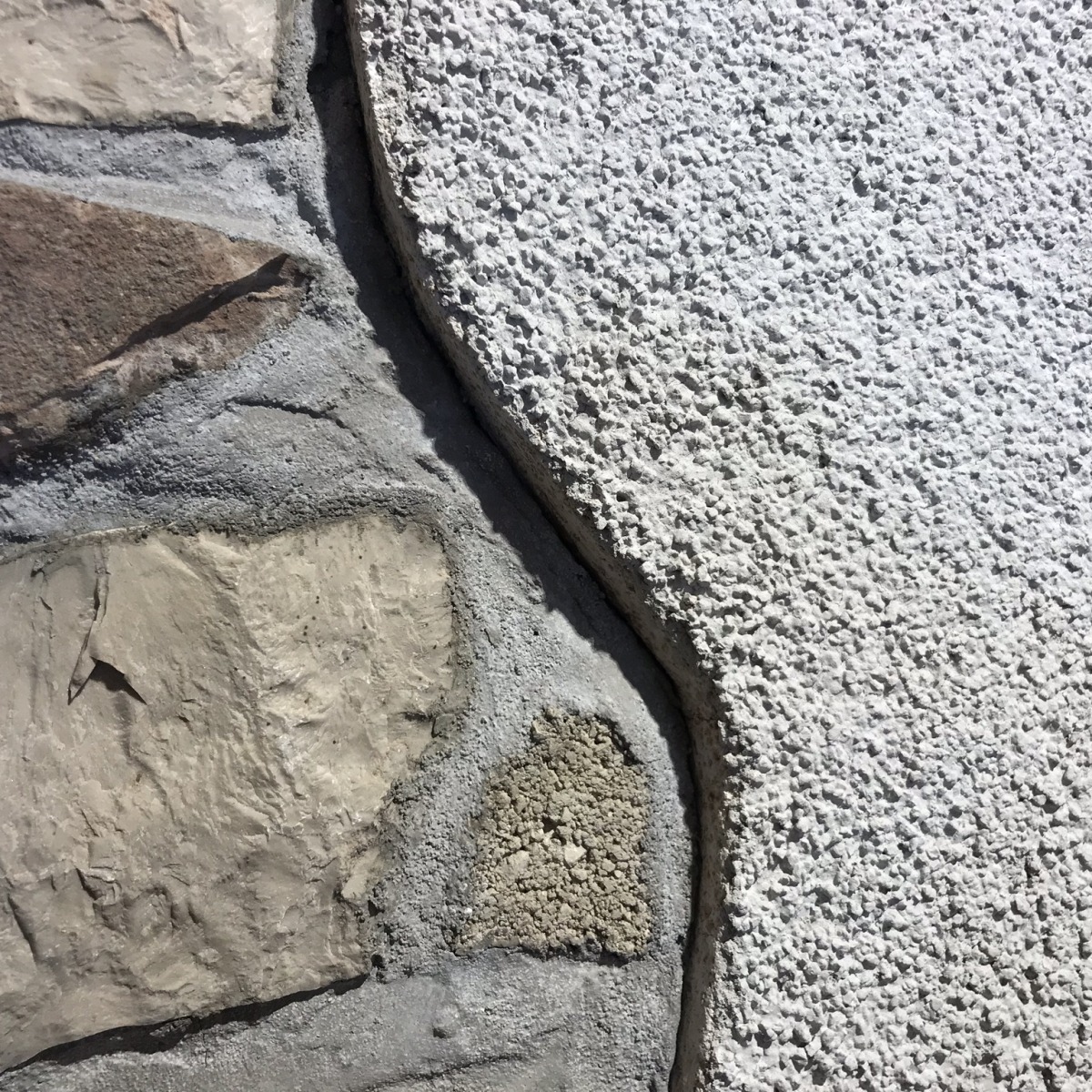 Diasen Diathonite Thermactive
Main purpose
Insulating the building and maintaining the breathability of the wall/ceiling.
Use it on
Internal solid stone or masonry walls and ceilings. Can also be applied to wood-based panels/sheathing, laths and plasterboard that have been primed with Diasen Aquabond Primer.
Overview
Diathonite Thermactive .037 is a lime-based insulating plaster made from NHL5, cork, pumice, amorphous expanded silicate, perlite, natural fibres and diatomaceous earth. Used internally on solid masonry walls and ceilings, it is highly breathable and helps walls in older buildings dry out thanks to its capillary active nature. Diathonite Thermactive is compatible with a range of substrates, but is mostly applied to solid stone or brick (once any gypsum plaster has been removed) and provides significant thermal improvement to these walls.
Where to use it
Diathonite Thermactive can be used internally on any solid stone or masonry wall and is an ideal solution for the restoration and thermal insulation of older or Historic/Listed buildings.
What it does
Diathonite Thermactive is an insulating plaster that can help regulate moisture to manage humidity and damp in solid walls especially within older buildings.
In a typical installation, application of 40-60mm of Diathonite Thermactive would improve the thermal performance of the wall by 3.5-4.5 times. This thickness is the most cost-effective way to provide a significant thermal improvement to the wall.
The clever combination of natural ingredients provides mechanical strength and elasticity to reduce the risk of micro-cracking and gives a long-lasting durable finish.
Diathonite Thermactive .037 is supplied in 15 kg bags. There are 60 bags per pallet.
How it works
Diathonite Thermactive is capillary active and breathable. It actively transports moisture from the structure of the building away from the wall and allows vapour to pass through. It helps the wall dry out, regulates humidity and prevents condensation and mould growth.
Why we love it
The main ingredients are lime NHL5, cork, pumice, amorphous expanded silicate, perlite, natural fibres and diatomaceous earth. These are all-natural ingredients and compliment conservation requirements of historic or listed buildings and will contribute to LEED credits.
Thermactive dries much faster than a traditional lime plaster; usually it only takes one third of the time which works out at approximately 2mm per day.
Diathonite Thermactive .037 is malleable and flexible when being applied. This gives many beautiful aesthetic options for rounded window reveals and curved wall surfaces that follow the contours of the underlying stone or brick. This is especially relevant in stone cottage refurbishments. Thermactive also allows a more modern style finished result when required.
Not only an excellent insulation system, Diathonite Thermactive .037 is also ideal for leveling uneven walls prior to using rigid insulating board systems like Gutex Thermoroom and Calsitherm.
It is also non-combustible so will not burn or emit smoke.
Features
The best thermal conductivity available in a plaster
Beautiful finish
Award-Winning
Dual Function in one step
Breathable and Capillary active
Easy Application
High Elasticity
Easy thermal bridge solution
Excellent drying times
Fire Protection
Antibacterial Properties
Benefits
50mm of Thermactive improves the thermal performance of a wall by approximately 4 times keeping walls warm in the winter and cool in summer.
Creates a sympathetic restoration and insulation which maintains the unique characteristic of existing walls allowing them to breathe and balance room humidity.
Winner of the Renewable Product Category at the RIAI Architects Choice Awards – 2018.
Dual function plaster can be used as insulation and a levelling coat on the wall.
Natural cork and lime offer breathability and thermal insulation to prevent condensation and mould.
Up to 10 times more elastic than traditional plasters reducing the risk of cracks.
Provides a simple and easy solution to thermal bridges.
Can be sprayed-on or applied by hand; experienced lime plasterers or DIY enthusiasts can install it without special training.
Dries much faster than traditional lime.
Euroclass A1 fire resistance, does not burn or smoke so improves fire safety of buildings.
Complies with Building Regulations.
Questions
Can this insulating plaster be finished with gypsum?
No, all our Diathonite insulating plasters require a lime-based finish to maintain breathability. We recommend using Diasen Argacem HP.
Technical Details
Key Technical Data
Installation Guide
How to install
https://www.youtube.com/embed/6sJK-eghKHo?rel=0 The minimum application thickness is 15mm but a total thickness of 40-60mm is typical. 40-60mm improves the thermal performance of the wall by 3.5 - 4.5 times. Diathonite should be built up in 15-25mm layers to the required total thickness, typically one layer per day.
For thicknesses of 60mm or more, Diasen Polites 140 reinforcing mesh must always be used. This should be applied when half the total thickness has been applied. So, for 70mm total thickness, you must apply 35mm of Diathonite, then Polites Mesh then the remaining 35mm. On a ceiling, the typical application thickness is up to 30mm and a reinforcing mesh must always be used.
When used internally, Diathonite Thermactive .037 should be finished with a layer of Argacem HP, a breathable lime-based finishing plaster. The wall should then be painted with Diasen D20+ breathable primer before finishing with a breathable paint like Auro. If the wall is only being insulated internally and the exterior is not rendered, we would recommend a breathable rain repellent like BKK ECO be applied on the outside to limit the amount of moisture absorbed by the wall externally.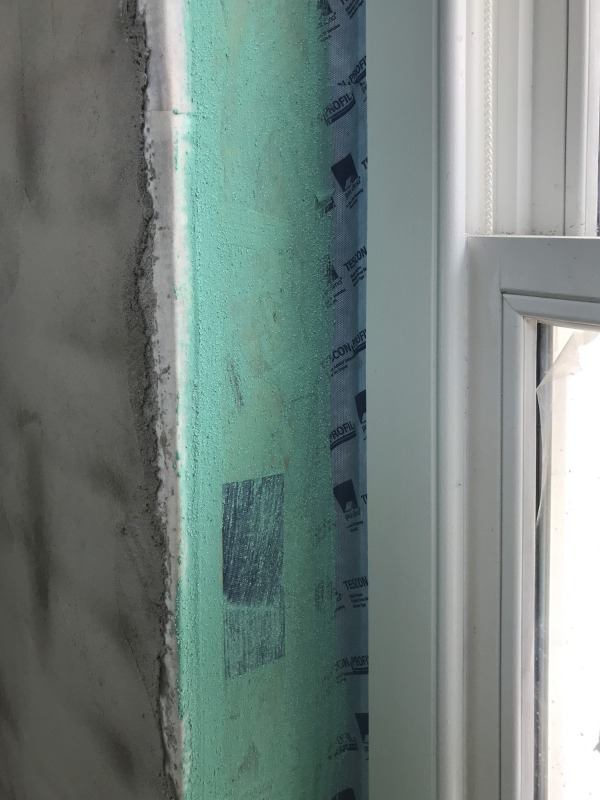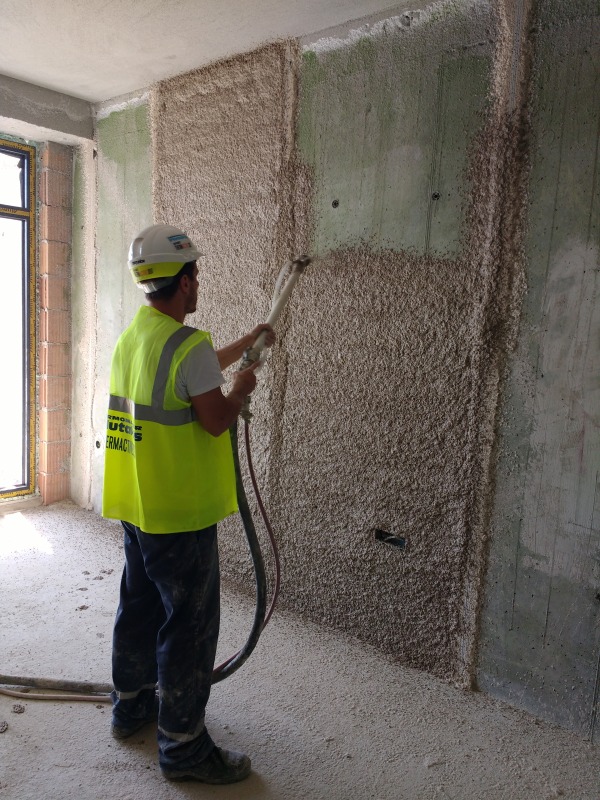 For projects of 100 square meters or more, Diathonite Thermactive .037 can be spray applied using a spray pump machine. An experienced trained installer is recommended for larger projects and spray application. Spraying is quicker than hand applying and uses approximately 10-15% less material because the plaster is not being compacted by a trowel.
Hints and Tips
All coverage/yield figures quoted are based on application to a smooth level surface. They are for guidance only and do not include material required to level (dub out) the walls.
On walls with white salt deposits (efflorescence) or high moisture content, Diathonite Deumix+ can be used to speed up drying and act as a salt inhibiter. Diasen Regularisation could also be used as the first layer of plaster (underneath the Diathonite Evolution) on walls with severe salt issues when required.