Diasen BKK Eco
Main purpose
Stops water being absorbed by the wall without affecting breathability.
Use it on
Any stone or masonry external wall.
Overview
BKK Eco is a colourless water repellent coating that can be applied to exterior walls. When applied it is transparent and does not change the appearance of the wall. It prevents water absorption due to wind driven rain, is breathable and lets moisture dry out ensuring the wall's insulation performs at its highest level. BKK Eco prevents algae growing and helps reduce the risk of salt deposits forming. It protects and extends the durability of the wall by preventing water ingress. If water is not absorbed, it can't freeze and degrade the wall surface. By keeping the wall dry for longer, this in turn increases the thermal performance of the wall.
Where to use it
Diasen BKK Eco can be used on exposed stone, masonry walls and plasters from water absorption due to wind driven rain. It has no visible effect on the wall so is an ideal protective coat for solid stone or masonry walls that are insulated internally with Diathonite Thermal Plaster, Calsitherm Climate board or Gutex Thermoroom.
It may also be used internally to protect Diathonite plastered walls when the bare plaster is not finished with Argacem HP, Decork or Cork Render (for example when the plastered wall will have timber paneling installed over the top). It may also be applied over Argacem HP where the homeowner does not wish to paint the finish plaster. Please note, natural variations in the consistency of the finish plaster will then be exposed. To attain the most consistent finish it is recommended to paint with a breathable finish such as Auro natural paint. You may be interested to read an article in Listed Heritage Magazine.
What it does
This water repellent coating lets moisture dry out to ensure the wall and its insulation performs at its highest level. When a wall is insulated internally with Diathonite, Calsitherm or Gutex Thermoroom; BKK ECO is the perfect choice for protecting the external side of the walls.
How it Works
BKK prevents water ingress from the external wall's surface while preserving breathability.
Why we love it
As water does not stay on the BKK Eco treated wall (it runs straight off), it cannot evaporate on the surface to leave any dissolved solid behind (e.g. salt from sea water) or remain long enough to feed algae. It therefore prevents algae growth, stains, and deposits on the wall. It also prevents frost damage to the wall as water can't freeze and damage the surface if repelled rather than absorbed.
Features
Enhances insulation performance
Water based and transparent once applied
Breathable
Quick and easy to apply
Solvent free
Protects the wall by repelling rain and water
Benefits
Ideal for walls exposed to wind driven rain by allowing water to run off the surface.
Prevents algae growing and staining on the wall
Prevents damage caused by water freezing within the wall (freeze-thaw).
Maximises the performance of the wall's insulation.
No visible change of appearance when applied with no detrimental effect to the wall.
Allows any moisture in the wall to evaporate.
Ensures full compatibility with other breathable solutions used on the wall.
Easy to apply by brush or can be spray applied (with appropriate equipment).
Safe to use on heritage buildings.
Questions
Yes, it is breathable (moisture vapour diffusion open) and reduces the water absorbency of the brick/stone. It also continues to allow moisture to evaporate from the wall. BKK Eco has a vapour resistance factor of just 7.
Technical Details
Key Technical Data
How to Install
Application of BKK Eco is very easy and perfect for a D.I.Y project as there is no need for a specialist installer. BKK Eco can be applied with a brush or sprayed on with a pressure sprayer. Typically 2-3 coats are applied until the surface is saturated.
For best results, BKK Eco should be applied to a clean, dry, absorbent surface.
In normal conditions (20°C, 40% relative humidity) BKK Eco dries in 4 hours. You should wait 1 hour between each coat and make sure the previous coat is still wet when you apply the next coat. In colder temperatures or higher humidity, the drying time will be longer.
Hints & Tips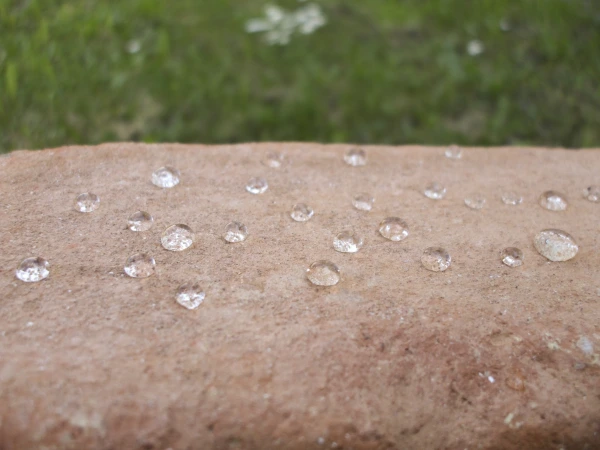 If used internally over Argacem HP finishing plaster, BKK Eco must be sanded off if you wish to paint the surface in the future.