Discontinued






Diasen Argacem HP
Alternative product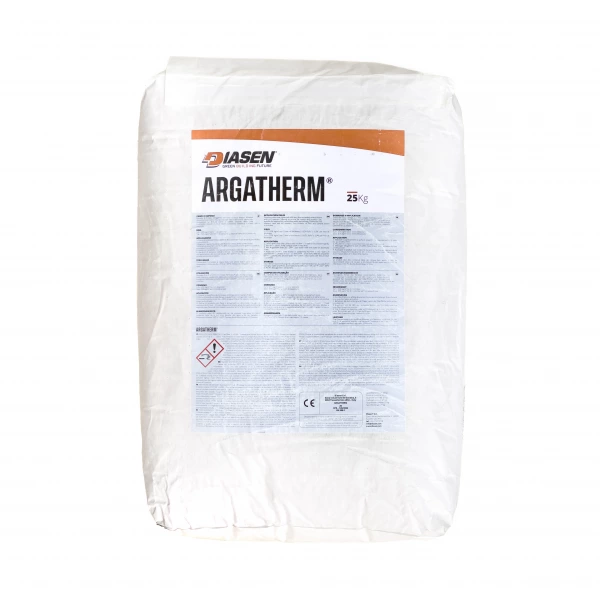 Diasen Argatherm
Semi-smooth lime based finishing plaster
From £27.30 (£5.24 per m2)
View
Main purpose
To achieve an authentic beautiful finish while maintaining the breathability of the wall/ceiling.
Use it on
All Diasen Diathonite plasters, Watstop and any new or old lime or cement-based plasters.
Overview
Argacem HP is a smoothing plaster skim coat typically used with the range of Diasen Diathonite plasters. It is highly breathable, mould resistant and made from natural materials including hydrated lime, natural filler and pure limestone powder. It is very workable and can be applied by spraying with a suitable machine or by trowel. It can be used internally and externally and should be always painted over, ideally with a breathable paint.
Where to use it
Argacem HP is an internal or external smoothing skim coat designed for use with Diasen's Diathonite thermal plasters. It can be applied directly over any Diathonite plaster with no other preparation.
It is suitable for new builds and retrofits, including Heritage and Listed buildings.
It is also compatible with other new and old lime or cement-based plasters that have been suitably prepared. Argacem HP can be used directly on to Diasen Watstop Waterproofing System.
What it does
Diasen Argacem HP provides a semi-smooth finish for covering the granular texture of Diathonite Evolution and Thermactive without affecting the breathability of the wall.
It is easy to mix to a consistent texture and offers excellent workability. It can be hand applied or sprayed on with a plaster spraying machine for quicker application in large areas.
Similar to other breathable finishing plasters, Argacem HP must always be painted with a breathable paint finish. The plaster is quite absorbent so this final finishing ensures the surface will remain clean and stain free.
How it works
Argacem HP is easy to mix with just clear water to create a consistent mixture with excellent workability. It is lime-based and in combination with Diathonite plasters, provides excellent thermal comfort and humidity balance.
Why we love it
Argacem HP's powdery consistency makes it easy to combine with water to create a consistent mixture with excellent workability. It can also be finished with a plastic float or a sponge. An experienced lime plasterer or DIY enthusiast can install it without special training.
The slightly grainy texture provides a semi-smooth finish to create a traditional look or contemporary aesthetic.
By containing only natural materials, Argacem HP qualifies for LEED points, which means it can be used in projects with strict environmental requirements.
It is also non combustible and does not emit smoke. It can therefore contribute to improved fire safety of the building.
You can see the beautiful finish achieved in this Barn Conversion in Northumberland
Features
All-natural materials
Easy to mix
Grain size 0-0.6mm
No special training required
Fireproof and non-combustible
Low thermal conductivity
Breathable (vapour open)
Durable finish
Benefits
Completes a breathable wall on top of Diathonite plasters, regulating humidity & preventing mould growth.
Smooths plaster surfaces to achieve a traditional or contemporary finish.
Any experienced lime plasterer can install.
Does not burn or smoke improving fire safety.
In combination with Diathonite plasters it provides excellent thermal comfort.
The powder is easy to mix with excellent workability and consistency, and can be hand applied or sprayed with a plaster machine.
Questions
What paint should I use over the Argacem?
A Natural Breathable Paint should be used - we recommend the Auro Paints which we supply for use over the Argacem. It complements the system, it is highly breathable, voc free, easy to apply and available in a wide range of colours. Get in touch with us for more information or to receive a colour chart by emailing info@auropaints.ie
Technical Details
Key Technical Data
When applied over fully dried Diathonite plasters, Argacem HP requires no special surface preparation. Over old plasters, an adhesion test is recommended to determine if Aquabond primer is required first.
In extremely hot weather, we recommend misting the surface with water before application, especially if the area is exposed to the sun. If primer has been used on the surface, misting will not be required.
Add approximately 6.5-7 litres of clean water per 25kg bag of Argacem HP. This is equivalent to 26-28% water to plaster ratio. Mix with a drill mixer or automatic mixer until the product is smooth and all clumps are gone. Let the mixed plaster rest for 5 minutes, then mix it again and use immediately. Do not add any other material or substance to the mixture.
Argacem HP should be applied in two layers with a steel plastering spatula. Each layer should be approximately 1.0-1.5mm thick. The first layer smooths the texture of the Diathonite and regulates the porosity of the surface. The second layer must be applied when the previous one is firm to the touch; typically after 12/24 hours at 20C, 40% relative humidity. Spray the surface with water before applying the second layer of plaster.
If Argacem HP is the final finish required with no Argacem Ultrafine being used, Diasen Polites-80 reinforcing mesh is recommended to be used at stress points around windows, corners and power sockets. The mesh should be applied between the first and second coats. Sections of mesh should overlap by 100mm.
Diasen Polites-80 reinforcing mesh must always be used over the entire area if Argacem Ultrafine finish will be applied over the top of Argacem HP.
When the second coat is still moist, finish with a damp sponge (for a semi-smooth granular texture) or plastic trowel for a more smooth finish.