Diasen Diathonite Deumix Plus
Main purpose
Restoration and moisture management of walls affected by rising damp and salt deposits. Also to speed up drying of residual moisture in the wall after treatment for damp.
Use it on
Internal or external solid stone or masonry walls where rising damp and salt deposits can occur.
Overview
Diathonite Deumix+ is a robust thermal insulating plaster and salt inhibitor made from natural hydraulic lime (NHL5), cork, clay and diatomaceous earth. It is breathable and capillary active with excellent insulation properties.
This plaster is ideally suitable for masonry walls where high levels of moisture, rising damp and salt deposits are problematic. Deumix+ effectively deals with excess moisture in the wall, regulates humidity and helps prevent salt deposits.
Where to use it
Deumix+ plaster can be used on solid stone or masonry walls either internally or externally. Suitable walls are typically those where rising damp, external rain, condensation, excess moisture or salt deposits (efflorescence) are present. It is also ideal for basements or where some or all of the wall is underground. It is mainly used in the restoration and thermal insulation of damp masonry walls especially in older or historic/listed buildings. It can also greatly speed up the drying of walls that have recently had a damp treatment so any residual dampness can dry as quickly as possible. You may be interested to read an article in Conservation & Heritage Journal.
It can also be used to level uneven walls before installing Gutex Thermoroom wood fibre insulation or Calsitherm Climate Boards. When used as the only plaster for the wall, it should always be covered with Argacem HP topcoat.
What it does
Diathonite Deumix+ readily absorbs moisture from the wall to help regulate and deal with rising damp. It's breathable and capillary active properties transport excess moisture or dampness rapidly out of the wall to the surface where it quickly and harmlessly evaporates. The excellent thermal insulation and moisture control abilities effectively prevent condensation and subsequent mould growth.
Why we love it
Diathonite Deumix+ is made from natural materials: lime (NHL5), cork, clay and diatomaceous earth. NHL5 is a strong and more robust type of lime. These breathable materials are highly porous and capillary active and work together to absorb and release moisture and humidity without being damaged. They provide thermal insulation and sound insulation, prevent condensation/mould, and form a robust yet elastic (non-cracking) wall plaster. It also contains a salt inhibitor to prevent deposits of salt occurring on the wall.
Coverage for 20mm thick layer (on level, smooth walls):
Hand applied: approximately 10.00kg per square metre. Each bag covers 2 square metres.
Sprayed on by machine: approximately 8.80kg per square metre. Each bag covers 2.27 square metres.
Features
Unaffected by cycles of high and low moisture
Capillary active & breathable
Prevents salt deposits (efflorescence)
Insulator
Suitable for uneven walls
Used on whole wall or effected areas only
Non combustible
Benefits
Robust and durable in problematic walls such as cellars, basements or walls affected by poor drainage or severe weather cycles.
Allows moisture caused by rising damp to pass through the wall helping it to dry out
Prevents unsightly salt stains and manages moisture by applying a minimum thickness of 25mm
Ensures full compatibility with other breathable solutions used on the wall, so ideal for heritage buildings
Provides thermal insulation to the wall, keeping you warm and reducing energy bills.
Spray or trowel applied, no special training required.
Questions
There are currently no questions and answers published for this product
Technical Details
Key Technical Data
How to Install
Deumix+ should be installed when the temperature is between 5°C and 30°C. The surface should be free of debris or loose sections. Any mould should be removed with a natural mould remover such as Auro Mould Eliminator and salt deposits should be cleaned off prior to application. Any paint finishes must also be removed from the surface before applying Deumix+ to ensure successful adhesion and breathability is maintained.
For the best moisture control performance, all existing plasters or renders should be removed and Deumix+ should be applied directly to the stone or brick.
On smooth concrete or when applying over existing plaster, the surface must be primed with Diasen Aquabond first.
Add 11-12 litres of water per bag of Deumix+. This is an indicative amount, the consistency can be changed to suit the conditions or surface type by adding more or less water. The mixture should be foamy once it is combined.
For application by hand, any un-primed surface should be thoroughly wetted one hour before application. This ensures Deumix+ dries at the correct rate for maximum strength, especially where the Deumix+ is exposed to the sun during application.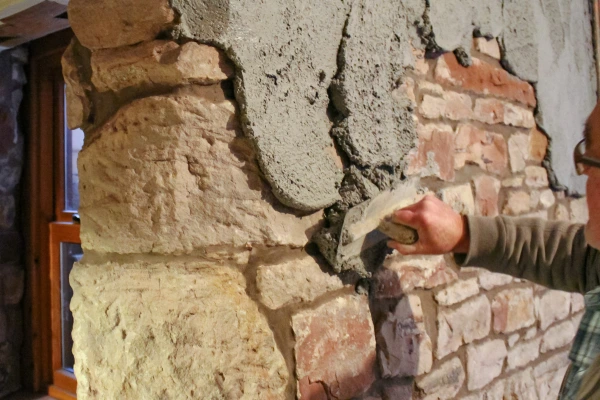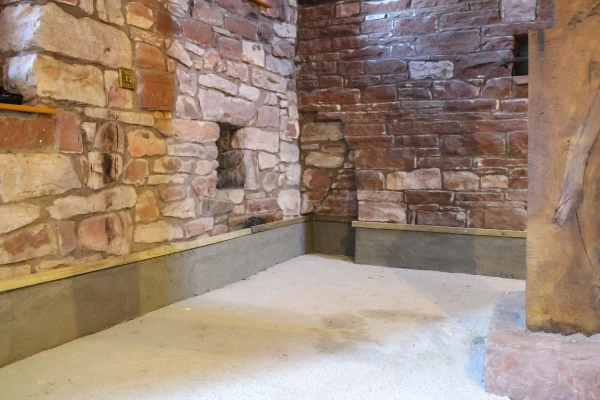 Deumix+ is typically applied 25mm thick either by hand trowel or by spraying with a plastering machine. The minimum thickness possible is 20mm. Greater thicknesses should be applied in multiple coats 20-25mm at a time. Each coat should dry for 12-24 hours and appear visibly lighter in colour before the next coat is applied. Wet the surface again thoroughly between each coat.
When smoothing the surface, do not press hard or compress the Deumix+ as this affects the porosity and reduces the effectiveness of the product. A flat level surface is obtained by scraping the surface to remove high spots with a long straight edge.
When applied externally, Deumix+ must be protected from frost, direct sunlight and winds while it dries. In warm weather, or in very sunny or windy conditions, the Deumix+ must be wetted 2 or 3 times per day for the next 2-3 days to regulate the drying and prevent cracks.
The finished Deumix+ installation must only be painted with breathable paint, Diasen Decork. Non-breathable paints prevent Deumix+ from working effectively.
Hints and Tips
All application/yield figures quoted are based on application to a smooth level surface. They are for guidance only and do not include material required to level (dub out) walls.
During warm weather, apply Deumix+ later in the day when the sun is less intense. Check weather forecasts to try to avoid applying during periods of rain or frost, heavy fog or humidity levels higher than 70%.