Lime Green Solo
Main purpose
A finishing plaster that provides a smooth topcoat and maintains the breathability of the wall.
Lime Green Solo is a component of the Retro EcoWall solution.
Use it on
Suitable for a wide range of backgrounds including masonry and existing plaster, Gutex Thermoroom wood fibre insulation boards, any Diasen Diathonite plaster or other lime-based plaster.
Overview
Lime Green Solo is an internal lime plaster suitable for a wide range of surfaces including wood-based panels, masonry and wood fibre insulation boards. It saves time during installation and helps promote a healthy indoor climate. It is highly breathable (vapour permeable) and can be finished to a smooth surface in just one coat.
Where to use it
Lime Green Solo can be used (in one coat) over any sound lime-based plaster including Diasen's Diathonite range of plasters and directly onto most stone and masonry. It can also be used on plasterboard if required.
It is also tested, verified and approved (by Gutex) for use as a finishing plaster on Gutex Thermoroom woodfibre insulation boards (in two coats with mesh in between).
If the stone or masonry is excessively wet or continuously damp, Lime Green Solo cannot be applied directly to the surface (please contact our technical team for guidance).
For optimal performance and longevity of any internal wall insulation system, it is crucial to evaluate the suitability of the wall and rectify any problems before installation begins. Please read our guide: "How to prepare traditional solid walls for IWI Installation" to ensure you achieve the best results.
What it does
Lime Green Solo is a lime-based easy-to-use plaster for creating a beautiful final finish to insulated lime plasters and Gutex Thermoroom wood fibre insulation boards. It is typically applied to walls to a thickness of 10mm in one or two layers. It can be finished to a semi-smooth texture with a sponge or made entirely smooth with a flexible float. If two layers are required, the second coat can be applied immediately after the first; there is no need to wait between coats.
The main ingredients of Lime Green Solo are: selenitic lime, sand, chalk and less than 0.1% additives to improve setting time and workability. The formulation of the plaster is based on an historic recipe and contains no cement.
It can be painted with breathable natural paints from Auro or can be left unpainted. If left unpainted, Solo is almost white in colour. Diasen BKK Eco water repellent is recommended to repel spills and prevent staining if no paint is used.
Why we love it
Lime Green Solo Finishing Plaster contains only natural materials and can be used in projects with strict environmental requirements. As a lime-based plaster it is suitable for sympathetic restorations of older buildings and is much easier and quicker to use than traditional lime plaster. Its breathability also helps maintain a healthy balance of moisture and humidity in the wall and a healthy indoor climate for the building occupants. It offers exceptional adaptability and may be applied on gypsum plaster boards as well as lime based substrates.
Features
Just add water
Easy installation
Lime based – breathable
Contains only natural materials
High mould resistance
Adaptable for a range of substrates
CE Marked
Benefits
Easy to achieve consistent mix with excellent workability.
Can be hand applied in one coat.
Experienced lime plasterers can install it without special training.
Suitable for historic/listed Buildings, it regulates humidity and prevents mould growth.
Can be used in projects with environmental requirements. Does not contain cement.
UK manufactured product, which can be specified in any UK or Ireland project.
Questions
What paint should I use over the Lime Green Solo?
A Natural Breathable Paint should be used - we recommend the Auro Paints which we supply for use over this. It complements the system, it is highly breathable, voc free, easy to apply and available in a wide range of colours. Get in touch with us for more information or to receive a colour chart by emailing info@auropaints.ie
Technical Details
Key Technical Data
How to Install
Preparation
When unsure, always carry out a test for compatibility with the surface before beginning application.
The temperature must be between 5°C and 30°C during mixing, application and drying. If the temperature drops below 5°C during mixing or application, use heaters to warm the room before continuing.
Dampen dry and porous backgrounds before application. It is important not to allow Lime Green Solo to dry out too fast when applied over a highly absorbent surface.
Lime Green Solo is not suitable for excessively wet or continuously damp surfaces. It should be applied to uniformly level walls. Uneven walls should be first levelled with Diathonite insulated plaster or other lime-based plaster.
Do not prime the walls with PVA.
How to Mix
Add 5-7 litres of clean water to each 25kg bag of plaster and mix for 3 to 5 minutes.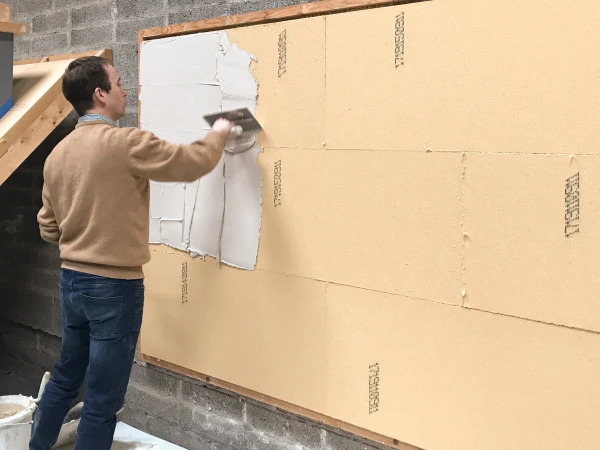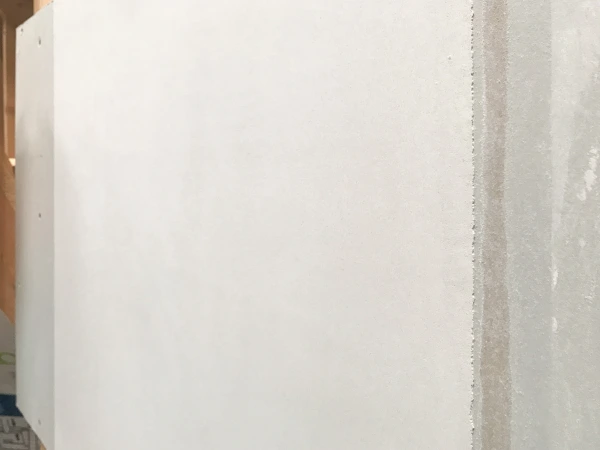 How to Apply
Finishing plaster on top of Diathonite insulation plaster:
Mist the surface with water if very dry. Apply Lime Green Solo in one pass, levelling with a straight edge or stainless-steel plaster spatula as you go. It does not need to be entirely flat or smooth at this point. Once the plaster begins to set and is firm enough so that touching it with your finger does not cause an indentation (approximately 2 hours), use a damp sponge to smooth out any high/low points or trowel marks. If a smoother finish is required, leave for about 30 minutes then polish the surface with a steel or flexible plastic trowel to produce an excellent smooth finish. Do not over-work the surface as this may lead to fine cracking.
On Woodfibre Insulation Boards:
Apply 5mm of Lime Green Solo then cover with Thermoroom reinforcing mesh. Use a trowel to gently embed the mesh into the surface of the plaster. Immediately apply a second 5mm coat of Solo on top. Use a wide plaster spatula to preliminary smooth the surface; it doesn't need to be perfect at this stage. Once the plaster begins to set and is firm enough so that touching it with your finger does not cause an indentation (approximately 2 hours), use a damp sponge to gently smooth out the surface and level out any trowel marks or uneven areas. The sponge provides a level final finish with a semi-smooth texture. If you would prefer a smoother finish, use a flexible trowel 30 minutes after sponging to polish the surface. The Lime Green Solo should then be painted with a natural breathable paint such as Auro.
Do not over work the surface as this may lead to fine cracking.
Hints & Tips
Allow at least 2 weeks drying time, during which time the plaster should be protected from rapid or forced artificial drying (applying additional heat). If the environment is very warm or the plaster is drying very quickly, mist the surface with water. If the temperature drops below 5°C, use supplementary heating to raise the temperature, in the room.