Thermafleece CosyWool
Main purpose
Lightweight, natural and sustainable thermal and acoustic insulation.
Use it on
Between studs in timber frame walls and between rafters in roofs. Also perfect as loft insulation, between and over joists, between joists in a suspended timber floor and in ceilings.
Overview
CosyWool is a natural insulation manufactured in the UK from British sheep's wool. It is breathable, offers excellent insulation properties and helps maintain a stable humidity and moisture levels within a building. CosyWool can be safely handled with no precautions or safety equipment needed, making it a straight-forward D.I.Y product, especially for loft insulation.
Where to use it
Thermafleece CosyWool can be installed between joists, rafters and studs to insulate roofs, walls and floors; It is suitable for any pitched roof, flat roofs and internal or external timber frame stud walls. It is also a perfect solution for insulating suspended timber floors and as loft insulation.
What it does
CosyWool is a breathable high-performance flexible insulation. It is completely safe to handle without gloves or additional safety precautions. It is absorbent and helps regulate humidity and moisture within the building fabric. CosyWool can absorb moisture and excessive humidity without affecting its insulation performance. When conditions allow, moisture will harmlessly evaporate back into the environment or building. The cellular structure of CosyWool, also allows it to absorb airborne pollutants such as formaldehyde which can help improve indoor air quality. Keratin based materials like sheep's wool absorb and destroy formaldehyde.
CosyWool contains 75% wool plus recycled fibres to increase durability, performance and sustainability. Thermafleece research shows 75% wool mixed with recycled fibres provides better performance than other insulation with a higher percentage of wool.
Why we love it
CosyWool is a lightweight insulation making it easy to install. It is supplied compressed to reduce storage and transport implications by over 50% (compared with other types of insulation). This also ensures the safe and easy installation of the material in tight confined spaces such as smaller attic hatches. Once un-packaged, the CosyWool returns to its normal size.
Thermafleece CosyWool can be unrolled and installed between timbers and easily cut with an insulation knife or even torn by hand into pieces for filling those difficult or awkward spaces that a slab of insulation cannot reach.
A versatile sheep's wool insulation like CosyWool is an excellent solution for both professional installers and DIY enthusiasts.
Features
Natural thermal insulation
Roll format
Made from sheep's wool
Very easy to install
Safe to handle
Breathable
Effective acoustic insulation
Benefits
Insulates the home effectively, reducing energy consumption and heating bills, also acts as an effective acoustic insulation.
A simple DIY installation - rolls fit through attic access, then are easy to roll out.
A natural, renewable resource.
No harmful additives; 100% safe and causes no irritation to the skin, eyes, or respiratory tract.
Natural fibre insulation can help stabilise humidity and moisture levels within buildings. This improves indoor air quality (IAQ) and reduces the risk of condensation and mould.
Long lasting and will retain form and shape over the long term.
Quality Assured Thermafleece CosyWool is manufactured and supplied in accordance with ISO 9001 quality and ISO 14001 environmental management systems.
Tested and approved high resistance to moths to ISO 3998.



Questions
There are currently no questions and answers published for this product
Technical Details
Key Technical Data
How to Install
Gloves and protective clothing are not required. We would however recommend a dust mask when working in a loft.
CosyWool is typically installed with a breathable (vapour open) airtight membrane to maintain the benefits of water vapour absorption and release and to eliminate draughts that always lower the effectiveness of the insulation.
The wool insulation should be protected from prolonged exposure to sunlight once it is unpacked and try to avoid it being wet for extended periods. Store it under cover and it must not be in contact with the ground.
Measure the size of the space in which the insulation will be inserted, for example between rafters, studs, joists or timbers and make a note of the total length required. The insulation should be slightly wider and longer than the space being filled so it can be gently squeezed into place and remain there due to friction with the timber to the sides.
For cutting accurately, tightly compress or clamp the insulation between two pieces of straight timber (at least 15mm thick). Keep the two timber edges aligned, then cut along the edge with a scalloped insulation knife keeping the blade firmly and squarely against both timber edges at all times.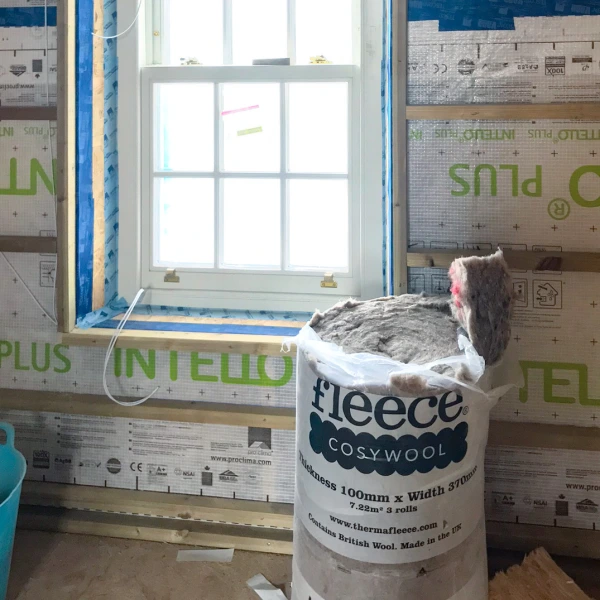 Tips & Hints
CosyWool can be installed in multiple layers to achieve the desired thickness. The lengths of insulation should be staggered so there are no joins directly above each other in each layer.