Pro Clima Roflex Airtight Grommet
Main purpose
Creates an airtight seal around pipes and ducting so that they can safely penetrate a building's airtight layer without causing leaks.
Use it on
Internal or external roofs, walls and floors on pipes and ducts of 20-300mm diameter. When used with Tescon Vana airtight tape as the adhesive, Roflex will stick to any air or windtight membrane, smooth planed or painted timber, wood-based panel or board, concrete, metal and plastic. The end of the pipe or duct must be accessible so it can be fed through the grommet.
Overview
Roflex grommets are heat resistant EPDM rubber seals for airtight sealing around circular pipes and ducting. For 15-30mm diameter pipes, Roflex is available as a single pipe grommet with self-adhesive backing or a multiple pipe grommet that needs to be taped. For pipes over 30mm and up to 320mm diameter, Roflex can seal one pipe per grommet and is sealed with Tescon Vana airtight tape. Tescon Vana is a tape that has been tested and proved to remain airtight for 100 years. Roflex of 30mm and larger and sold in pack sizes of 10 or 15 grommets do not come with tape.
Where to use it
Pro Clima Roflex heat-resistant EPDM rubber grommets can be used internally or externally on walls, ceilings, floors and roofs (of more than 15° of pitch). It is compatible with circular pipes, flues and ducts where you have access to one end and the temperature will not exceed 150°C. Access to a free end is required so the grommet can be slid onto the pipe or duct like a tight-fitting collar. Roflex can be used with pipe diameters of 15-320mm.
The smallest size, Roflex 20, has an integrated Tescon Vana self adhesive backing (patch). All other sizes will require Tescon Vana airtight tape for sealing the grommet to an airtight barrier. Roflex sold in pack sizes of 10 or 15 grommets do not come with tape so please purchase this separately. Tescon Vana's waterproof solid acrylic adhesive will permanently stick to any airtight or windtight membrane, wood-based panel or board, smooth planed or painted timber, metal or plastic.
If the pipe is a flue and the temperature would exceed 150°C, the Eisedicht HotSchott grommet can be used instead. It can resist temperatures up to 250°C.
What is does
Roflex provides an airtight seal around pipes and ducting. It grips the pipe or duct tightly to provide a perfect airtight seal but also allows the pipe to be repositioned or pulled through the grommet when needed. Once sealed with Tescon Vana tape, no air can leak from around the pipe.
The robustness of the EPDM rubber plus the watertight adhesive of the Tescon Vana tape used for sealing means the grommets can also be exposed to external UV and weathering for up to 6 months.
The stretchable heat resistant EPDM material allows for a swift installation and an easily achieved airtight seal.
How it works
The holes are pre-cut on all single-pipe Roflex grommets. The holes are undersized, and the EPDM rubber is very flexible easily fitting around pipes and duct penetrations passing through airtight materials.
The undersized pre-cut holes tightly grip the outer surface of pipes and duct work. Once the rubber grommet is stuck to the airtight material being penetrated, any air leakage through gaps around the pipework is fully prevented.
Why we love it
Pro Clima Roflex grommets make airtight detailing and sealing much easier and quicker. They also allow the pipes and ducts to be pulled or pushed freely through the grommet without compromising the airtight seal. This is much easier than using strips of tape or airtight sealants (mastics) as they do not allow for any movement, replacement or re-positioning of the pipes in the future or during construction.
The Roflex EPDM grommet has a heat resistance of up to 150°C and are suitable for most pipe and duct work sealing requirements. If additional heat requirements are necessary, such as for sealing around stove flue pipes, the Eisedicht Hotschott grommets with a heat resistance up to 250°C should be used.
System warranty
Pro Clima provide a limited system warranty, backed-up with public liability insurance, for all airtightness system, roof and wall sealing system and construction products that they supply. A 10-year warranty is provided for these products when correctly installed in combination with approved thermal insulation materials and other Pro Clima system products. When correctly installed in combination with other manufacturers' products (not made by Pro Clima), a 6-year warranty is provided.
Features
Easy professional or DIY solution
Does not stick to the pipe
Highly adaptable
Easily seal around all common pipe and duct sizes
No expanding foam required
Benefits
Stretchy EPDM rubber allows the user to easily seal around pipes and ducts with confidence in achieving a permanent airtight seal.
The grommet allows for pipes and ducts to be re-positioned after installation without affecting the airtight seal.
Highly versatile with multiple sizes available to seal any pipe/duct between 20-320mm diameter.
The self-adhesive backed Roflex 20 EPDM grommet means that common 15-30mm pipework can be sealed extremely quickly.
Seal up to nine 15-30mm pipes with one Roflex 20 Multi.
Avoid the use of messy, less effective and non-permanent expanding foams.
Questions
There are currently no questions and answers published for this product
Technical Details
Key Technical Data
How to Install
Roflex grommets should be installed before pipe work is completed. At least one end of the pipe must be accessible so the grommet can be slid over the end. Grommets must never be cut or split to fit around fully completed pipe work.
It is important that the maximum pipe diameter for a grommet is not exceeded; overstretching the EPDM rubber will compromise the integrity of the material and lead to air leakage.
https://www.youtube.com/embed/lgHiNCjjzRk?rel=0 For the single pipe grommets, slide the grommet into position up to the airtight barrier. Then use the supplied Tescon Vana Airtight Tape to seal around the grommet.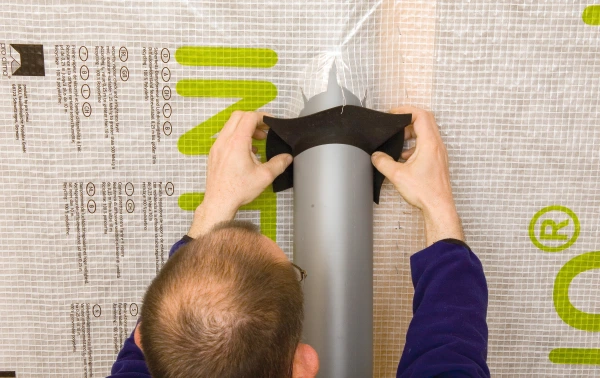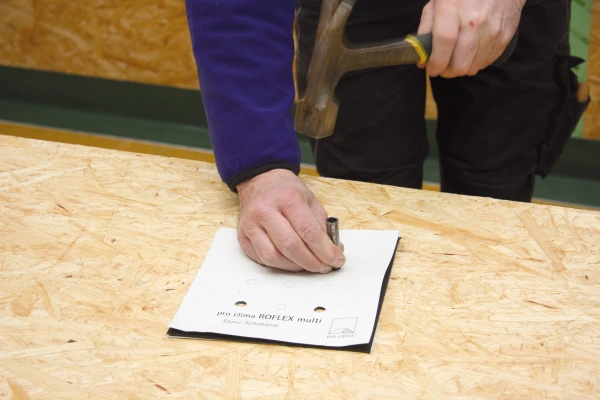 For Roflex 20 Multi, you must first decide how many holes you need and where on the rubber grommet you need them. Place the rubber grommet onto a smooth hard surface (e.g. planed timber, MDF, plywood or plastic cutting mat).
Align the paper template centrally over the top of the grommet. Put the metal punch, with the sharpened end touching the grommet, over one of the circles printed on the template and strike firmly with a hammer to cut a precise hole in the rubber.
Repeat as needed. If you cut more holes than you need, you can tape over the excess holes with Tescon Vana.
After cutting the holes, slide the grommet over all pipes/cables and position up against the airtight barrier. Use the Tescon Vana airtight tape supplied in the box to seal the grommet to the surrounding area then press firmly with a Pressfix Tool.