Your Questions Answered - The Topic - Building Airtightness
In our latest blog Darren O'Gorman (Technical Support Engineer) answers some common questions asked about the cost of making a building airtight. These questions include what savings can be made by making a dwelling airtight, what airtightness one should be aiming for; and is there a problem with a building being to airtight?
Q1 - What savings can be made by making a dwelling airtight?
The estimated savings below are based on a 200m2 two-storey dwelling located in the midlands of Ireland with a moderate degree of sheltering. The house is block built with a sand/cement plaster on the walls as an airtight layer. The approximate cost per kWh €0.10/kwh using either oil or gas. The savings are also based on a comparison on improving airtightness from an N50 of 5.7ac/h to an N50 of 1.0ac/h (Q50 of 7m3/m2/h equates to 5.7ac/h in a building of 500m3 with a surface area of 410m2).
Calculated energy savings per year 3925 kWh/yr
Money saved per year €392.50/yr
Co2 Savings per year 2316/yr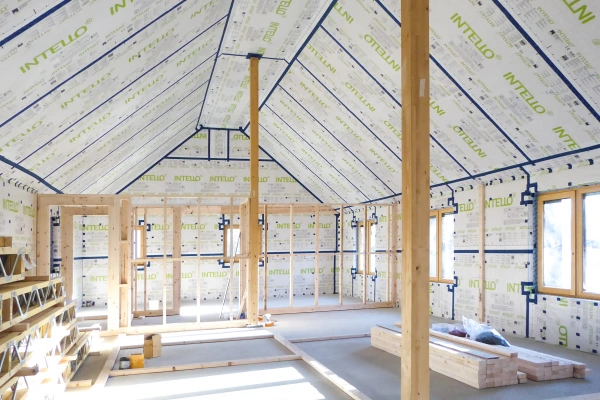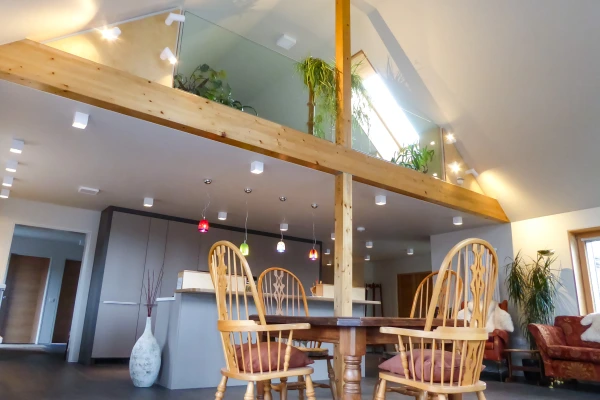 The result:
A 5-year payback (with increased comfort, improved acoustics and less risk of interstitial condensation). This simple payback calculation is based on an initial cost of €2000 for materials and labour. In addition to energy savings, there are added benefits to the homeowners such as increased comfort levels and building protection. By improving the airtightness of the building, the overall energy rating is improved and thus this should add additional value to the property (Note: A new build Passive House requires an N50 of max 0.6ac/h, thus would lead to additional savings, however, there would also be additional labour costs).
It should also be noted that whatever your target value for airtightness, ventilation should be designed appropriately in accordance with Part F of the Building Regulations. It is crucial to build tight, ventilate right! Whether it is whole house mechanical ventilation or natural ventilation, ventilation is not by chance.
Q2 - Is there a problem with a building being too airtight?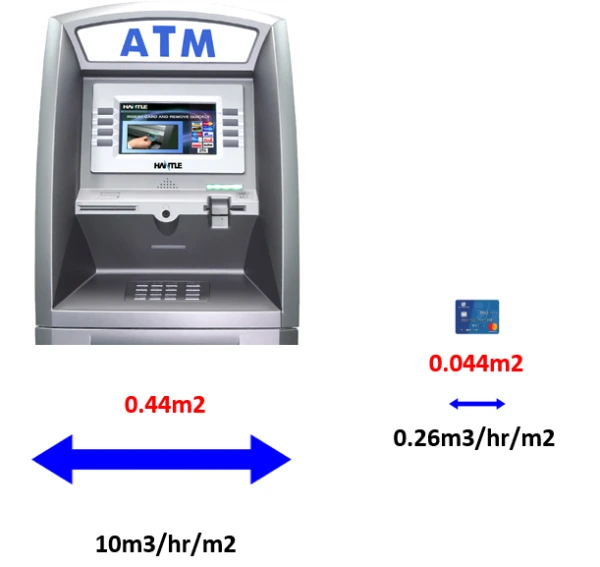 This is indeed a very common question, which is understandable given the term "airtight" conjures up images of suffocation and poor indoor air quality. First and foremost airtightness in a building will make substantial energy savings. Rather than a building being too airtight, the issues tend to arise if a building is inadequately ventilated. This applies not only to high-performance low energy buildings but also conventional buildings. A leaky building will have excessive heat loss and uncontrolled cold air infiltration during the heating period. This leads to discomfort, significant additional energy costs and a greatly increased risk of interstitial condensation within the building envelope. Ventilation should not be by chance. Even if a building is considered "leaky", standard vents in the walls while opening and closing windows are not a reliable means of ensuring appropriate ventilation. The "sure I'll be grand, I'll open the windows" attitude is not conducive to healthy indoor air quality.
To put this leakage area into perspective, based on a building envelope area of the 1900 Sq.feet; if built just to building regulations (Eng/Wales) with a leakage rate of 10/m3/hr/m2, the equivalent size hole in the building once everything had been sealed up would be approximately 440 x 440mm (the size of a typical ATM machine). In comparison, Passivhaus buildings have a leakage area that is 10 times smaller at just 44 x 44mm ( equivalent to that of a credit card).
Q3 - What happens a leaky building in the Winter time?
In Winter windows are closed and vents are either closed or worse blocked up with newspapers or towels. An oversized stove in the living room is leading to the air being too dry and ultimately affecting your health and comfort. In addition to this, a typical stove will draw air from the room which forces air from outside through leaks ultimately leading to discomfort or draughts, typically under skirting boards or door thresholds.
Another scenario which can happen on a regular is that individuals are drying clothes inside leading to peaks in humidity which in turn can lead to problems at cold bridges, surface mildew and mould growth. All these factors can lead to possible building damage, especially if inappropriate airtightness membranes are used.
Below are examples of the impact concentrated moisture laden air can have on the structure of a building. In these pictures of a flat roof build up above a shower room (heavy moisture load) a vapour barrier has been allowed for, however, the sealing of cables/services through this have not been carried out properly. These penetrations are acting like a funnel for moisture to escape, if this escapes to the outside or starts to condense on colder surfaces the risk of structural issues increases significantly.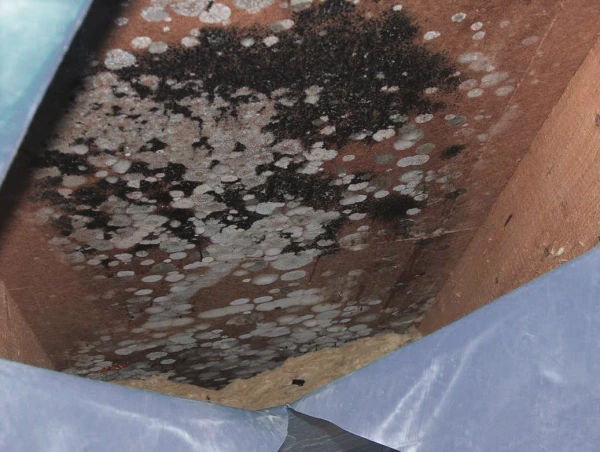 Q 4 - What Airtightness should I be aiming for?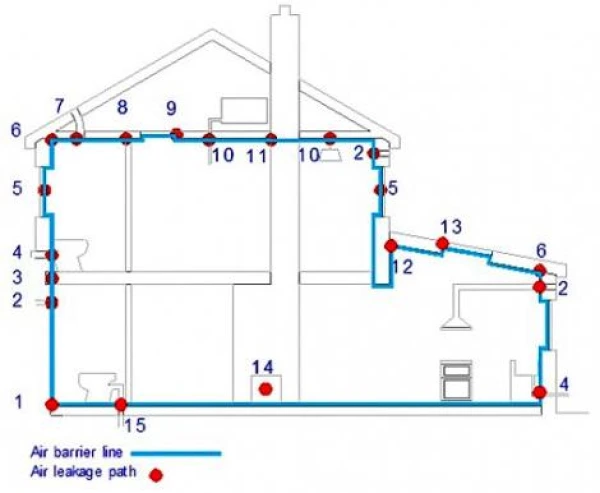 If natural ventilation (i.e. vents in the walls) is planned at a Q50 of 3.0 m3/m2hr, the level of airtightness is approx 2.3 times better than the max or worst airtightness allowed for a new build (i.e. Q50 max 7.0 m3/m2hr, IRL building regulations). New builds are much easier to make airtight compared to retrofit, with a good approach and attitude this can be achieved. It is, however, advisable that one should aim for 2.0 or better in order to ensure the 3.0 m3/m2hr @50Pa target is reached.
If whole house mechanical ventilation is installed, I would recommend a maximum N50 of 1.5ac/h to ensure efficient operation of the ventilation system. The reason for this is, if the building is leaky and particularly in extract rooms were a negative pressure will be exerted, cold air can be drawn in at leaky points (e.g. around windows). This will affect the overall efficiency of the MVHR system. The more airtight the building the more efficient the MVHR system will be.