Pro Clima Solitex Plus
Main purpose
Robust windtight and vapour permeable (diffusion open) sealing of exterior roofs and walls or suspended timber floors
Use it on
Roofs (over 15° pitch), timber frame walls, insulated suspended timber floors
Overview
Pro Clima Solitex Plus is used as a fully windtight and breathable (vapour open) roofing underlay for pitched roofs, as an external membrane for timber frame walls and as the windtight membrane used when insulating a suspended timber floor. It has 4 robust layers making it ideal for use where heavy foot traffic is likely during construction, can be exposed to UV and weather for up to 3 months and has impressive nail tear resistance.
Where to use it
Solitex Plus is an external fully windtight breathable membrane for use as a roofing underlay on pitched roofs (over 15° of pitch) and as a breather membrane on the outside of timber frame walls. The membrane can also be used to windproof the underside of an insulated suspended timber floor.
As it is a reinforced membrane with high nail tear and pull-out resistance, it is fully compatible with blown-in insulation.
Please note: If the roof is flatter than 15° pitch, seek additional guidance from our technical team or consider using Solitex Weldano for particularly low pitch roofs of less than 10°.
What it does
Pro Clima Solitex Plus is a 4-ply roofing underlay/membrane consisting of a polypropylene fleecy backing, super-strong reinforcing mesh, a central layer of monolithic nonporous TEEE membrane and a blue polypropylene felt top layer. It has a significantly lower resistance to moisture vapour than conventional roof underlays. This provides a dry structure with an extremely low risk of condensation forming within the roof or walls of the building.
The monolithic windtight membrane is unaffected by preservatives, resins and oils in timber. These substances are damaging to inferior microporous membranes and cause rain water to seep through (leaching). This is because they lower the surface tension of the rain water allowing it to pass through the microscopic holes in the microporous membrane. There are no microscopic holes in Solitex plus so it remains watertight in all circumstances.
Solitex Plus is unaffected by exposure to UV and high levels of radiant heat from the sun for up to 3 months. This is ideal for protecting an unfinished building (during construction) from the elements before any tiles, protective cladding or façade are installed.
Why we love it
The active transport of moisture via diffusion through the built-in monolithic membrane of Solitex Plus constantly protect the building from condensation problems, as monolithic membranes don't require any air movement beneath and through them to transport moisture vapour to the other side. Structural damage from condensation is a risk when an inferior microporous roofing membrane is used instead and where moisture levels on site are particularly high (i.e. during the winter season when building site moisture levels are high).
The fleecy backing of Solitex Plus reduces friction for easier installation and its reinforcement gives it high nail tear resistance and robustness when construction workers walk over it during construction.
Once the overlaps, junctions, edges and penetrations of the Solitex Plus have been adequately taped and sealed with Tescon Vana or Tescon No. 1 and appropriate roofing battens are positioned (in accordance with BS 5534), Solitex Plus can be used in any of the exposure zones throughout the UK and Ireland.
Solitex Plus is a tried and tested with Third Party Approved from the Irish Agrément Board Approved and is a BBA Certified membrane.
System warranty
Pro Clima provide a limited system warranty, backed-up with public liability insurance, for all airtightness system, roof and wall sealing system and construction products that they supply. A 10-year warranty is provided for these products when correctly installed in combination with approved thermal insulation materials and other Pro Clima system products. When correctly installed in combination with other manufacturers' products (not made by Pro Clima), a 6-year warranty is provided.
Features
Superb resistance to wind driven rain
Fully windtight and vapour open
Extreme nail-tear resistance
Super-strong reinforcement layer
Innovative nonporous membrane
High resistance to all wood preservatives/natural wood resins
Superb heat resistance
Benefits
Extreme water-tightness (>2500mm W1) making it suitable for all UK and Irish exposure zones.
Unlike conventional microporous roofing felts, this monolithic membrane is fully windtight with no drop in insulation performance even during extreme winds.
Reinforcement layer provides strength, avoids the membrane tearing and offers outstanding protection from heavy foot traffic from construction workers.
Ensures optimal moisture management and lowers condensation risk by helping transfer water vapour from the fabric of the building.
Water tightness is unaffected by wood preservatives, resins and oils in the timber. No water seepage or leaching.
Offers far greater long term resistance to high temperature (hot sun) than other conventional breather membranes; will not break down due to continual high temperature stress.
Questions
There are currently no questions and answers published for this product
Technical Details
Key Technical Data
How to install
On a roof, Solitex Plus should be installed with the printed blue side facing outwards towards the external environment; this is the weatherproof and UV resistant (for 3 months) side. It can be installed parallel to the roof battens (horizontally) or parallel to the rafters (vertically). Horizontal installation provides better rain penetration protection while it is exposed during the construction phase and is recommended. The space between rafters should be no more than 1m.
When installed on a suspended timber floor, there is no UV exposure, so the blue face should be positioned so it is the side that gets taped. This means, if the floorboards have all been removed and you install from above the floor, the printed blue side will face up (towards the interior of the room). Conversely, if the floorboards remain in-place and you install from within the crawl space underneath, the blue side will be facing down towards the earth.
Taping should always be done onto the blue face as it is smoother and an ideal surface for airtight tape.
Use clout nails or galvanised staples that are at least 10mm wide and 8mm long to attach the membrane. Staple every 10 to 15cm. Overlap lengths of membrane by at least 10cm. A larger overlap is recommended on less steep roofs.
When blown-in fibrous insulation is used, additional battens running parallel to the rafters are required to limit bulging. Installing Solitex Plus parallel to the rafters (vertically) allows the overlaps to be stapled to the rafters along their entire length.
Distance between staples should be reduced to 5-10cm when using blown-in insulation. If the insulation is blown-in from the outside, the hole in the Solitex Plus can be sealed with 150mm wide Tescon Vana.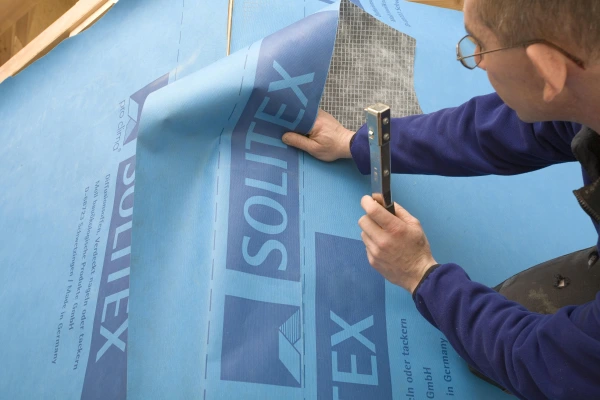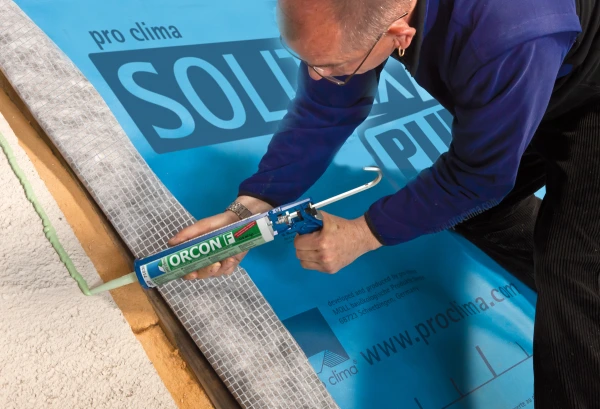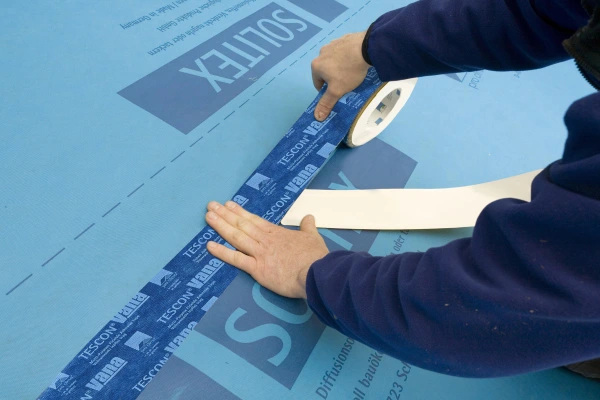 Hints & Tips
Pro Clima Roflex airtight pipe grommets should be used to seal vent pipes and duct work that penetrate the Solitex Plus membrane externally.
Where possible, Solitex Plus should be paired with Pro Clima Intello Plus, an internal intelligent airtight vapour control membrane. By using Solitex Plus externally and Intello Plus internally, you get the best and highest possible protection against any potential structural damage caused by trapped moisture in your roof or wall.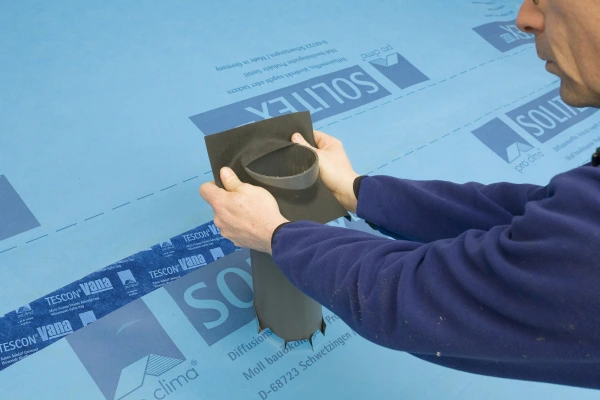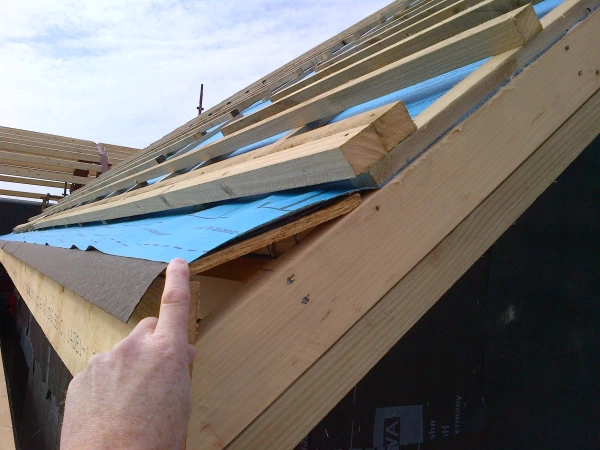 Solitex Plus should not drape into the gutter once installed. A 500mm wide strip of bituminous Type 5U sarking felt should be used to meet the specifications of I.S. EN 13707:2013. This should be dressed 50mm into the gutter. The Solitex Plus should then be taped to the felt to complete the waterproof seal.