Wellhöfer Access Hatch
Main purpose
Where space is restricted, provides access to the attic space without compromising the airtightness of a building.
Use it on
Any ceiling especially in airtight buildings.
Overview
Wellhöfer's Airtight Insulated Access Hatch provides access to a loft or roof space even when space is limited. As a certified airtight and fully insulated loft access solution, the hatch will not compromise the airtightness of a building or the insulation layer. The hatch is of a simple design so is quick and easy to install.
Where to use it
Wellhöfer certified Airtight Access Hatch is an extremely versatile product for use in newbuilds or existing building refurbishment (retrofit) where loft access would affect the insulation and airtightness of a building. With its small and compact size, it can be easily included into a ceiling or wall space of an airtight building to provide access to those hard to reach areas where a full-size attic hatch and ladder may not be possible.
What it does
Using an airtight insulated access hatch will greatly reduce the unwanted draughts and whistles that are often associated with poor fitting non-airtight hatches. All Wellhöfer ceiling hatches are certified airtight and fully insulated with 32mm of high performance polyethylene-thermodeck. They effectively add to the thermal comfort and energy efficiency of a home.
The frame of the loft hatch is 600 x 600mm and is certified airtight due to the use of Wellhöfer's HOKA twin wall sealing system. This is a key feature contributing to the success of Wellhöfer hatches over the past 60 years. The system consists of a 60mm airtight sealing tape with a narrow (20mm) strip of adhesive on each side and four lengths of tube shaped insulation. This HOKA twin wall sealing system can be fitted in a matter of minutes due to its simple application process.
How it works
The frame of the attic hatch is made from 18mm foil-coated white particle board which is classified P5. A P5 particle board is specially manufactured for use in areas of prolonged high humitidty without deterioration or swelling. It is suitable for load bearing purposes in moist or humid areas.
The white, insulated access hatch door is made from 16mm melamine resin-coated chipboard and is fitted with quick-release hinges. The hinges allow the door to be removed easily so that the opening is wider and easier to pass through. The hinges also offer fine adjustments in three dimensions to ensure the tightest fit can be achieved. The ceiling hatch door is held closed by two powerful magnets; each one providing 5kg of force.
Why we love it
Tests have proved the airtightness achieved with the hatch is five times better than required for the most stringent air leakage standard in Europe (DIN 4108-2) and is certified to EN 1026:200-09.
Features
Perfect for small spaces
Fully Airtight frame and door
Energy efficient & insulating
Helps prevent mould growth and condensation within cold attic spaces
Surpasses stringently tested standards
Leading manufacturer
Benefits
Easily installed to create access above the ceiling or in a wall where limited space is available.
Attic door, seal and perimeter casing are sealed airtight to stop draughts and dust entering the living space.
Allows the insulation in the loft or wall to be continuous so valuable heat is not lost.
Wellhöfer have been producing top of the range access hatches for over 60 years.
Reliability against failure is one of the most crucial features of an attic hatch. They are tested under the same conditions as required for external windows and doors (EN 1121).
Questions
There are currently no questions and answers published for this product
Technical Details
Key Technical Data
How to Install
The Wellhöfer Airtight access hatch will fit in to a 600 x 600mm opening in the ceiling. The edges of the opening must be airtight-sealed to the ceiling's airtightness layer before beginning the installation.
The system consists of a 60mm airtight sealing tape with a narrow (20mm) strip of adhesive on each side and four lengths of tube shaped insulation.
Choose a location in the ceiling where joists and structural timbers can accommodate the hatch. One side of the supplied airtight tape has a thicker grey coloured adhesive on it. Before the hatch is put in place, this grey side of the airtight tape should be stuck to the wall of the ceiling opening.
Then the hatch is then lifted in to place and adjusted to make it level and plumb with the ceiling before being secured with screws. The tubular insulation is then inserted in to the small gap between the ceiling timber and the frame of the hatch.
Finally, the other edge of the airtight tape is stuck to the frame of the hatch to complete the airtight seal and prevent any air leakage or heat loss from around the hatch.
Once sealed, a PVC architrave supplied with the system is installed over the top to cover the tape and provide a sleek clean look.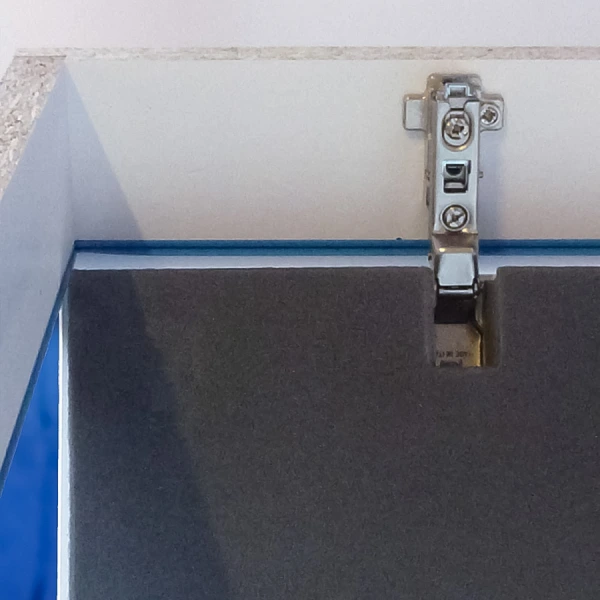 https://player.vimeo.com/video/284930530 Hints & Tips
If your ceiling opening is more than 20mm different to one of the standard sizes, a custom size can be manufactured as a special order. Custom sizes incur additional cost to manufacture and to deliver (from Germany). Minimum custom size is 300mm x 300mm, maximum custom size is 700mm x 700mm
For safety, when the door is attached, any ladder used must not rest on the door. Please note, a ladder is not included.