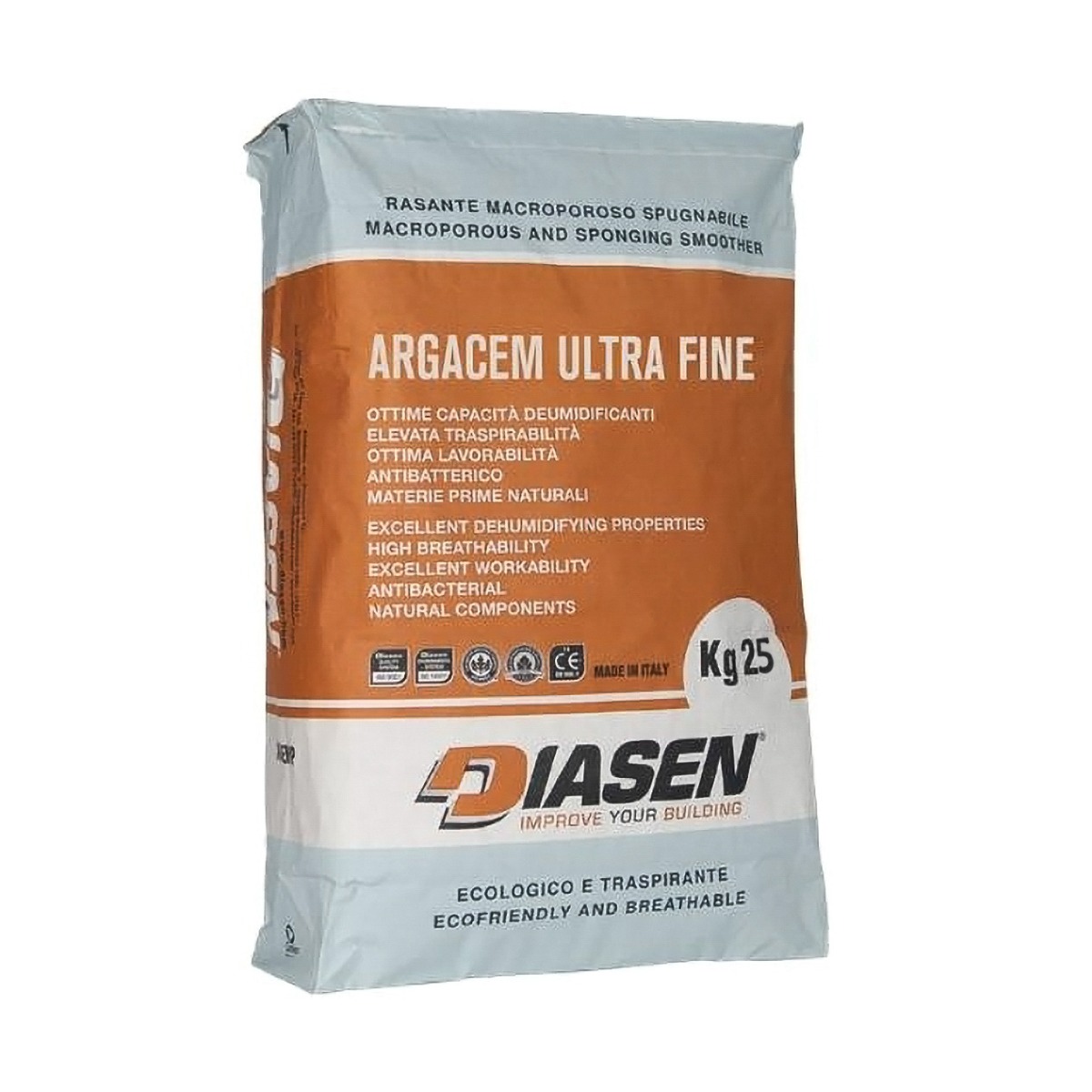 Diasen Argacem Ultrafine
Main purpose
To create perfectly smooth surfaces and maintain the breathability of the wall/ceiling.
Use it on
Argacem HP, Argatherm, Watstop, old and new lime or cement-based plasters and prefabricated concrete panels (internal use only).
Overview
Argacem Ultrafine is a white smoothing plaster skim coat for Diathonite plasters. It is lime-based, highly breathable and mould resistant. It is made from hydrated lime, micro crystalline sand, marble powder and natural additives. It is highly workable and must be applied by trowel. It can also be finished with a plastic float.
Where to use it
Argacem Ultrafine is suitable for interior walls and ceilings only. It can be applied on top of fully dry Diasen Argacem HP or Argatherm with no further preparation required.
It may also be used over new or existing lime and cement-based plasters that have a robust surface free of dust, debris and materials that might affect the adhesion like paint, silicone, grease and salt deposits. It is suitable for new builds and retrofits, including Heritage and Listed buildings.
Do not apply Argacem Ultrafine over gypsum plaster, metal, plastic surfaces or any surfaces painted with a waterproofing agent.
What it does
Diasen Argacem Ultrafine is a lime-based skim coat plaster that can smooth out the roughness of grainy plasters without affecting the breathability of the wall. It creates a finely textured almost smooth surface on to which a natural breathable paint can be applied.
It is naturally mould resistant due to the alkalinity of its ingredients.
Argacem Ultrafine is porous and absorbent so must be protected with a breathable natural paint like Auro.
It is easy to mix and has excellent workability for trowel application and finishing with a float. It is available in 25kg bags.
How it works
Argacem Ultrafine is lime-based and in combination with Diathonite plasters, regulates the moisture of the wall.
Why we love it
Argacem Ultrafine contains only natural materials and qualifies for LEED points, which means it can be used in projects with strict environmental requirements. Any experienced lime plasterer can install it without special training.
It is easy to mix with just clean water to create a consistent mixture with excellent workability. As it is non-combustible and does not emit smoke, Argacem Ultrafine also improves the fire safety of the building.
Features
Smoothest of finishes
Compression resistant
Lime based
Fireproof/non-combustible
Just add water
Benefits
Creates a breathable more modern smooth aesthetic finish due to its small grain size.
Completes a robust and durable wall system.
Helps regulate humidity and prevent mould growth in combination with Diathonite plasters and as a final finish to Argacem HP or Argatherm.
Does not burn or smoke so improves fire safety of the building.
Easy to mix with excellent workability for trowel application.
Questions
There are currently no questions and answers published for this product
Technical Details
Key Technical Data
Installation Guide
How to Install
Add 10-11 litres of clean water per bag of Argacem Ultrafine and mix with an electric drill mixer until it creates a smooth mixture without lumps. The amount of water required is an indicative amount and will depend on the room temperature and humidity. No other substances should be added in the mixture. Let the mixture rest for 5 minutes then mix it again before applying with a trowel.
When applied over Argacem HP or Argatherm plasters, Argacem Ultrafine can be applied directly without any special preparation of the surface. The Argacem HP or Argatherm must be dry before applying Argacem Ultrafine.
Over old plaster, you may need to use Diasen Aquabond Primer. We recommend doing an adhesion test to check if primer is required.
We recommend the Argacem HP or Argatherm should be applied in 2 coats before using Argacem Ultrafine. Two coats will make the Diathonite surface as smooth as possible. At least 24 hours after applying the second coat of Argacem HP or Argatherm, apply one coat of Argacem Ultrafine with a stainless-steel rounded edge trowel until it is 0.5mm thick. Before it is fully dried and while it is still workable, go over the Argacem Ultrafine again with the stainless-steel trowel to obtain high quality smooth finish.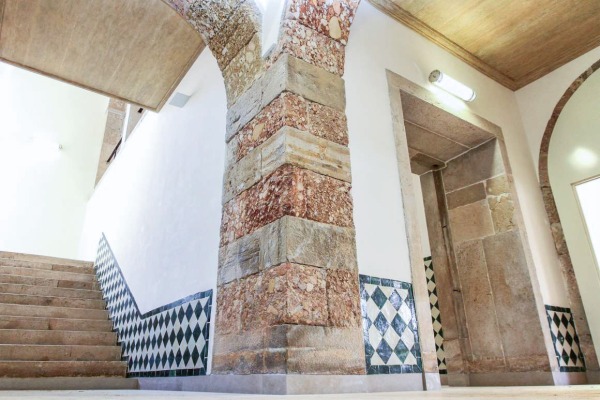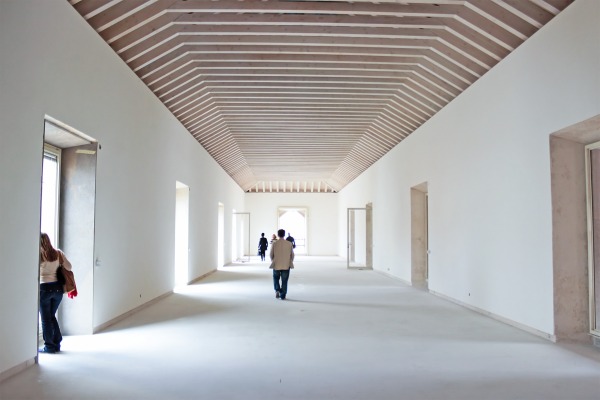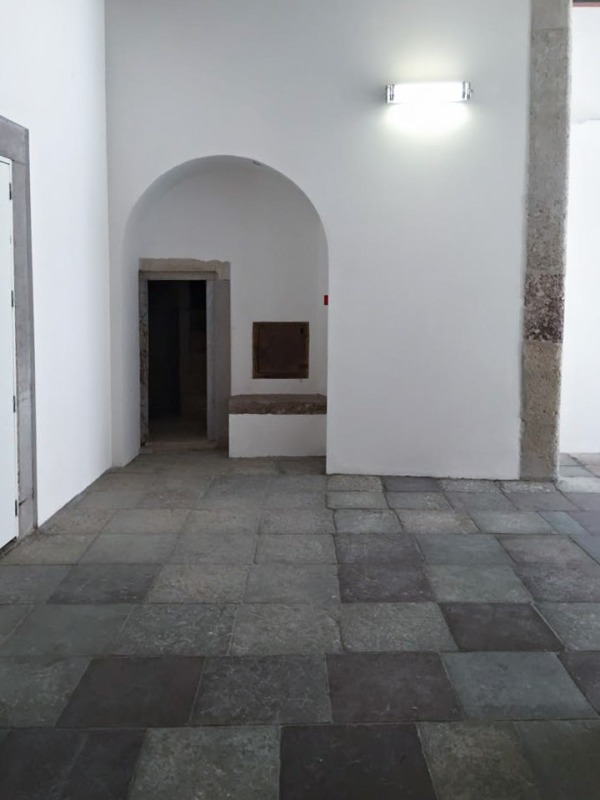 Hints & Tips
At 23°C and 50% relative humidity, Argacem Ultrafine dries in 5-7 days. Under different room conditions, drying time may vary significantly.
Always use protective gloves and a dust mask.