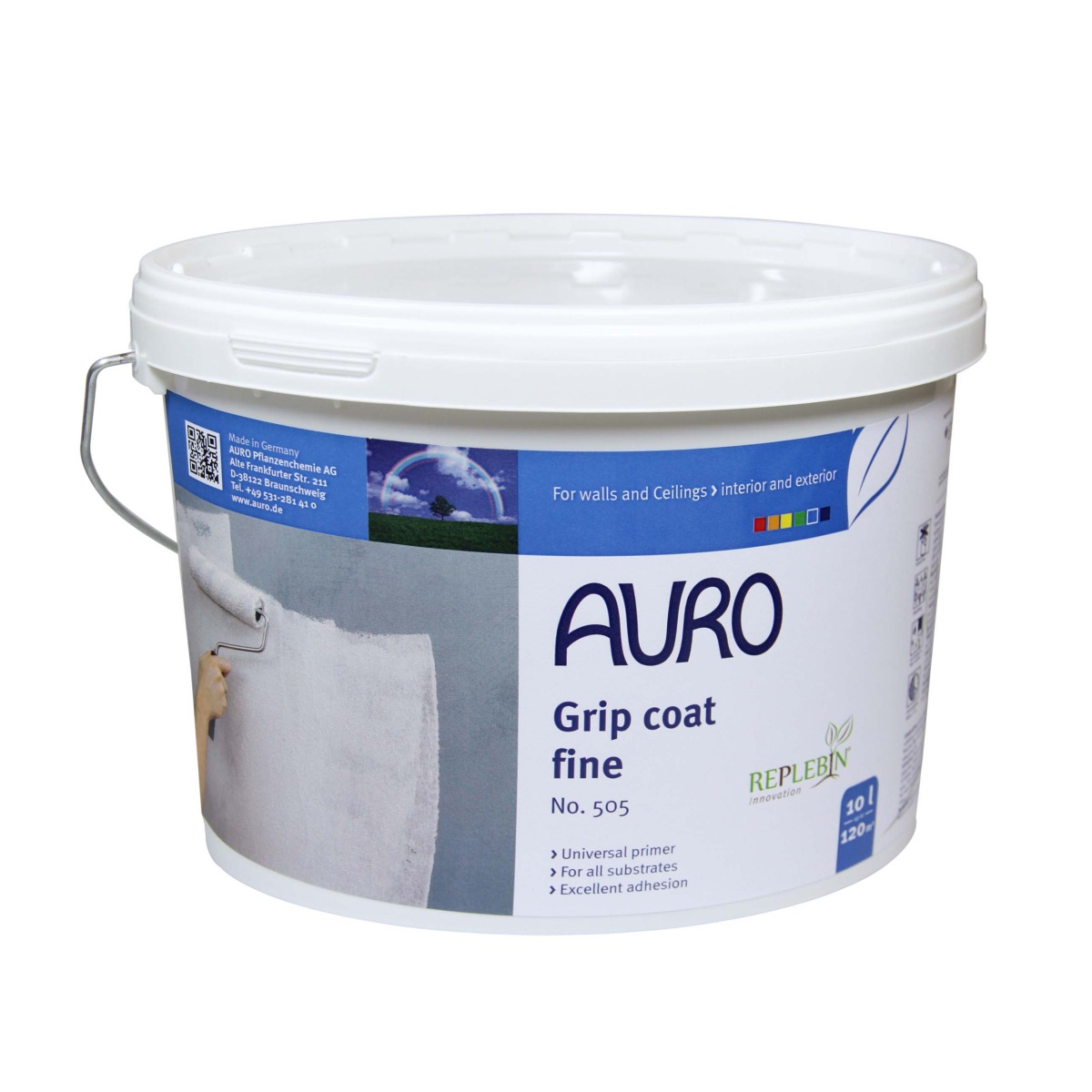 Auro Grip Coat fine 505
Auro Grip Coat fine 505
A primer for any unusual or difficult surfaces.
Main purpose
A primer for any unusual or difficult surfaces for follow up treatment of Auro paints or plasters
Use it on
Mineral substrates, plaster, clay, concrete, lime-sand bricks, brickwork, gypsum plasterboard, cement fibre boards, damp room boards, woodchip, vinyl wallpaper, glass fibre fabrics, adhesive and wettable old coatings; interior latex paints, acrylic paints or lacquer coats after a positive compatibility test.
Overview
If dealing with any uneven or difficult surfaces or unsure of what paint was previously used on the internal walls the grip coat 505 is a good option to go with. It has excellent adhesion properties and creates a stable surface to follow up with Auro paints. It is solvent free, water based and highly breathable.
Where to use it
The Auro Grip Coat 505 primer can be used on almost all normal wall and ceiling surfaces including gypsum, plaster, clay, concrete, brickwork, wood chip and vinyl wallpaper along with over old conventional or plastic paints. It is a great go to option when a surface is unusual and needs to be stabilized before plastering or painting. It is available in both 5 litres and 10 litres.
What it does
This provides a stable base for painting or plastering over. It provides a very breathable (sd value 0.01) base which is non toxic, odour free and virtually VOC free (< 1g/Litre). It is a safe and easy to use universal primer which is preservative free.
Why we love it
Any doubts you may have about how stable a surface is can be overcome by using the Auro Gripcoat 505 – although as always it is best practice to do a test patch for compatibility.
It ticks all the right boxes for anyone who might be sensitive to allergies and this is certified as "Allergy Friendly" from the German IUG (Institute for Environment and Health) because it has features which are favourable to people with allergies.
This Auro primer is also a vegan friendly product.
How it works
The Grip coat primer adheres on all wall surfaces, it is easy to apply by brushing or rolling. On inconsistent surfaces, the priming coat with Auro Grip coat 505 can appear slightly patchy or cloudy, e.g. on irregularly filled spots or in cases of strong or varying absorptivity, on gypsum plasterboard. This is not a flaw, just a visual aspect. Let the Grip coat dry and then paint with any Auro wall paints or plaster.
Features
Highly Breathable Primer
AgBB Certified as class A+
Suitable for Allergy Sufferers
Transparency of Ingredients
Universal White Primer with a slight texture
Plastic Free Primer
Excellent Coverage
Vegan Friendly Product
Easy to Apply
Paint is Compostable
Benefits
Allows the walls to breathe
SD Value 0.01
VOC Free
Water based
Low Emission
Odour Free
Does not contain any preservatives (MIT/BIT/Thiazoles)
Certified as 'Suited for Allergy Sufferers' by the Institute of Environment and Health in Germany
Ingredients are listed on the tin and in the data sheet
Can adhere to most surfaces allowing for a follow up coating of Auro Paints or Plasters
Will not trap moisture
Improves the indoor air quality
Brush or Roll application
Good coverage up to 12sq/m per Litre
Overcoatable after 4 – 6 hours
Questions
There are currently no questions and answers published for this product
Technical Details
Key Technical Data
Any surface compatible with water-based paint, Clay, Concrete, Gypsum plaster, Interior walls and ceilings, Lime plaster, Plasterboard
Castor oil, Cellulose, Mineral fillers, Potassium silicate, silicate sol, Replebin®, Silicates, Surfactants made from rapeseed, Titanium dioxide, Water
Installation Guide
This odour-free primer can be applied with a brush or roller and then recoated with all Auro wall paints and plasters. One coat is generally sufficient. It can be thinned up to a maximum of 5% with water if desired and colour can be added by using up to 10% of the 330 Full Shade Tints. Any filling that needs to be done the Auro Wall Filler 329 can be used.
For priming a highly absorbent untreated plaster such as gypsum that is in good condition the Auro Plaster Primer 301 can be used.
After priming leave it to dry for 4 – 6 hours before overcoating with any Auro Paint or Plaster as desired.
Tools can be cleaned using water, add some Auro Plant Soap 411 as desired.
Hints and Tips
Stir the paint well before and during application.
To make coverage easier if choosing a deep/dark follow up colour it can be a good idea to use some full shade tinting colour 330 up to a max of 10% to add some similar colour to the primer. This can make follow up treatments easier as the Gripcoat primer will have some colour.