Pro Clima DB+
Main purpose
Paper based intelligent airtight membrane. Makes buildings airtight and allows moisture vapour to escape.
Use it on
Internal walls, floors and ceilings.
Overview
Natural paper-based intelligent vapour control layer for internal walls, ceilings and floors. An environmentally friendly solution to airtight seal a building and reduce the risk of condensation issues in both new build and refurbishment projects.
Where to use it
Pro Clima DB+ airtight intelligent membrane can be used internally on walls, roofs and ceilings. It is reinforced with a fibreglass mesh so is robust enough for use with blown-in insulation. In top floor ceilings with insulation between the ceiling joists, the paper membrane should be installed to the underside of the joists directly beneath the insulation. As it is a paper-based membrane, contact with rain or water should be strictly avoided. It is not suitable for any external application.
What it does
DB+ is airtight so prevents warm air leaking out of a building. The airtight humidity variable paper membrane eliminates air loss while reducing the risk of condensation within the wall, roof or ceiling.
Why we love it
Pro Clima DB+ consists to more than 80% of mineral and renewable resources and is Pro Clima's only airtight breathable membrane that does not use plastic for the outer layers or reinforcement mesh.
The paper-based natural vapour control intelligent membrane is toxin free, and allows users to achieve high performance airtight buildings with a healthy easy to handle material. It is made from 50% recycled paper and an ideal choice for energy and environmentally conscious users and projects.
How it works
Natural recycled paper is an ideal eco-friendly backing for a humidity sensitive air barrier. Pro Clima DB+ is an intelligent membrane so becomes more vapour open (breathable) at times when the humidity is higher and less vapour open when humidity is lower. This allows the structure of the building to dry out faster when it is most needed. An intelligent membrane reduces the risk of trapped moisture within the construction that can cause condensation, mould and structural damage.
System warranty
Pro Clima provide a limited system warranty, backed-up with public liability insurance, for all airtightness system, roof and wall sealing system and construction products that they supply. A 10-year warranty is provided for these products when correctly installed in combination with approved thermal insulation materials and other Pro Clima system products. When correctly installed in combination with other manufacturers' products (not made by Pro Clima), a 6-year warranty is provided.
Features
Environmentally friendly
Pollutant free
Durable
Easy to install
Intelligent Vapour Control
Integrated Reinforcement
Benefits
Paper based offering a lower environmental impact and more natural airtightness and vapour control system.
Ideal for use alongside natural blown-in (dense packed) cellulose or woodfibre insulation.
Ideal for homes where occupants are sensitive to synthetic materials. Has the lowest pollutant level in its class (tested to AgBB / ISO 16000).
Tested for 50+ years, the humidity sensitive breathability of the membrane offers long term safety against mould and condensation risk.
Made of reinforced paper, it's easy to install and create folds and corners making it ideal for DIY.
An Intelligent membrane that is humidity variable reducing the risk of damaging condensation build up.
Questions
There are currently no questions and answers published for this product
Technical Details
Key Technical Data
How to Install
Roll the DB+ out so it is at right-angles to the wall studs or rafters. Always install the longest length possible to minimise taped overlaps and save time. The side of the membrane facing the installer can be the printed side or the plain side; there is no right way up for DB+, but we would recommend installing it with the printed side facing you, so the guide for taping correctly can be seen and alignment of overlaps is easier.
Fix the membrane without creases using galvanised or rust resistant staples of a least 8mm deep and 10mm wide. Fix staples into the studs/rafters every 100mm. If blown-in insulation (e.g. Cellulose or Thermofibre) is being used, the gap between staples should be reduced to 50mm. Do not stretch or tension the DB+ as you unroll it. When installing the next strip of DB+, the overlap should be 100mm.
Overlaps should be sealed with Pro Clima Uni Tape. This is also made from recycled paper and ideally suited for use with DB+. For maximum adhesion, Uni Tape must be pressed down with a Presfix tool.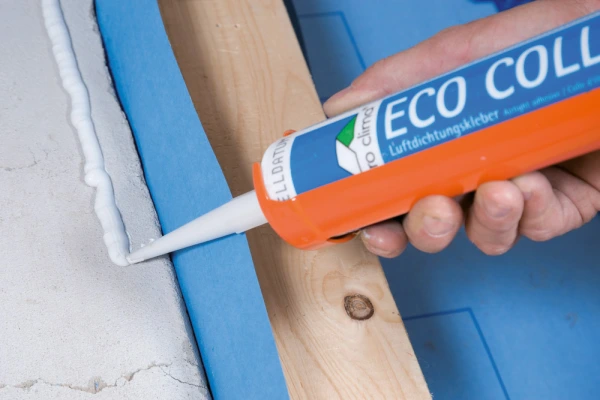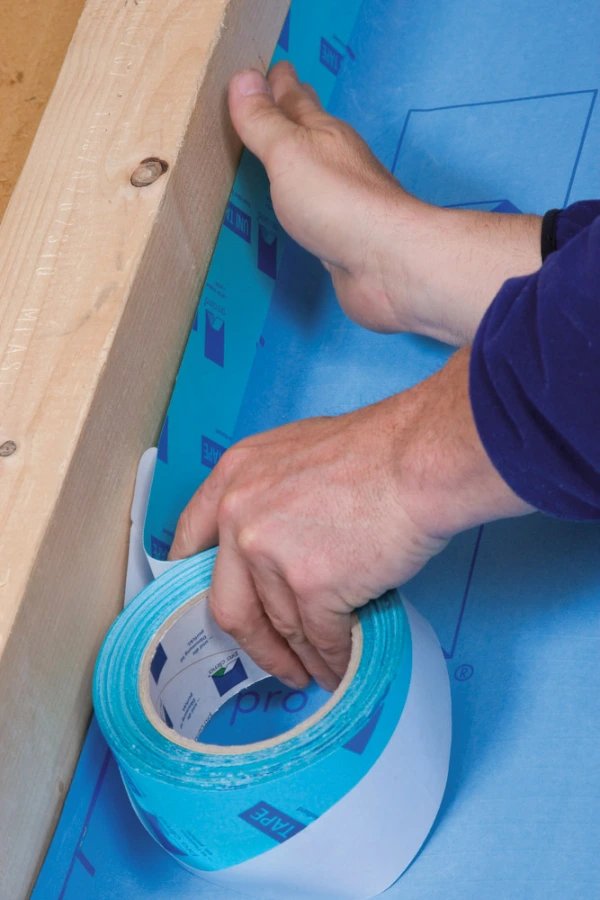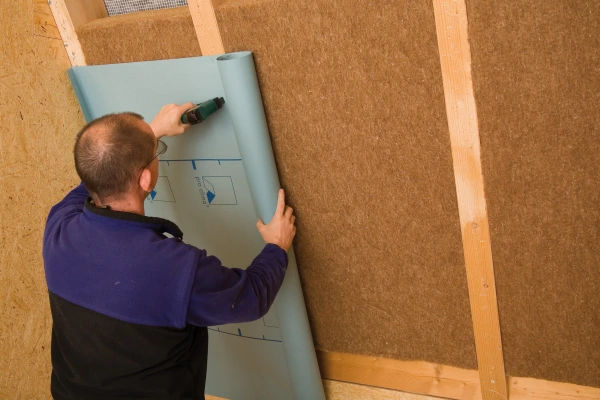 Hints and Tips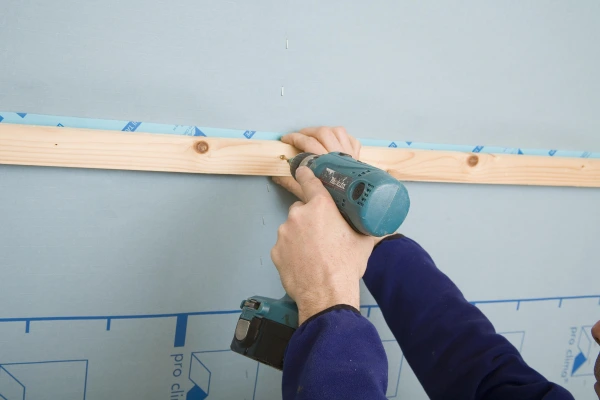 When using DB+ with blown-in insulation such as Gutex Thermofibre or cellulose, install a restraining batten on top of the overlap so that fibre can't get between the two pieces of overlapping membrane and compromise the taped seal.