Pro Clima Uni Tape
Main purpose
Air sealing joints and overlaps on internal airtightness materials.
Use it on
Internal airtight membranes & boards. For Internal use only.
Overview
Unitape is a low-cost paper-based airtight sealing tape with solid acrylic glue. It can be used indoors for sealing airtight membranes and airtight wood particle boards.
It is easily torn by hand and thanks to its stiff paper-based composition, Uni Tape can be folded to form precise 90° corners making it ideal for sealing components at corner junctions.
Where to use it
Unitape is ideal for indoor use with Pro Clima's paper based intelligent vapour control membrane DB+. It will also permanently stick to any Pro Clima internal membrane or other membrane made from PE, PA, PP, PET and aluminium. It will permanently bond to planed or painted timber, OSB, plywood, MDF, hard plastics and metal.
As the tape is paper based, exposure to wetness and weathering must be avoided, so always keep the tape dry and avoid UV exposure.
To ensure good adhesion on wood fibre insulation boards (e.g. Gutex), concrete, plaster or smooth masonry; Tescon Primer RP or Tescon Sprimer should be used first to stabilise the surface. On surfaces that are painted or may come away, detach or delaminate; we recommend doing an adhesion test first.
What it does
Pro Clima Uni Tape will provide a permanent airtight seal on any internal airtight membrane and airtight accessory. It is a lower cost, paper-based alternative to Tescon Vana or Tescon No.1. It is perfect if you don't need to seal anything outdoors and when you wish to reduce the amount of plastic used on a building project.
Uni Tape has been independently tested and verified by the University of Kassel to remain airtight for 100 years. This ensures, when applied properly, the tape will stick and stay stuck for the life of the building.
Why we love it
First developed in the early 1990s, Uni Tape is the original airtight tape produced by Pro Clima. Decades later, Uni Tape is still as popular a choice as ever.
Uni Tape combines the best of both worlds in terms of airtightness tapes. It contains Pro Clima's renowned solid acrylic glue on a tear-able paper top layer making installation very easy and ensuring the longest lasting airtight seal.
The sealing tape has scored the best possible values in tests for pollutants, VOCs and toxins according to the AgBB / ISO 16000 standard; making it ideal for use in areas where the building occupants are conscious of and wish to avoid potential toxins and chemical off-gassing (e.g. people with asthma).
How it works
Uni Tape contains solid acrylic glue, a type of glue unaffected by changes in temperature and humidity. It has high adhesion and excellent cohesion which means the glue stays together, won't slip and can provide the longest lasting seal possible.
Dispersion glue (used on competitor tapes) reacts to moisture causing the bond to break down relatively quickly (within a few months). Uni Tape's solid acrylic glue actually gets stronger over time and is ideal for building projects in Ireland and the U.K due to it being unaffected by the climate and extreme weather conditions.
System warranty
Pro Clima provide a limited system warranty, backed-up with public liability insurance, for all airtightness system, roof and wall sealing system and construction products that they supply. A 10-year warranty is provided for these products when correctly installed in combination with approved thermal insulation materials and other Pro Clima system products. When correctly installed in combination with other manufacturers' products (not made by Pro Clima), a 6-year warranty is provided.
Features
Paper based
Ecological
Rigid
Cost effective
Versatile
Benefits
Ideal for use with the paper based airtight vapour control layer DB+ as a complete ecological airtight solution.
The stiff paper face of the tape ensures a flat crease and wrinkle free installation.
The most economical airtight tape solution for budget conscious users.
As a universal airtight sealing tape, Uni Tape can be used on various materials internally to help seal for airtightness. e.g. membranes, boards etc.
Extremely strong yet can be torn by hand; Easy installation and excellent for DIY.
Questions
There are currently no questions and answers published for this product
Technical Details
Key Technical Data
How to Install
Ensure all surfaces are dust, grime, grease and silicone free. Cut or tear off a manageable length of tape or put your forearm through the roll to hold it and unroll what you need as you go.
Remove the release paper and place the tape over the centre of the overlapping materials.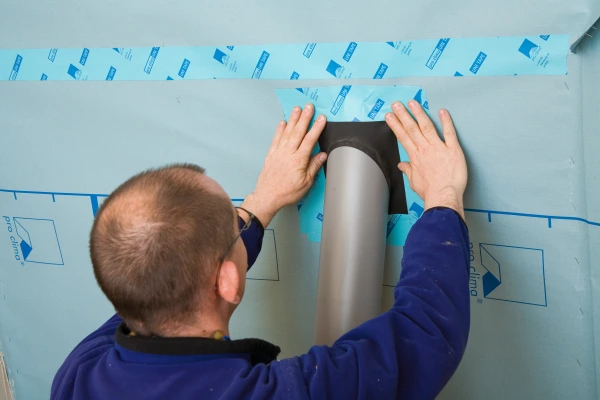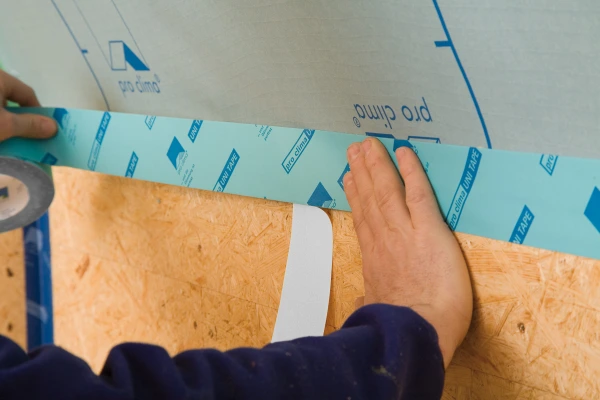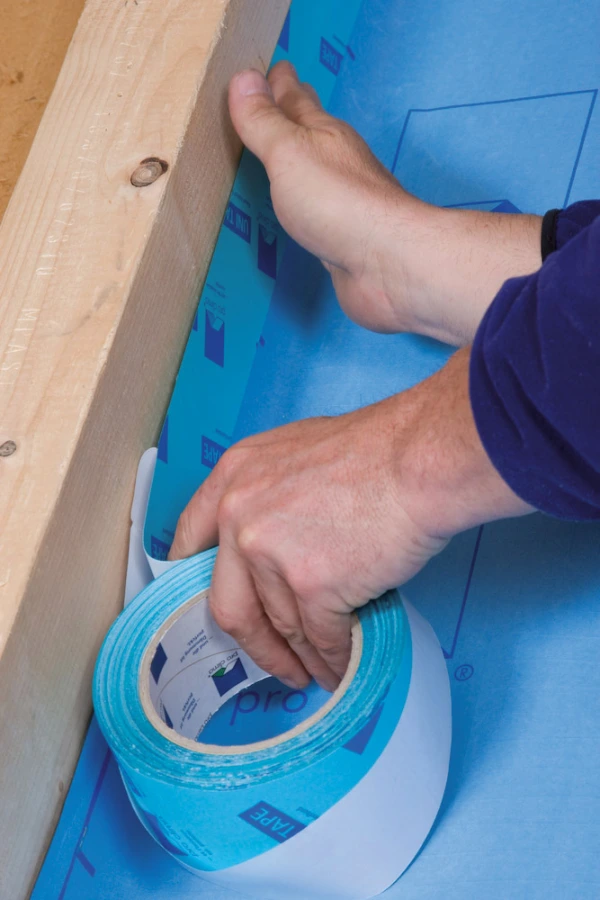 Hints & Tips
Firmly press the tape onto the surface with a Pressfix Tool. Using a Pressfix ensures the maximum strength of bond can be achieved.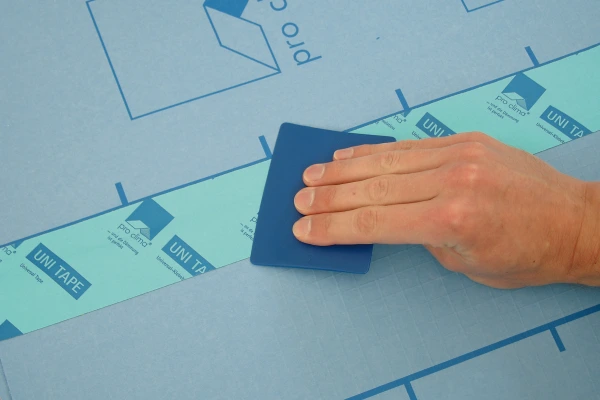 Sealing membrane overlaps with Pro Clima Unitape
https://www.youtube.com/embed/WDUypUeUbYY Sealing board joints with Pro Clima Uni Tape
https://www.youtube.com/embed/psH-bdK1Gm4