Gutex Thermofibre
Main purpose
To insulate and fill enclosed spaces (voids) between timber or metal studs, joists or rafters. The woodfibre fills all the space available flowing into and around any awkward or inaccessible area leaving no uninsulated air gaps.
Use it on
Timber frame walls, roofs and floors. It can also be used in lofts.
Overview
Thermofibre is a carbon negative fibrous insulation material that can be blown-in to enclosed spaces in timber frame wall, roof, floor and ceiling structures. It can also be used in lofts as a loose covering of wood fibre blown over the ceiling joists. Fibrous insulation like Thermofibre can achieve excellent continuous insulation with no air gaps between the insulation, timbers or metal frame elements. Services like pipes and cables and awkward shapes can also be fully insulated with no gaps.
Where to use it
Gutex Thermofibre blown-in insulation can be used to fill contained or enclosed spaces in timber frame walls, roofs, ceilings and floors. It can also be used to create a layer of loose insulation in cold ventilated loft spaces (spread over and between the ceiling joists).
What it does
Gutex Thermofibre provides excellent thermal performance in winter and prevents overheating in the summer due to its ability to dramatically slow down the transfer of heat from external sources.
As a loose fibrous insulation, Thermofibre can be blown-in to cavities inside walls, roofs and floors; a specialist machine and experienced installer is required. Free-flowing Thermofibre gets into every corner and eliminates the potential for any gaps of uninsulated space. Anything else in the cavity like pipes and cables are also encased in insulation giving excellent performance that would be difficult to achieve with rigid insulation boards. With no air gaps, the potential for heat loss due to convection is effectively eliminated (no closed loop thermal bypass occurs).
Gutex Thermofibre is extremely breathable (vapour diffusion open) and is ideal for use in breathable construction elements. It can absorb moisture vapour from the indoor environment and release it harmlessly into the external atmosphere. This process will work in reverse too, especially in summer, when warm sun outside drives moisture toward the interior of the building. When combined with Pro Clima Intello Plus, Thermofibre allows the moisture vapour to harmlessly migrate back into the internal environment with no risk of condensation and moisture or mould build up.
Gutex Thermofibre contains a fire retardant. This gives the material an excellent result in reaction to fire tests; it will char rather than burn.
Why we love it
Gutex Thermofibre provides excellent insulation in both winter and summer and improves the air quality, temperature and humidity within buildings.
Thermofibre is made from recycled wood chips that came from local sawmills creating products for the timber frame industry. The wood chips originated from trees grown in sustainably managed forests. As the carbon emitted during manufacture is less than the carbon absorbed by the trees and stored in the wood, Thermofibre is a carbon negative product and actively contributes towards reducing global CO2.
Features
Versatile loose-fill fibrous insulation
Helps prevent summer overheating
Highly breathable (vapour open)
Carbon negative, fully recyclable and safe
Complies with EN standards
Fire resistant. Chars rather than burns.
Benefits
Provides continuous insulation with no air gaps, offcuts or waste.
Ideal for use with I-beams and metal frame joists and can be injected through membranes or timber boards.
Reduces summer overheating by absorbing heat to create a comfortable living environment.
Protects the structure from excess moisture build up due to its hygroscopic properties, thereby preventing mould growth.
A carbon negative insulation made from waste woodchips, originally from sustainable timber sources.
Gives up to 90 minutes fire protection (EN13501-2) due to its charring reaction to fire.
Professional installation by trained tradespersons ensures high quality results.
High levels of stability with minimal risk of slumping with lower densities.
Excellent acoustic performance.
Questions
There are currently no questions and answers published for this product
Technical Details
Key Technical Data
How to Install
Gutex Thermofibre is installed via a machine injection process. Prior to installation a void is formed in the building element. The voids are either gaps between two timber boards or the combination of a timber board on one side and a reinforced membrane (e.g. Intello Plus) on the other. In order to ensure that the insulation is installed correctly, it is essential that the product be installed by a trained installer.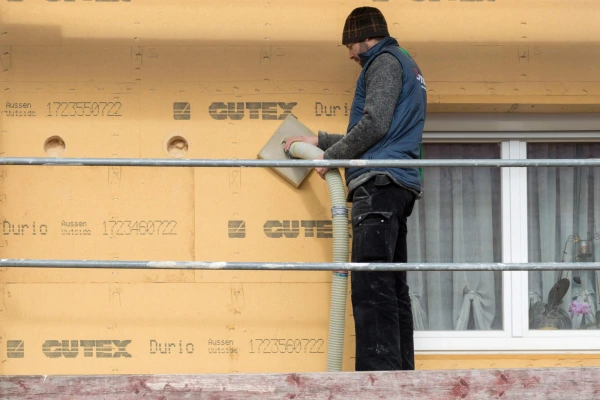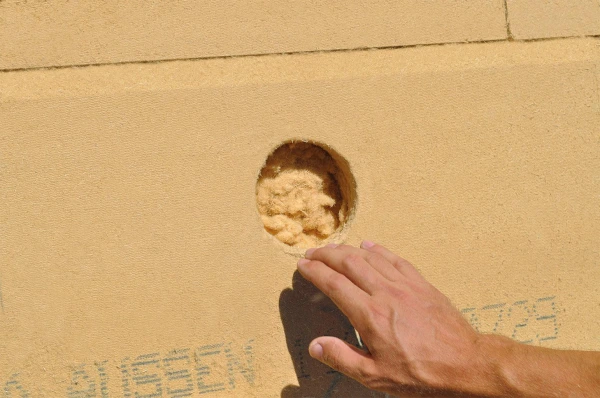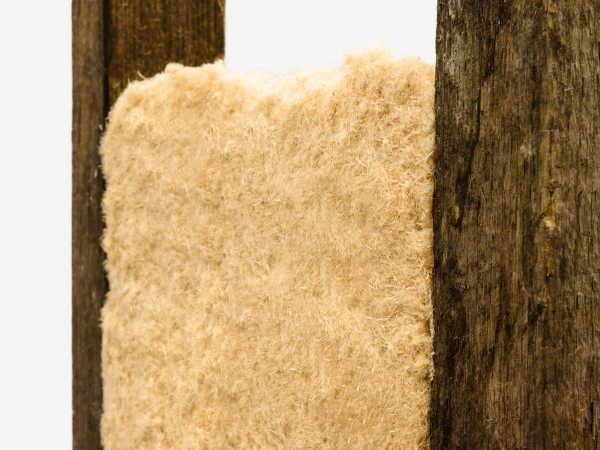 Hints and Tips
To improve the breathability of the construction, always use a breathable racking board such as Elka Strong Board on the external side to contain the Thermofibre. On the internal side of the Thermofibre, best results can be achieved, all year round, by using an intelligent vapour control membrane like Pro Clima Intello Plus.