Diasen Diathonite Screed
Main purpose
Insulating ground floors in buildings while maintaining the breathability. Externally on flat concrete roofs and roof terraces to insulate the rooms below.
Use it on
Internal or external rigid concrete slabs and foam glass aggregates. With steel reinforcing mesh, it can also be used over wooden surfaces, metallic surfaces or insulation panels.
Overview
Diathonite Screed is a fibre reinforced insulating lime and cork-based floor screed that is highly breathable, mould resistant and improves thermal performance. It is mainly applied on internal or external floors over concrete slabs or foam glass aggregates. It is made from natural hydraulic lime, cork, clay and diatomaceous earth powder. It is highly workable and can be mixed in a cement mixer and hand applied with trowel or sprayed-on using a plastering machine.
Where to use it
Diasen's Diathonite screed can be used on floors of new builds or retrofits including heritage or listed buildings. It is mainly applied over concrete slabs or on to compacted foam glass aggregates with soil underneath.
A typical ground floor installation consists of the following layers:
Floorboards, tiles or carpet
Diathonite Screed (40-200mm thick)
Geotextile breather membrane
Compacted foam glass aggregates (100-200mm deep)
Geotextile breather membrane
Ground soil
It can also be used on wooden or metal surfaces or insulating panels that have been primed with Diasen Aquabond Primer. These surfaces are prone to expansion and movement so a stainless steel or galvanised reinforcing mesh must be embedded in to the Diathonite screed to reduce the effects of movement. The suitable type and thickness of reinforcing mesh should be calculated by a structural engineer based on the expected use of the floor and the load exerted upon it. You may be interested in an article in Conservation & Heritage Journal.
What it does
Diathonite screed improves the thermal performance of a floor and keeps it breathable. It regulates moisture and resists mould due to its lime-based alkalinity. It is very workable and can be mixed in a cement mixer and hand applied or it can be sprayed on to the floor with a plastering machine.
The mixed screed has an excellent workable consistency due to its enrichment with natural fibres. The fibres help the screed hold its shape and provide strength once it sets.
The typical application depth is 50-60mm in one layer; greater thicknesses can be achieved with multiple layers. Diathonite Screed can then be finished with floorboards, tiles or carpet.
Diathonite Screed can be used in combination with underfloor heating. The heating pipes should be installed on top of the screed and must not be embedded in Diathonite Screed.
The minimum depth of screed over the top of a pipe must be at least 30mm.
How it works
Diathonite Screed can be mixed straight from the bag with clean water to create a consistent mixture with excellent workability.
The materials used in Diathonite Screed make it lightweight, easy to work and an excellent insulator. It dries much faster than a traditional lime-based screed.
It has an excellent low thermal conductivity, so whether it is used over a concrete slab or in combination with glass foam aggregates with bare soil underneath, it provides excellent thermal benefits and comfort to the building occupants.
Why we love it
Diathonite Screed contains only natural materials and qualifies for LEED points, which means it can be used in projects with strict environmental requirements or in heritage and listed buildings.
It is non-combustible and does not emit smoke so will improve the fire safety of the building.
Features
Lovely warm insulated floor
Just add water
Lightweight
Good compressive strength
Smooth finish
Fireproof/non-combustible
Benefits
Provides excellent thermal comfort, breathability and humidity balance using natural materials of lime and cork.
Just add water, does not involve complicated mixing of several components. Can be mixed by cement mixer and either hand applied or sprayed by plastering machine.
With the light-weight cork, it minimises weight related stresses on the building. Ideal for retrofit of older buildings.
Versatile. Can be applied to any depth in layers of 50-60mm.
Due to its small grain size, it achieves a semi-smooth textured surface ready for the floor finish.
Does not burn or smoke so improves fire safety of the building.
Questions
What floor finishes can you use with Diathonite screed?
Once cured and completely dry, there are no limitations to the type of floor coverings but in the interest of maintaining breathability some thought should be given as to how a covering will affect the breathability of the floor.
Technical Details
Key Technical Data
How to install
Mixing:
Mix the product in a concrete/cement mixer. It is not suitable for mixing by hand. Add 11–12.5 litres of water per bag of Diathonite Screed. The exact amount of water required will vary depending on how absorbent the surface is and the environmental conditions at the time; this amount of water is for guidance only.
Mix for approximately 4-5 minutes in the cement mixer. Never add anti-frost products, cement or aggregates to the mix. For spray application with a suitable plastering machine, the nozzle of the applicator gun should be removed. The settings of the machine may vary depending on the type of machine being used. We recommend contacting the machine's manufacturer or our technical team for assistance with settings. Also, check with our technical team for the suitability of the plastering machine; traditional screed pumps are not compatible.
The material is workable for about 30 - 40 minutes (this may vary depending on temperature and humidity).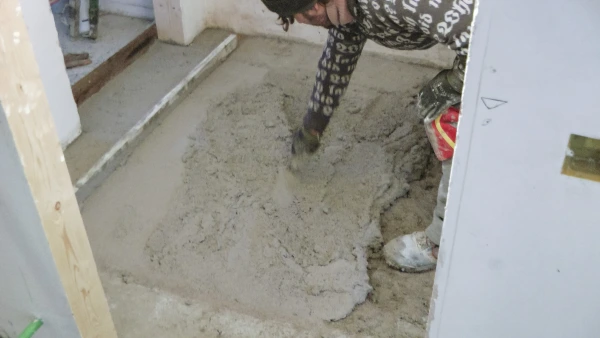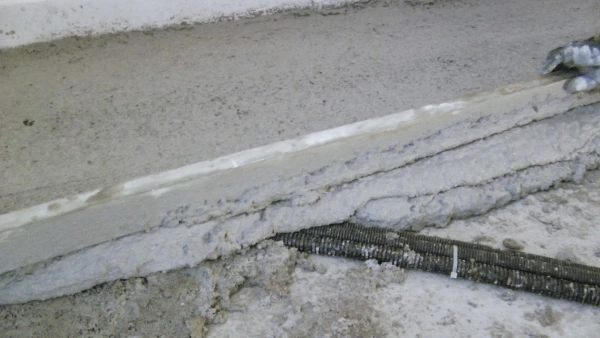 Application:
The ambient temperature during application must be between +5°C and +30°C. During summer or very warm weather, apply the product during the cooler hours of the day, away from sun. You may need to mist the surface with water prior to applying the screed.
Use timber battens no more than 2m apart set at the appropriate height to mark the required thickness of screed. Ensure the battens are perfectly level. Apply Diathonite Screed by filling the area between the battens. Leveling of the screed should be done with an aluminium straight edge in contact with the timber battens. Use smooth and continuous movements to make the screen flat and in line with the tops of the battens. As you proceed it is recommended to use a trowel to smooth and compact the surface.
The thickness of each layer must not exceed 60mm. For greater thicknesses, use multiple layers. When pipes are buried in the screed, stainless steel or galvanized reinforcement mesh must be used. The piping must always be covered with at least 30mm of screed, and the mesh must be positioned directly above the piping. The thickness and the type of metal reinforcement mesh should be calculated depending on the expected loads on the floor (refer to a structural engineer or contact us for assistance).
For application over wood or metal panels, it is necessary to use a galvanized metal reinforcement mesh every time regardless of screed thickness required.
Finishing:
Diathonite screed should be completely dry before any final finish is installed. Dry screed can be covered with ceramic, terracotta, stone tiles or carpet. The screed can also be finished with glued parquet flooring after at least 28 days of drying (depending on screed thickness and environmental conditions).
If the screed is too rough, the surface can be sanded and treated with Watstop to consolidate and stabilise the sanded surface prior to the final finish being applied.
Diathonite Screed can be coated with liquid waterproofing or Diasen coatings without the use of primers.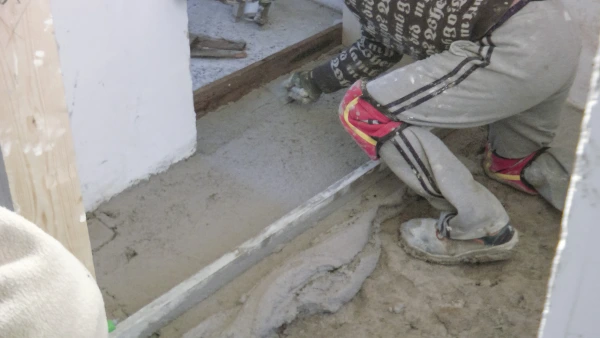 Drying:
At 23°C and 50% relative humidity, 50mm of Diathonite screed will dry in approximately 28 days. Drying time is influenced by humidity level and temperature and may significantly change. For thicknesses over 50mm, allow an additional 7-10 days for each 25mm of thickness.
Diathonite Screed, while curing, should be protected from ice, direct sunlight and wind to reduce the risk of cracks.
Under high temperatures, direct sunlight or strong wind you may need to wet the plaster for 2-3 days after the application (refer to our technical team for advice).
Once the application has been completed, leave at least 48h before walking over the screed.
Hints & Tips
All application/yield figures quoted are based on application to a smooth level surface.
For external applications, it is important to create expansion joints at regular intervals to reduce the risk of cracks on the finishing coat. Always create an expansion joint over each existing expansion joint underneath the screed.
Create suitable expansion joints where there are changes in the supporting material. E.g. at fixed elements like pillars, partitions, doors or thresholds etc. In special cases where the floor may flex due to wide distance between pillars or high loads, always use stainless steel or galvanized reinforcement mesh to reinforce the Diathonite Screed.