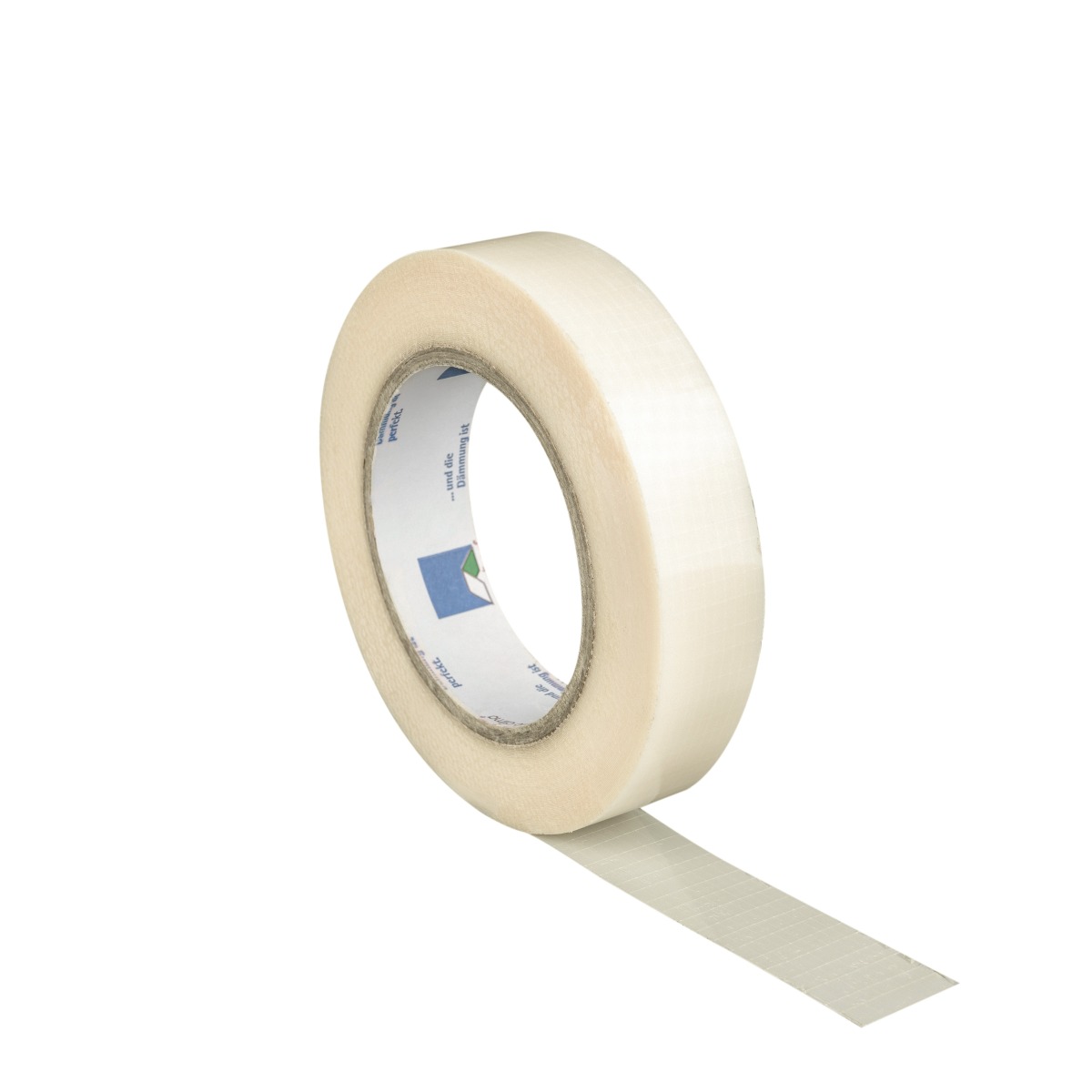 Pro Clima Duplex
Main purpose
Airtight, windtight and moisture resistant weatherproof sealing of overlaps between membranes and other compatible surfaces. Can also be used to bond vapour checks and airtightness membranes to metal studs or framework.
Use it on
All Pro Clima membranes and any other internal or external membrane made from PP, PA, PE (including foil membranes) or roofing membrane made from PP or PET. Also, smooth wood-based panels, planed timber or painted timber, metal, hard plastic, smooth dust-free concrete and plaster.
Overview
Pro Clima Duplex tape is a double sided airtight and moisture resistant sealing tape for use internally or externally. The special acrylate adhesive is highly water resistant and the easily removed release film allows for quick application. Duplex tape can be used to connect membranes to hard smooth surfaces (for example steel beams) and for sealing membrane overlaps quickly and easily. We recommend Duplex be used with the specially designed Duplex Hand Dispenser for ultimate convenience.
Where to use it
Duplex double-sided adhesive tape can be used to seal laps between roof, wall, floor and ceiling membranes and in junctions to hard surfaces such as steel or timber beams.
What it does
Duplex provides an airtight and weatherproof seal for membrane overlaps with other membranes and on overlaps with smooth hard surfaces of other structural elements like beams, joists or studs.
Why we love it
Pro Clima Duplex tape is highly versatile and can be used internally or externally. It is reinforced with super-strong mesh and provides an excellent airtight and watertight seal for membrane overlaps. Using the convenient Duplex Hand Dispenser, it is extremely quick and easy to apply adhesive where you need it. Duplex allows overlaps to be sealed "invisibly" making a very neat installation.
The product has achieved the best possible VOC (Volatile Organic Compound) rating which means it has minimal impact on indoor air quality and is excellent for the building occupants and installer's health.
How it works
The Duplex Hand Dispenser removes the release strip on the back automatically as you apply the tape and is the easiest and quickest method for application.
Without a hand dispenser, the release paper on one side is removed first then the Pro Clima Duplex tape is applied onto the lower of the two surfaces. After the second release paper is removed, the membrane to go on top is positioned above then pressed down firmly to become permanently stuck to the lower surface.
System warranty
Pro Clima provide a limited system warranty, backed-up with public liability insurance, for all airtightness system, roof and wall sealing system and construction products that they supply. A 10-year warranty is provided for these products when correctly installed in combination with approved thermal insulation materials and other Pro Clima system products. When correctly installed in combination with other manufacturers' products (not made by Pro Clima), a 6-year warranty is provided.
Features
Double sided airtight adhesive
Leak proof bonding
Lowest VOC Rating
Use internally or externally
Benefits
Perfect for connecting membranes onto hard surfaces such as metal.
An economical way of sealing membrane overlaps on roof structures.
Improved indoor air quality.
Highly versatile, many flexible uses.
Questions
There are currently no questions and answers published for this product
Technical Details
Key Technical Data
Installation Guide
How to Install
Ensure that the membrane to be sealed will not be placed under high levels of tension.
When connecting a membrane to a hard surface (such as a beam) peel off the release paper from one side of the Duplex tape and fix along the whole length of the beam. Press down the duplex tape using a Pressfix tool. After the tape is firmly applied to the surface, remove the release paper on the other side of the Duplex tape and apply the membrane over the top so the membrane's edge is stuck to the tape. Press the membrane onto the tape firmly with a Pressfix Tool.
For sealing membrane overlaps, the first piece of membrane should be fixed with staples as normal. The Duplex should then be applied 100mm from the edge of the first membrane. The second piece of membrane should be stuck at the edge so there is no flap on the side facing the installer.