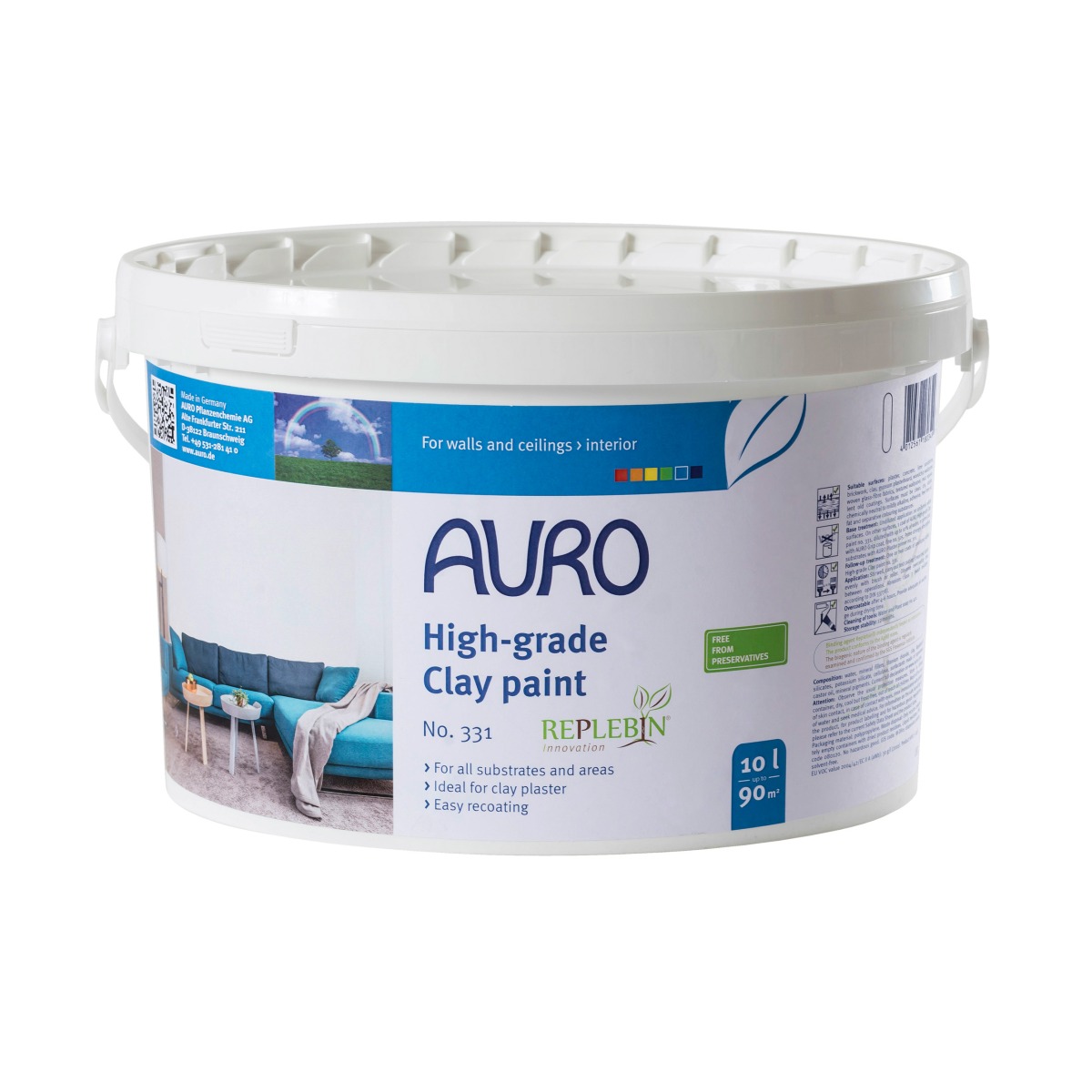 Auro High-Grade Clay Paint 331 - White
Main purpose
A highly breathable and natural white Clay Paint for interior use
Use it on
Suitable for interior surfaces, plaster, clay, concrete, sand-lime brick, gypsum plaster boards, wallpaper, brick, lime plaster, old coatings able of wetting
Overview
Auro High-grade Clay paint is the first ready-to-use clay paint on the market that has no preservatives at all (No MIT, BIT, thiazoles). It is highly breathable so especially suited for areas where moisture can be an issue.
Where to use it
The Auro High-Grade Clay Paint 331 is Auro's most breathable matt finish and unlike most conventional paints the paint does not contain any synthetic ingredients or plastics. The Clay Paint can be used over all normal interior surfaces such as plaster, clay, concrete, sand-lime brick, gypsum plaster boards, wallpaper, brick, lime plaster, old coatings able of wetting. It is suitable for all rooms in the house especially suited to areas which are exposed to a lot of moisture. It is the very first ready-to-use clay paint on the market that has no preservatives at all.
This paint is available in white (slightly off white) if you want a colour in the clay paint check out the Auro High Grade Clay Paint 535 and choose from the largest range of ready mixed natural paints available in Ireland.
Available in 100ml sample pots, 2.5 and 10 Litres
What it does
The Auro High-grade Clay paint is moisture-regulating and breathable which means it can hold moisture but will not trap it which makes it suitable for all living areas such as bedrooms, bathrooms and kitchens.
The Clay paint helps to regulate the indoor climate and thus contributes to a sense of well-being. This is great news for anybody who suffers from allergies or sensitivities.
It has an abrasion resistance (class 3, DIN 53778) and opacity (class 2).
Why we love it
It is rated as A+ by the Agbb (Health – related evaluation of Emissions of Volatile Organic Compounds). The use of organic, natural and plant-based ingredients means that allergy and asthma sufferers and people who are chemically sensitive are much more able to tolerate Auro products and all ingredients are disclosed.
This product is a vegan friendly paint and impressively the paint is fully compostable.
The finish is a fine and smooth coating because the light clay used in the product is not granular or sandy.
How it works
The paint does not trap moisture as it does not contain any plastics (acrylic, vinyl etc…). Paints containing plastics can trap moisture within your walls leading to problems such as damp and mould growth. Our paint enables your walls to breathe by allowing moisture to escape. Great for bedrooms where it can store the humidity during the night and then release it again into the air.
Hints and Tips
If you want Clay Paint in a colour check out Auro High Grade Clay Paint 535 for information
Features
Highly Breathable Paint
Excellent Coverage
AgBB Certified as class A+
Transparency of Ingredients
Plastic Free Paint
Vegan Friendly Product
Easy to Apply
Paint is Compostable
Suitable for Allergy Sufferers
Benefits
Allows the Surface to Breathe
Reduces the Risk of Mould
SD Value 0.015
Does not contain any preservatives (MIT/BIT/Thiazoles)
Certified as 'Suited for Allergy Sufferers' by the Institute of Environment and Health in Germany
Coverage up to 9sq/m per Litre
Drip and Splash resistant
Good abrasion resistance
VOC Free
All ingredients are compostable
Will not trap moisture
Improves the indoor air quality
Vegan Paint
Child and Pet Safe
Brush, roller or Spray application
Overcoatable after 4 – 6 hours
Questions
There are currently no questions and answers published for this product
Technical Details
Key Technical Data
Installation Guide
Suitable for all interior rooms, including kitchens, bathrooms and nurseries, older properties with potential damp problems, newly plastered walls and painting over previously painted surfaces. (We strongly recommend a test area to ensure compatibility prior to carrying out the job). The paint can also be used on wallpaper, plaster, clay plaster, lime plaster, concrete and brick. The paint can be used on new plaster by thinning the first coat of paint by 10% with water. Another option best suited for priming highly absorbent surfaces (like gypsum) is the Auro plaster Primer 301. If unsure what the surface is or it is a poorly absorbing or difficult surface, we would recommend priming with Auro Grip Coat 505. It is re-coatable after 4 – 6 hours. The following coats should be applied unthinned. A previously unpainted wall will generally need one primer coat followed by two un-thinned coats. Painting over a previously painted wall two coats is generally desirable. When painting over a previously painted surface it is important to try a test area first to make sure it is compatible.
The paint has excellent coverage – 9sq/m per litre and is very easy to apply by brush, roller or by spraying.
All ingredients are fully declared on the tin and in the data sheet. It does not contain any oils so will not yellow and emits very little odour during the drying process.