Pro Clima Kaflex Airtight Grommet
Main purpose
Creates a flexible airtight seal around cables and pipes so that they can safely penetrate a building's airtight layer.
Use it on
Internal or external roofs, walls and floors on cables and pipes of 5-12mm diameter. The grommet will stick to any wind or airtight membrane, smooth timber, planed or painted timber, wood-based panel or board, concrete, metal and plastic. The end of the cable or pipe must be accessible so it can be fed through the grommet.
Overview
Kaflex is a flexible heat resistant rubberised grommet supplied as either a self-adhesive patch with an integrated grommet or as a 150mm square rubber grommet that is sealed with tape. It is compatible with 5-12mm diameter cables and pipes. Versions are available for sealing single, double and multiple cables and pipes in one. Kaflex uses Tescon Vana as the adhesive. This is a tape that has been 3rd party tested and proved to remain airtight for at least 100 years.
Where to use it
Pro Clima Kaflex rubber grommets can be used on 5-12mm diameter cables and pipes where you have access to one end. Access is required so the grommet can be slid onto the pipe or cable like a tight-fitting collar.
Kaflex grommets can be used internally or externally. The solid acrylic adhesive used for sticking the grommet to an airtight barrier will permanently stick to any airtight or windtight membrane, wood-based panel/board, smooth planed or painted timber, metal or plastic (i.e. anything Tescon Vana airtight tape would stick to).
What it does
Kaflex grommets create airtight seals around cables and pipes that penetrate a building's airtightness layer. The grommet grips the pipe or cable but is not stuck to it, so it can be pulled or re-positioned as required without affecting the airtightness in any way.
Kaflex Mono and Kaflex Duo are a patch of Tescon Vana airtight tape with an integrated stretchable heat resistant EPDM rubber grommet in the middle. Kaflex Mono has one pre-cut hole to seal one cable or pipe. Kaflex Duo has two holes to seal two pipes or cables.
Kaflex Multi is a 150 x 150mm EPDM rubber grommet large enough for sealing pipes and up to 16 cables. It is supplied with an easy-to-use hole punch and template to allow the installer to precisely cut the holes they need in the most convenient configuration. A length of Tescon Vana airtight tape is also supplied so the installer can seal the rubber grommet to the airtight layer that the pipes or cables pass through.
Pro Clima Kaflex grommets can be left exposed to UV and the weather for up to 6 months during construction (before the building is finished).
How it works
The pre-cut undersized holes of Kaflex Mono and Kaflex Duo tightly grip the outer surface of cables and pipes so that once the grommet is stuck down or taped onto an airtight barrier, air leakage through gaps around the cables or pipes is eliminated. The same principle applies for Kaflex Multi with undersized holes punched by the installer in whatever configuration is required.
Why we love it
Once fitted around cables or pipework and airtight sealed to the adjacent airtight barrier, the user can still pull through or re-position the cables or pipes as needed whilst the snug fitting rubber grips and always remains fully air sealed.
Installation is extremely quick and effective even for novice or DIY installers.
System warranty
Pro Clima provide a limited system warranty, backed-up with public liability insurance, for all airtightness system, roof and wall sealing system and construction products that they supply. A 10-year warranty is provided for these products when correctly installed in combination with approved thermal insulation materials and other Pro Clima system products. When correctly installed in combination with other manufacturers' products (not made by Pro Clima), a 6-year warranty is provided.
Features
Quick professional or DIY solution
Does not stick to the cable/pipe
Versatile and adaptable
No expanding foam required
No need for silicone sealants
Passivhaus certified
Benefits
Time saving; the self-adhesive backed Kaflex grommets mean that cables and pipes can be permanently sealed extremely quickly.
Flexible EPDM rubber allows the cables and pipes to be repositioned after installation without compromising the airtight seal.
Kaflex Multi can airtight seal up to 16 cables and pipes in one grommet, this dramatically reduces the number of potential air leakage points.
Avoids the use of messy, sticky and poor sealing alternatives like expanding foam or silicone.
Independently verified by the Passivhaus Institute (one of the world's most stringent Energy standard bodies) to be a certified Passivhaus component.
Questions
There are currently no questions and answers published for this product
Technical Details
Key Technical Data
How to Install
For Kaflex Mono or Duo, slide the grommet into position then make a tear in the release paper on the back from the edge to the centre.
Peel one side of the release paper away and press the exposed adhesive into place working outwards from the cable to the edge of the patch.
Take care not to create wrinkles or air bubbles. Peel any remaining release paper away to complete the installation. Firmly press down the whole area with a Pressfix Tool to provide the strongest airtight seal and complete the installation.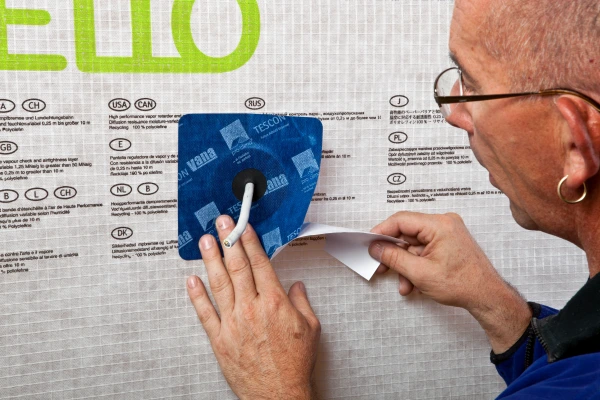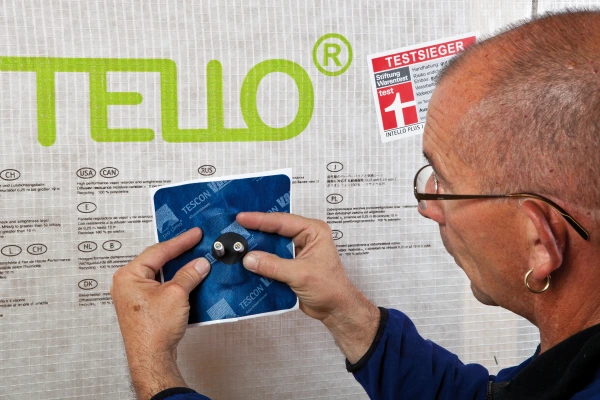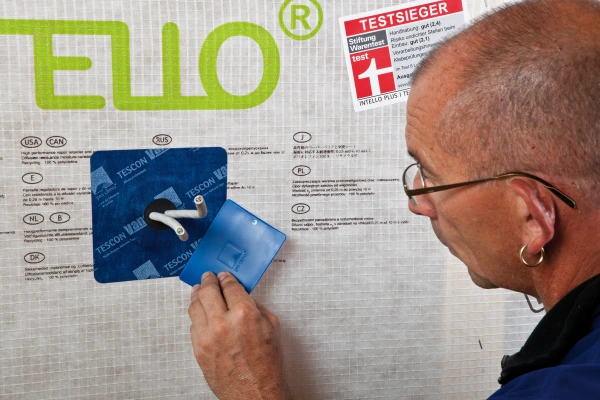 https://www.youtube.com/embed/lgHiNCjjzRk?rel=0 For Kaflex Multi, you must first decide how many holes you need and where on the rubber grommet you need them. Place the rubber grommet onto a smooth hard surface (e.g. planed timber, MDF, plywood or plastic cutting mat).
Align the paper template centrally over the top of the grommet. Put the metal punch, with the sharpened end touching the grommet, over one of the circles printed on the template and strike firmly with a hammer to cut a precise hole in the rubber.
Repeat as needed. If you cut more holes than you need, you can tape over the excess holes with Tescon Vana. After cutting the holes, slide the grommet over all cables/pipes and position up against the airtight barrier.
Cut the length of Tescon Vana into 4 strips to tape the grommet to the surrounding area then press firmly with a Pressfix Tool.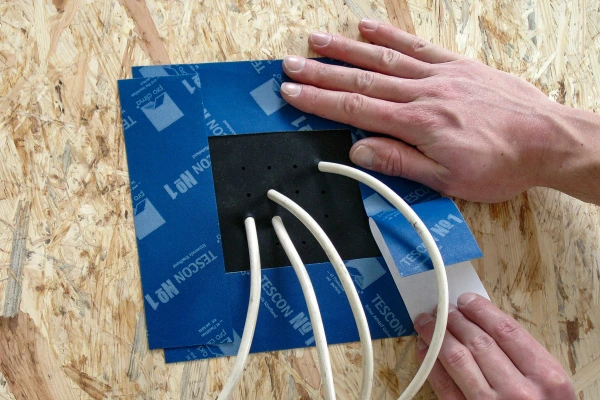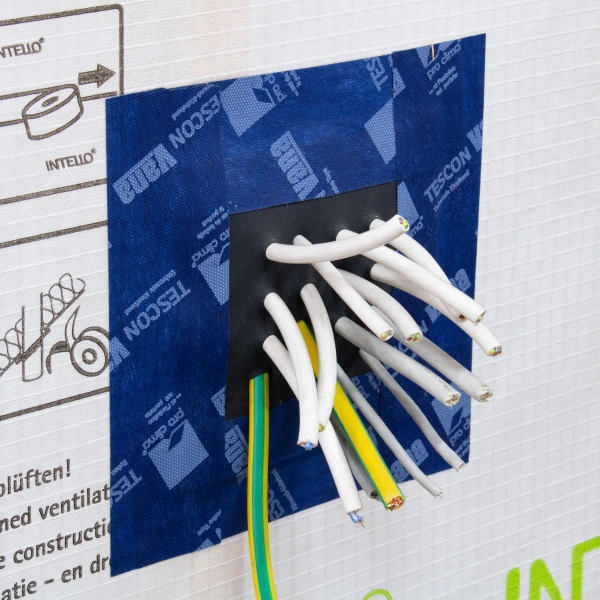 Hints and Tips
Kaflex grommets should be installed before cabling and pipe work is completed. At least one end of the cable or pipe must be accessible so the grommet can be slid over the end. Grommets must never be cut or split to fit around fully finished cables or pipes
If cables and pipes are larger than the 12mm diameter use a larger grommet from the Pro Clima Roflex range. It is important that the maximum diameter is not exceeded; overstretching the EPDM rubber will compromise the integrity of the material and lead to air leakage.