Pro Clima Solitex Adhero 3000
Main purpose
Self-adhesive abrasion resistant breather membrane to provide a wind, water and weathertight seal on buildings quickly and easily. Removes the need (and costs) for a construction tent during the build phase to protect the building from the elements.
Use it on
External walls and roofs made from timber boards, block work, brick, cement and concrete. In timber frame, Cross Laminated Timber (CLT) and mass concrete buildings.
Overview
Pro Clima Solitex Adhero is a self-adhesive, vapour permeable external breather membrane for use on masonry and timber structures. It can be quickly applied to immediately provide a wind and weathertight seal on buildings. Once applied, a costly construction tent is not required to protect the building from the elements during construction.
Where to use it
Pro Clima Solitex Adhero windtight breather membrane is suitable for use on masonry and timber surfaces on walls, roofs and floors. On large scale multi-storey constructions, it can also be used on exposed horizontal surfaces like flat roofs and top floors to protect the construction below from rain and weather.
What it does
Solitex Adhero provides a complete wind and watertight seal for the life of the building and acts as an effective breather membrane. It has high tensile strength and durability. This means it can be walked over without damage and left uncovered, directly exposed to the weather, for up to 3 months. On large multi-storey constructions, Solitex Adhero is used to quickly "wrap" the building to make it watertight as soon as possible; long before the roof or external cladding is completed. This saves costs, as a protective tent around the building will not be required.
In airtight constructions where plaster is used to airtight seal brick or blockwork, it is not always possible to plaster behind pipes. Adhero can assist in this situation to provide airtightness behind the pipes where the plaster cannot be applied. Adhero may also be applied over the whole surface area of masonry walls to achieve an airtight seal, as an alternative to plaster.
Why we love it
Thanks to Solitex Adhero's self-adhesive backing of a specialist pressure sensitive acrylic adhesive, large areas of wall can be sealed for weather tightness quickly and effectively.
Installation is easy thanks to its split release film; the self-adhesive backing is revealed in stages so a puncture free installation, with no staples, can be quickly achieved without the use of tape.
Adhero can also be used to streamline the sequencing of airtight work. It can quickly make a brick/block wall airtight so other work can continue without having to wait for plastering and its drying times.
How it works
The windtight membrane within Solitex Adhero is non-porous, so it is 100% windtight. The breathability occurs due to diffusion of moisture vapour through the membrane itself, rather than via microscopic holes or pores (which occurs in conventional micro-porous membranes). This is known as a monolithic membrane.
System warranty
Pro Clima provide a limited system warranty, backed-up with public liability insurance, for all airtightness system, roof and wall sealing system and construction products that they supply. A 10-year warranty is provided for these products when correctly installed in combination with approved thermal insulation materials and other Pro Clima system products. When correctly installed in combination with other manufacturers' products (not made by Pro Clima), a 6-year warranty is provided.
Features
Quick installation
Fewer tapes and accessories required
More windtight (no staples)
Extremely high level of water resistance attained rapidly
Versatile
Extremely high abrasion resistance
Benefits
The self-adhesive backing allows the membrane to be quickly applied to large surface areas to instantly create a wind and watertight seal.
Taping of overlaps is not required so the cost and complexity of installation is reduced.
Due to the robustness and ability to take foot traffic, Solitex Adhero can be used on walls, roofs and intermediate floors to temporarily protect substrates against the weather without needing a protective construction tent over the building.
With a water column resistance of +10m it is ideal for use on areas of harsh weather exposure.
There is no need to secure the membrane with staples. This increases the wind and weathertightness of the overall installation and eliminates any risk of leakage at staple penetrations.
Questions
There are currently no questions and answers published for this product
Technical Details
Key Technical Data
How to Install
Ensure the area is clean and free from dirt and grease. For unstable substrates or surfaces that readily create dust or de-laminate, apply Tescon Primer RP or Tescon Sprimer before applying Solitex Adhero. Tescon Primer RP or Tescon Sprimer is also required if applied to woodfibre insulation boards such as GUTEX. Adhesion tests are recommended when unsure.
A PressFix XL tool must be used to firmly press the Adhero to the surface as it is applied. This ensures the correct level of adhesion and a permanent bond is achieved.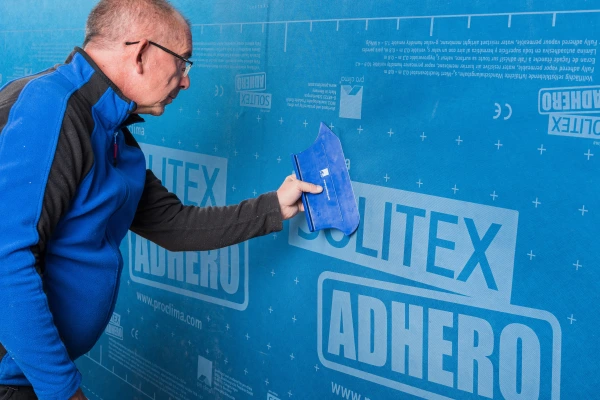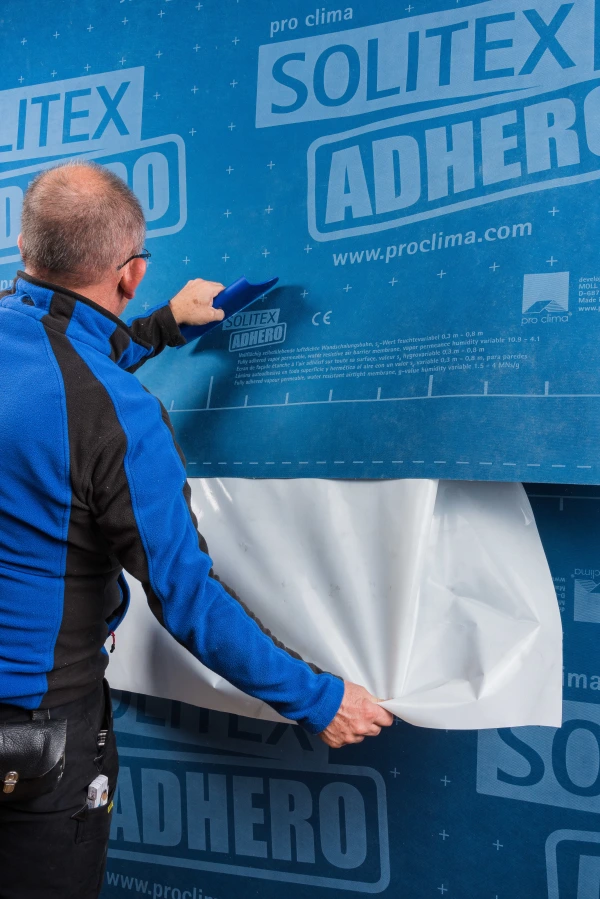 The Top 250mm should be applied first. This allows the membrane to be positioned more easily. Roll out the membrane removing the 250mm release strip in sections as you go. A PressFix XL Tool should be used when rolling the membrane out and adhering it to the wall. Make sure there are no creases or bubbles trapped underneath.
Once the top strip has been securely stuck to the wall, the bottom wider strip can then be released and adhered in the same manner as the top. Take care not to trap bubbles or make creases in the membrane.
Overlaps of at least 150mm are recommended on vertical and horizontal joints. There is a printed guide on the top surface of Adhero, to help the installer visualise and line-up each length of Adhero.
Follow the printed guide on the membrane and cut to the required length. When rolling cut lengths up, make sure the backing release strips face outward. The release strips are 250mm along the top and 1250mm along the bottom.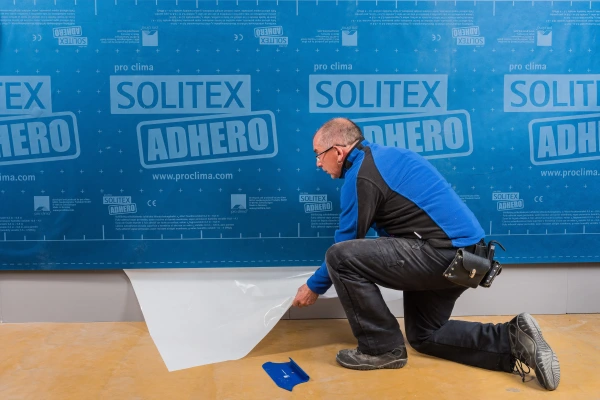 Hints & Tips
Any bubbles that are created during application of the membrane can be punctured with a blade then patched to restore the wind and water tightness.
Immediately applying a patch of fresh Adhero over the top of the puncture will help prevent hard-to-locate failures in the air, weather and windtightness later. The patch must be at least 300mm wide to ensure there is a minimum of 150mm of overlapping membrane beyond the puncture.