Finsa SuperPan VapourStop
Main purpose
Passivhaus certified internal airtight, vapour barrier (vapour impermeable) racking board for timber frame walls and ceilings.
Use it on
Timber studs and rafters on the interior side of timber frame walls, stud partitions and roofs.
Overview
Finsa SuperPan VapourStop is a structural high-density chipboard with an airtight vapour control coating applied to both sides. It has achieved a Class A Passivhaus component certification. It is intended for internal use and is specially designed to be more airtight and resistant to water vapour compared to conventional plywood or OSB3. It also provides the superior bending strength and racking strength compared OSB3 with much high level of stability in humid conditions.
Where to use it
SuperPan VapourStop can be fixed to the internal side of timber frame walls, stud partitions and rafters.
What it does
The board provides extremely high levels of airtightness and is vapour impermeable, acting as an effective vapour barrier. It is moisture resistant and frequently used in Passivhaus or any low energy project, as a superior alternative to conventional OSB3.
The special film applied on both sides of the board act as effective airtightness and vapour control layer.
How it works
The vapour barrier racking board has a transparent airtight vapour control coating on both sides. This makes the product fully airtight over its entire surface turning it into a much more reliable airtight and vapour control layer, compared to conventional OSB3. The board must be airtight sealed to adjacent boards, ceilings and floors with suitable airtightness tapes and seals such as Pro Clima Tescon Vana.
Why we love it
Finsa SuperPan VapourStop is sourced from sustainably managed forests with full EPD certification. It provides Passive House levels of airtightness and controls moisture vapour while maintaining the breathability of a building especially when used in conjunction with diffusion open/breathable materials outside such as Gutex woodfibre or Elka Strong Board. It is easy to install, fix screws through and saw.
Its unique make up, composing of a high performance P5 chipboard sandwiched between 2 layers of high density woodfibre also offer unique structural and practical benefits including high strength, stability and less swelling, with less breakout when cutting. The board guarantees continuous vapour control over the whole surface of the board thanks to the integrated air and vapour barrier film which is pre-applied on both sides of the boards.
Features
Airtight barrier
Robust on site
P5 Racking Board
Easy to Use
Less swelling
Passivhaus Certified
Innovative 3-layer composition: High density Woodfibre outer layer, P5 chipboard on the inside
Exceptionally low formaldehyde emission of less than 0.05ppm
Benefits
Airtightness and vapour barrier all in one. No additional membranes required; simply tape the joints.
Less prone to damage on site compared to membranes.
Superior structural strength and stability compared to OSB3.
Almost 50% less swelling compared to OSB3, (critical in the wet climate of Ireland and the UK).
3rd party certification as Class A Passivhaus Certified Component for airtightness, guaranteeing product performance when combined with suitable tapes and seals.
Easy to cut, gives longer tool life, with improved screw & nail holding on both face & edge. Saves time onsite.
Class A+ in VOCs and formaldehyde content. Resistant to wood-eating insects and mites.
Questions
There are currently no questions and answers published for this product
Technical Details
Key Technical Data
How to Install
An expansion gap of at least 3mm is required between each board. For large walls 5-12m wide, the expansion gap in corners should be calculated as 2mm per linear metre of wall. For walls that are longer than 12m wide, the corner expansion gap should be calculated as 3mm per linear metre of wall.
SuperPan VapourStop does not have an inner or outer face so it can be installed facing in either direction.
Screws, nails or staples should be used for installation. The screws or nails should be galvanised, stainless steel or have similar durable properties. Nails should have a minimum diameter of 2.8mm and a minimum length of 50mm. Nails or fixings around the edge of the board should be applied every 150mm (or closer) and the nails on intermediate studs (in the middle of the board) can be up to 300mm apart. Nails, screws or staples should be fixed at least 8mm away from the edges of the board.
SuperPan VapourStop can be used on studs that are at least 38mm wide and no more than 610mm apart. After the boards have been installed, all joints between boards, adjacent walls and ceilings should be taped using Pro Clima's Tescon Vana, Tescon No.1 or Uni Tape, for the best results.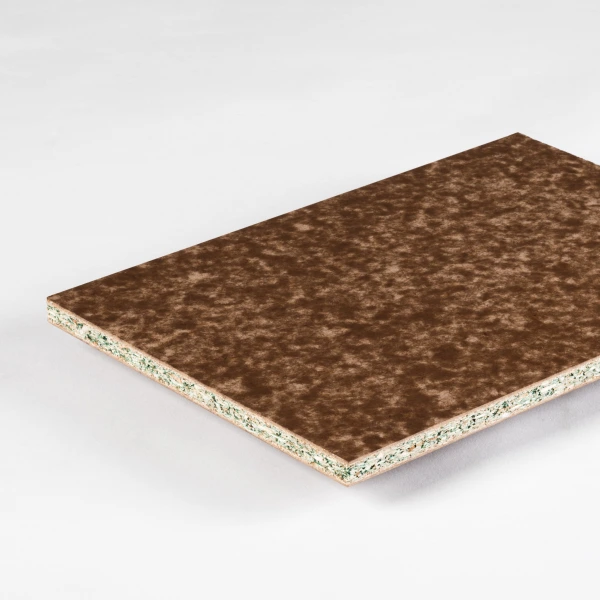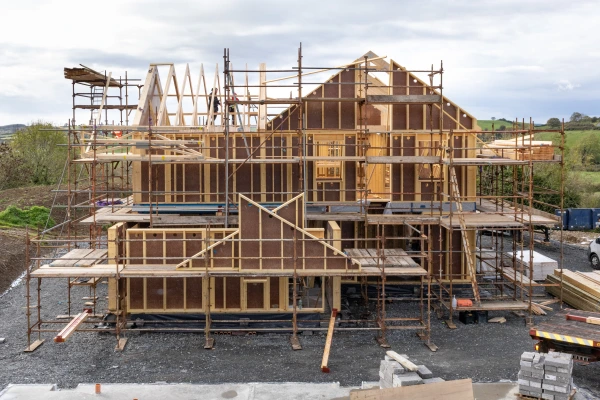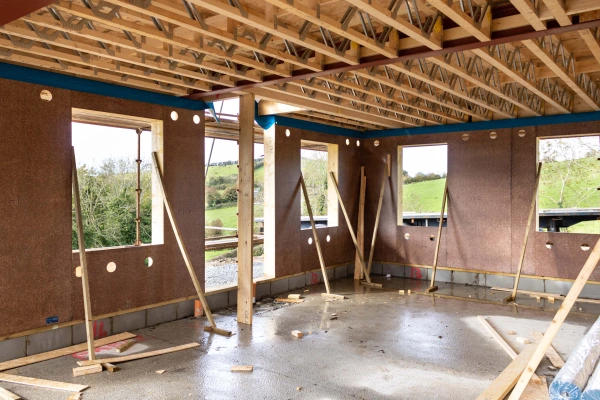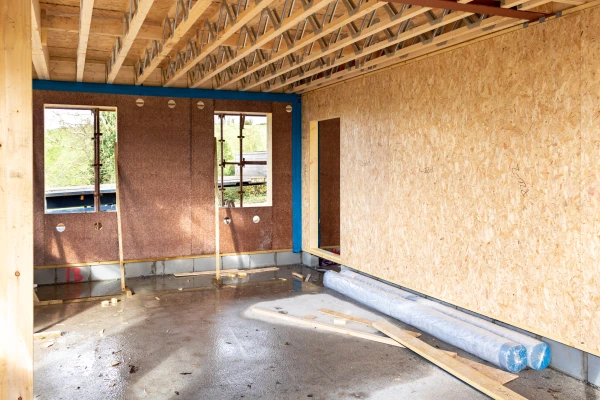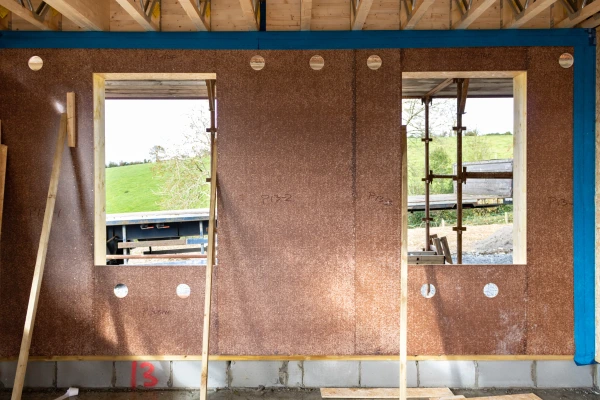 Hints and Tips
SuperPan VapourStop should be stored flat and installed in dry conditions.