Constivap 2.3 Plus
Main purpose
Low cost reinforced airtight membrane with a fixed level of vapour openness.
Use it on
Internal roofs, walls, ceilings and floors where the levels of humidity and moisture in the building will not change significantly over time. For example, when non-breathable insulation such as PIR/PUR has been used.
Overview
Constivap 2.3 Plus has a constant sd-value of 2.3. It offers excellent value for money and performance in situations where the levels of humidity and moisture in the building will not change significantly over time. Like many Pro Clima membranes, "Plus" means reinforced. There is a super-strong polypropylene mesh within Constivap 2.3 Plus.
Where to use it
Constivap 2.3 Plus can be used internally on roofs, walls and ceilings in timber frame constructions or in the timber roof of masonry buildings. It is suitable for use with non-breathable insulation like PIR/PUR and all fibrous insulation materials especially when levels of humidity and moisture in the building will not change significantly over time. Situations like this occur when warming of the building's exterior does not cause additional moisture vapour to be driven into the building.
The exterior of the building must be vapour open and have an appropriate external membrane installed for example a Pro Clima breather membrane.
What it does
Constivap 2.3 Plus vapour control membrane provides low-cost breathable airtightness to a building. Airtight membranes ensure draughts, air leakage and heat loss are eliminated from a building to ensure, over the lifetime of a building, heating bills will be significantly reduced.
Why we love it
Constivap 2.3 Plus allows installers and homeowners to enjoy an easier faster installation. This is due to the membrane's translucent white appearance. Seeing through the membrane allows installers to see the structure behind to quickly identify safe fixing locations and avoid damage to services like pipes and cables that may otherwise be unseen.
The fleecey backing allows for easy movement when positioning the membrane in place, reducing the chances of the membrane being compromised on sharp objects or corners.
Constivap2.3 Plus is pre marked with 100mm overlap guide lines printed along the edge so no measuring is required when applying membrane to membrane with the correct depth of overlap.
How it works
Constivap 2.3 Plus, alongside the range of Pro Clima airtight tapes, sealants and accessories, ensures the building will remain airtight so that the structure remains comfortable and cost effective for the occupier.
System warranty
Pro Clima provide a limited system warranty, backed-up with public liability insurance, for all airtightness system, roof and wall sealing system and construction products that they supply. A 10-year warranty is provided for these products when correctly installed in combination with approved thermal insulation materials and other Pro Clima system products. When correctly installed in combination with other manufacturers' products (not made by Pro Clima), a 6-year warranty is provided.
Features
Translucent
Durable reinforced membrane
Economical low-cost solution
Suitable for blown insulation
CE Marked
Benefits
Makes for fast and easy application due to its translucent backing, allowing the installer to see the structure underneath.
Has a high nail tear resistance to ensure robustness and long lasting performance.
A competitively priced budget membrane.
Holds its shape and doesn't stretch making it ideal for use with blown-in insulation.
Complies with CE requirements.
Questions
There are currently no questions and answers published for this product
Technical Details
Key Technical Data
Constivap 2.3 Plus should be positioned on the warm side (interior) of the chosen insulation and be fixed to rafters, joists or studwork.
The smooth printed side of the membrane should be facing the installer during the installation process. Constivap 2.3 Plus can be laid either horizontally or vertically to the structural timbers.
Each length of membrane must overlap other lengths of membrane by 100mm. Use the printed guide along the edge of the membrane to line-up the edges and visualise the correct overlap. The overlaps should be airtight sealed with Tescon Vana, Tescon No.1 or to keep costs down, Compego.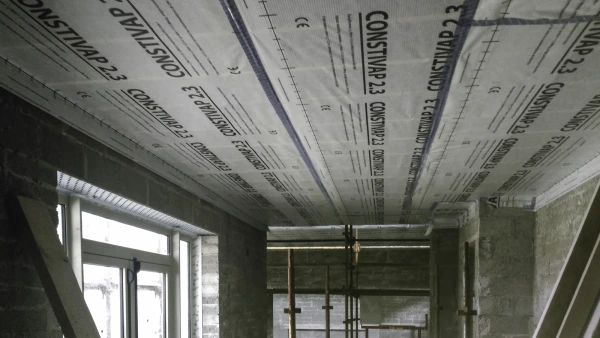 Use galvanised staples that are at least 10mm wide and 8mm long to attach the membrane. The staples should be applied parallel to the structural timbers every 100mm. Staples aligned so they are parallel to the structural timber ensures there will be less chance of the staples failing or membrane being damaged by pulling forces during a blower door test.
Joins to floors and walls should also be sealed with Pro Clima airtight tape or Orcon F airtight sealant (mastic), the membrane should overlap walls and floors by at least 30mm.
Prepare all surfaces where tape or sealant is applied to ensure no contaminants like dirt, dust or grit are present. A primer like Tescon Sprimer or Tescon Primer RP may be required to stabilise some surfaces prior to applying tape or sealant.
Any penetrations such as cables, structural timbers and pipes must be sealed using a Pro Clima airtight grommets or airtight tape.