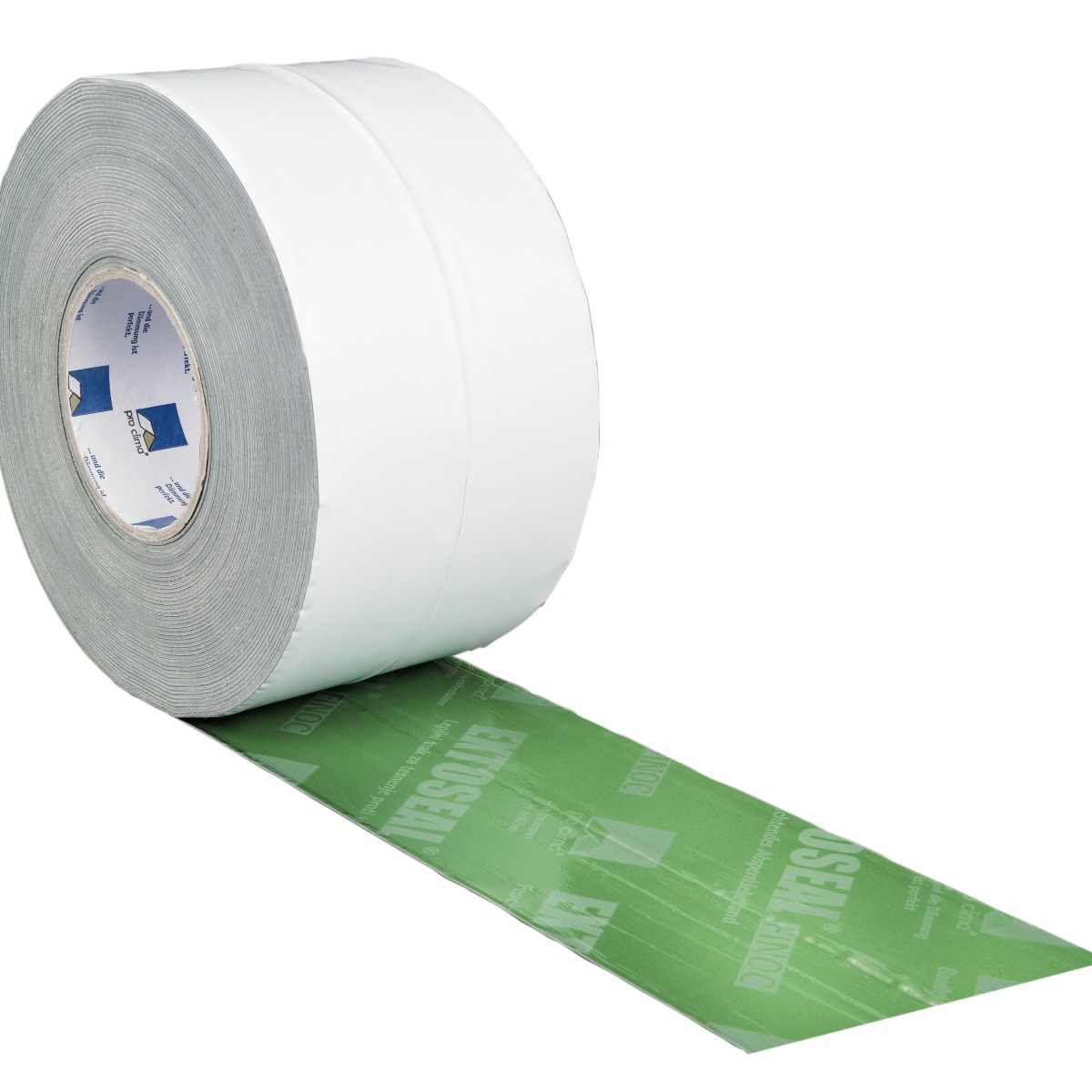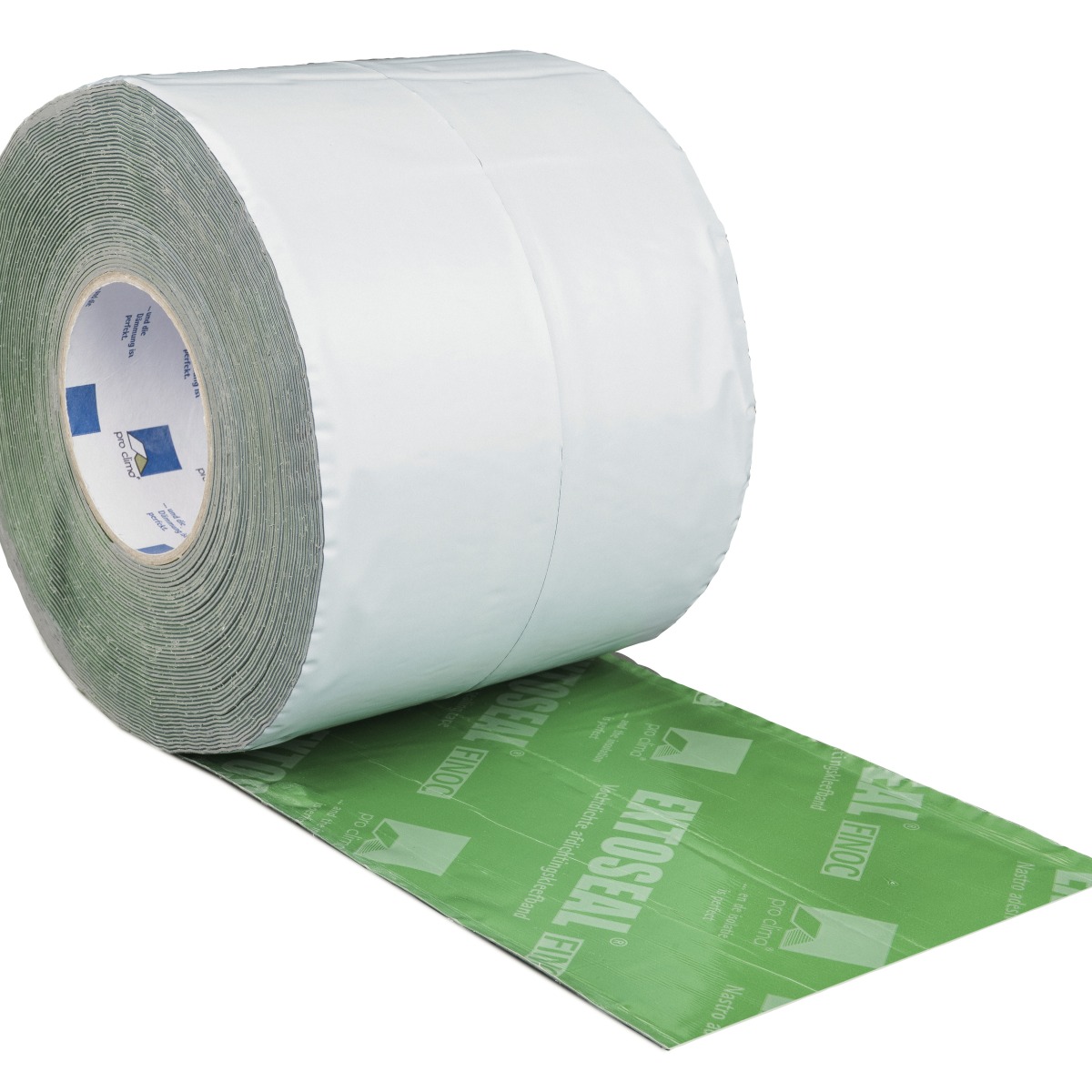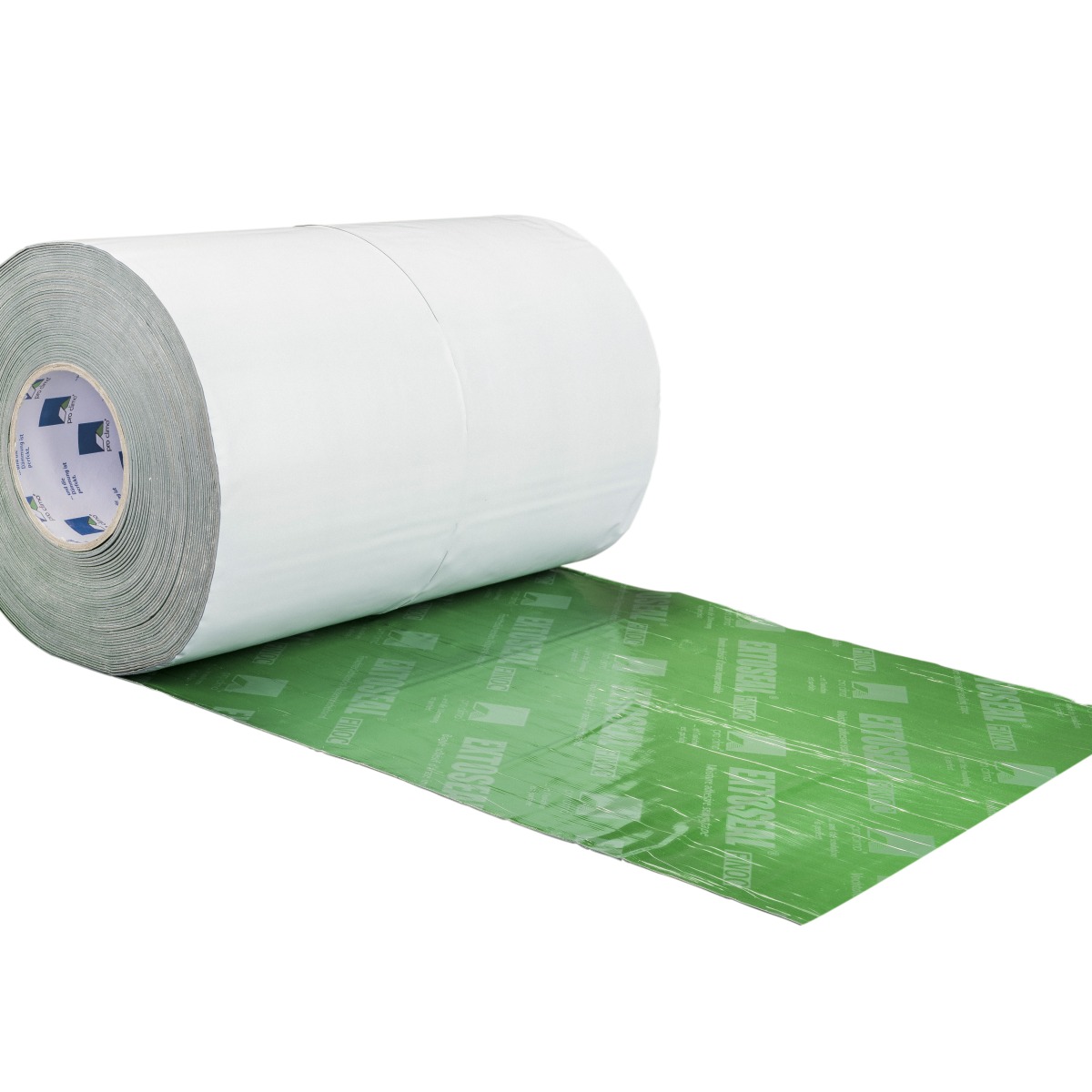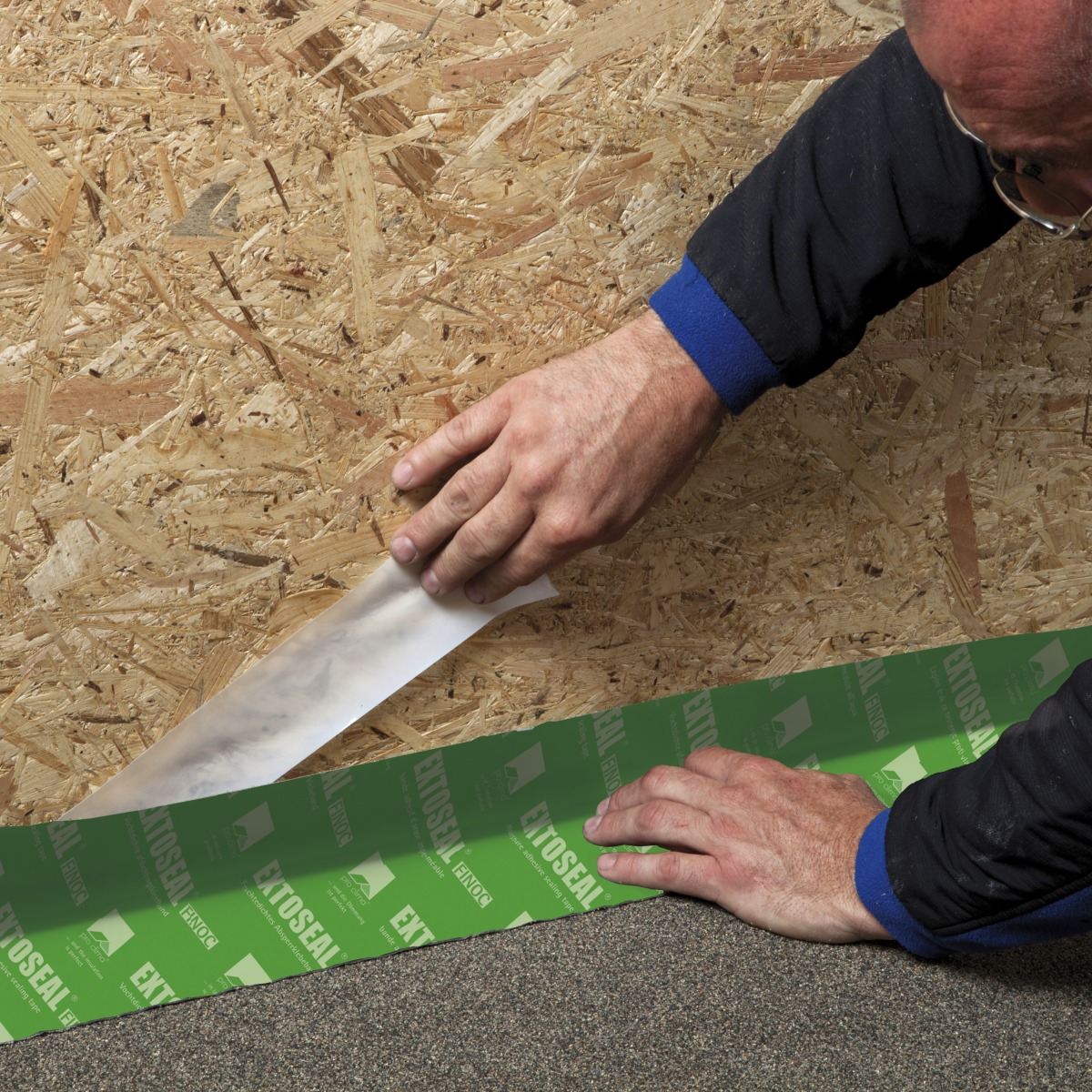 Pro Clima Extoseal Finoc
Main purpose
Creates a watertight barrier protecting structural elements from water ingress and rising damp to adjoining structures.
Use it on
Sills, sole plates, thresholds, beams and eaves in timber frame constructions, structural elements, wood-based panels and smooth concrete surfaces.
Overview
Extoseal Finoc is a watertight barrier tape for use internally or externally. It is most commonly used to seal under sole plates in timber frame structures to prevent rising damp. Extoseal Finoc can also be used to airtight seal wood-based boards like OSB and particle board to smooth concrete or other structural mineral surface.
Where to use it
Extoseal Finoc is a moisture and watertight barrier tape that can be used under sole plates and thresholds in timber frame buildings. Especially where moisture from concrete parts of the construction could contact other structural elements and timber.
It will permanently stick to a wide variety of surfaces. These include: all pro clima products, solid wood surfaces, metal, foil, polythene, sheathing, brick, concrete etc. Depending on the condition of the surface Tescon RP Primer or Tescon Sprimer may also be required prior to application of the tape.
What it does
Extoseal Finoc watertight sealing tape is made of butyl rubber. This material creates an excellent bond with deep penetration of the adhesive into the material it is being applied to. It is completely waterproof and creates a capillary break ensuring that no moisture can enter the structure via capillary action.
The back of the tape has two release strips, so if you are sealing in a corner or junction between a floor and a wall, it can be easily applied to one surface first then the other surface. This ensures the best result and avoids incorrect positioning, air gaps, bubbles or wrinkles that can cause an imperfect seal.
Extoseal Finoc can also be used as a moisture barrier, to protect timber in critical areas of the construction against moisture travelling from concrete areas. Critical areas would include thresholds or timber beams.
Why we love it
Extoseal Finoc is a very versatile tape for many applications, due to its butyl rubber adhesive material and twin release strips. It is highly flexible and can be manipulated around corner details, curves and penetrations to create perfect seals on non-flat surfaces even in corners. Once stretched and manipulated to suit the detail being sealed, Extoseal Finoc has low restoring forces meaning it won't contract back to its original form causing the seal to fail or the tape to become un-stuck.
System warranty
Pro Clima provide a limited system warranty, backed-up with public liability insurance, for all airtightness system, roof and wall sealing system and construction products that they supply. A 10-year warranty is provided for these products when correctly installed in combination with approved thermal insulation materials and other Pro Clima system products. When correctly installed in combination with other manufacturers' products (not made by Pro Clima), a 6-year warranty is provided.
Features
Excellent adhesive bond
UV protected
Waterproof barrier tape
Benefits
Butyl rubber tape penetrates deeply into the surface for a secure and long-lasting bond.
For internal and external use. Can be exposed to UV light for up to 3 months during construction.
Protects structural elements from water ingress & rising damp.
Questions
There are currently no questions and answers published for this product
Technical Details
Key Technical Data
Installation Guide
How to install
Extoseal Finoc will not stick to frozen surfaces. Any contaminants such as grease and silicone, dust and debris should be removed before applying the tape.
Prime the surface, if necessary, with Tescon RP primer or Tescon Sprimer. Roll out the tape to the required length and cut to size.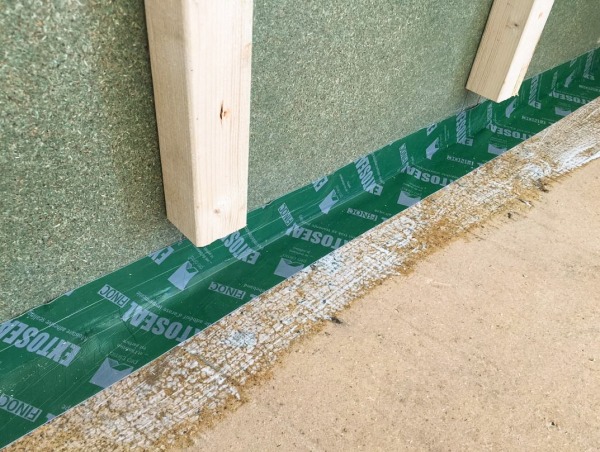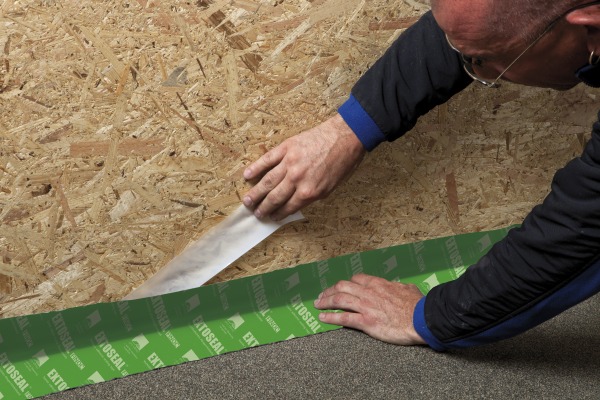 When sealing between a wall and floor, fold the tape to the required angle and push into the junction between the two. Remove the first release paper gradually and seal the tape to the wall. Once fully attached to the wall, remove the second release paper pressing the tape onto the floor.
Make sure to press the tape right into the corner to avoid air pockets. Use a Pressfix or Pressfix XL to firmly press the tape into the floor and wall. This ensures complete contact is made between the tape and the bonding surfaces.