Pro Clima Extoseal Magov
Main purpose
For the airtight sealing of pipes that penetrate the airtightness or windtight layer of a building and to airtight seal walls to a floor.
Use it on
Timber, wood-based panels, metal, foil, polythene, sheathing, brick and concrete surfaces.
Overview
Pro Clima Extoseal Magov is a highly flexible and mouldable butyl rubber airtightness tape. This material is used in the airtight sealing of penetrations in airtight and windtight membranes and for airtight sealing between a wall and floor.
Due to the high flexibility of this tape, it can be easily moulded and stretched around pipes and cables in order to ensure no air leakage occurs. This ensures a quick and easy application process.
Where to use it
Extoseal Magov will permanently stick to all Pro Clima membranes, tapes and airtight accessories. It will also permanently stick to timber, wood-based panels, metal, foil, polythene, sheathing, brick and smooth concrete surfaces. Some mineral or masonry surfaces may require Tescon Primer RP or Tescon Sprimer to be applied to stabilise the surface first.
What it does
Extoseal Magov is a highly flexible, stretchable and mouldable airtightness tape, most commonly used for the airtight sealing of pipe and cable penetrations in airtight & windtight membranes. It can also be used to seal the join between a concrete floor and a wall.
It has two release strips to make it highly effective when the two surfaces being sealed are at different angles, form a corner or right angle or are curved.
Why we love it
Due to its strong butyl rubber adhesive layer and its elastic top surface (carrier film), Extoseal Magov airtight tape can be highly stretched and moulded around any sized pipe or cable penetration. There is almost no restoring force to bring the tape back to its original unstretched state. This ensures a permanent airtight seal that can't fail due to contraction of the tape.
Extoseal Magov can be bonded to a huge variety of surfaces and can be used to seal pipes and cables when Airtight grommets are not available or cannot be used. This is especially useful in retrofits when the ends of the pipes and cables cannot be accessed to slide on a grommet.
How it works
Extoseal Magov penetrates deep into the substrate due to the extreme adhesive abilities of its butyl rubber. Once stretched to seal round pipes, cables and structural timbers, it does not retract to its original form ensuring a reliable airtight seal is achieved.
System warranty
Pro Clima provide a limited system warranty, backed-up with public liability insurance, for all airtightness system, roof and wall sealing system and construction products that they supply. A 10-year warranty is provided for these products when correctly installed in combination with approved thermal insulation materials and other Pro Clima system products. When correctly installed in combination with other manufacturers' products (not made by Pro Clima), a 6-year warranty is provided.
Features
Highly elastic & mouldable
UV protected
Quick & Easy to apply
Impervious to water
Benefits
Extremely stretchy without the worry of affecting its airtight seal.
Can be used internally & externally & exposed to UV light for up to 3 months.
Perfect for use around pipes and penetrations that are already in place.
Protects the structural elements from water ingress & rising damp.
Questions
There are currently no questions and answers published for this product
Technical Details
Key Technical Data
How to Install
Roll out the tape to the required length and cut to size. Fold the tape in the middle and remove the first release paper.
Place the exposed sticky part to the pipe or cable and tape it around the pipe gradually, ensuring a good bond is being achieved on the material. Remove the second release paper gradually stretching the tape to meet the other surface and apply pressure to achieve a bond between the two materials.
Once an initial bond is achieved between the two materials, a Pressfix should be used to gain a full-strength permanent bond.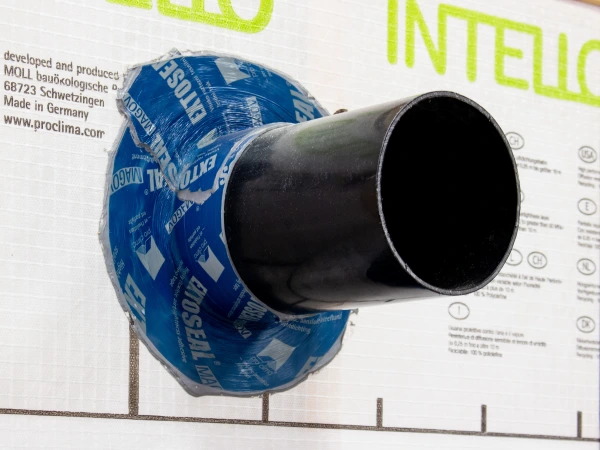 https://www.youtube.com/embed/lgHiNCjjzRk?start=120&rel=0