Gutex Multiplex Top
Main purpose
Thermal insulation, waterproofing and weatherproofing of roofs and walls and to reduce thermal bridging.
Use it on
On the outside of pitched roofs where the slope is at least 15° (additional sealing measures are required for pitches of <15°) and on timber frame walls. May be applied in conjunction with woodfibre insulation boards or directly onto rafters or studs.
Overview
Gutex Multiplex Top is used as a high-performance breathable insulated sarking board for pitched roofs and timber frame walls. It is typically installed directly unsupported over walls and roofs or on top of other Gutex wood fibre boards to create a waterproof and rain-tight outer layer to the roof insulation. Manufactured from recycled wood chips, it is a carbon negative product with excellent thermal performance. This insulated sarking board protects from cold in winter and prevents overheating in the summer.
Where to use it
Multiplex Top insulation boards can be used on pitched roofs where the slope of the roof is at least 8°. In such low pitches specific guidelines must be adhered to using pro clima Solitex Plus, windtightness and nail sealing tapes, such as pro clima Naideck and seals. It can also be installed directly over rafters when no other wood fibre insulation is being used. Multiplex Top is non load bearing.
What it does
Gutex Multiplex Top provides a robust and waterproof top layer (sarking) on its own or on top of wood fibre insulation boards. It has a unique tongue and groove profile, which cleverly links the boards to give excellent windtightness and eliminate any rainwater penetration through the joints.
How it works
The Gutex boards are uniformly treated with paraffin wax to repel water and prevent any water being absorbed. The tongue and groove profile guides running water safely away from the joint preventing all water ingress. The board also acts as a very effective thermal insulation.
Why we love it
On steeper roofs (more than 15° pitch), Multiplex Top provides enough waterproofing that there is no need to tape interlocking joints between the boards or to cover them with a breathable roofing membrane; Please note: at butt joints such as roof ridges, eaves, verges, valleys, cut or damaged boards and penetrations must always be taped whatever the angle of pitch. If the pitched roof is between 8-15°, the board should be protected with a breathable membrane such as Pro Clima Solitex Plus and the all overlapping joints of the membrane must be sealed with Pro Clima Tescon Vana airtight tape. Pro Clima Tescon Naideck nail sealing tape must also be applied beneath each batten prior to fixing.
In 1932, Gutex started making wood fibre insulation boards from recycled wood chips. The wood chips were waste from the manufacturing of timber beams and other timber products. The woodchips came from timber grown exclusively in sustainably managed forests within the Black Forest region of Germany. Trees absorb huge amounts of carbon from the atmosphere. The absorbed carbon is locked away within the woodfibre boards. Because of this, any building using Gutex Wood Fibre Insulation achieves a lower carbon footprint and helps reduce global CO2.
Gutex Multiplex Top is fully certified in accordance with EN13171 and also has an Environmental Product Declaration in accordance with EN14025 and EN15804.
Features
• Stops thermal bridging
• Tongue & groove edge is wind and watertight
• Highly breathable (vapour open)
• Prevents summer overheating
• Excellent sound insulator
• Carbon negative, fully recyclable and safe
• Complies with EN standards
• Fire resistant
Benefits
• Fast & accurate installation, creating an insulated, waterproof & windtight construction.
• Absorbs heat from the sun & then delays its transmission to the inside creating a comfortable living space all year round.
• High levels of breathability will improve a building's ability to dry out.
• Absorbs airborne, impact & high frequency noise, reducing noise levels by up to 50dB.
• Joints are so tight; tape is unnecessary except where boards are cut or butt jointed.
• On 15° pitched roofs or greater, requires no additional external membranes saving time, reducing costs and labour
• A carbon negative insulation made from waste woodchips originally from sustainable timber sources.
• Gives up to 90 minutes fire protection (EN13501-2) due to its charring reaction to fire.
Questions
There are currently no questions and answers published for this product
Technical Details
Key Technical Data
How to install
Multiplex Top must be stored under dry conditions. If stored outside, make sure the waterproof side (with printed text on) is facing towards the elements.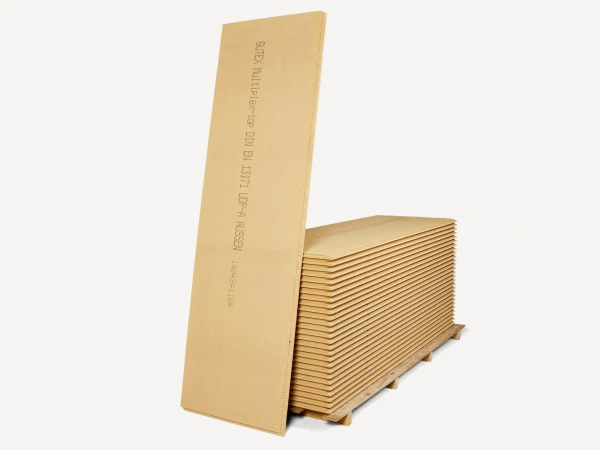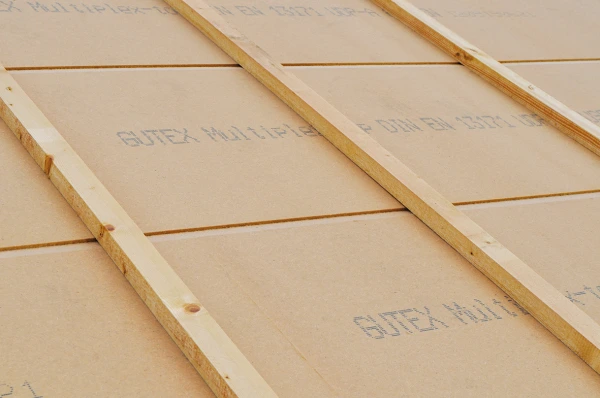 The boards should always be installed so the tongue of the board points up the roof and the printed side faces outwards. This ensures the waterproofing and tongue position are correctly oriented. Roof battens and counter battens should be applied immediately after Multiplex Top has been installed. A long screw or rust resistant nail is fixed through the batten, into Multiplex Top and any further insulation underneath, straight into the rafter. This adds strength and rigidity to the insulation layer and a sound platform onto which roof tiles can be fixed. When the total insulation is less than 40mm, standard screws or galvanised nails can be used instead.