Gutex Ultratherm
Main purpose
Weather and rain-proof insulated sarking board. Provides a thermal insulation and robust outer layer for timber frame or Cross Laminated Timber walls and roofs. It can be used on top of other, less-dense, wood fibre insulation boards to provide weatherproofing and additional insulation.
Use it on
Above rafters on pitched roofs and over studs on the external side of timber frame walls.
Overview
Gutex Ultratherm is a robust wood fibre insulation board used as weatherproof and rain-proof sarking. It provides excellent thermal insulation in the winter, protects against overheating in summer and eliminates thermal bridges through timbers. Ultratherm has a special tongue and groove profile, which prevents rainwater penetrating the joints between each board. This ensures Ultratherm can be left uncovered on roofs (over 15° pitch), for up to 3 months before cladding or tiles are fitted. Ultratherm insulation is resistant to extreme weather conditions like hail, wind and rain. It also features exceptional acoustic performance.
Where to use it
Gutex Ultratherm can be used externally as an insulated weatherproof sarking board installed on top of the timber or steel rafters and can also be used on the external face of timber stud walls or solid Cross Laminated Timber (CLT) walls.
What it does
Gutex Ultratherm 60mm sarking board provides excellent thermal performance in the winter and significantly contributes to a reduction of overheating in the summer due to its high thermal mass. As the board is fixed onto the external face of timbers, it also eliminates thermal bridging though the timbers and can provide significant reductions in heat loss where walls meet floors and roofs and around windows and doors (these are known as non-repeating thermal bridges).
Why we love it
Gutex Ultratherm insulation board is extremely robust and has a special tongue and groove profile that locks each board together. The profile gives excellent resistance to rainwater penetration (on roofs steeper than 15°) and provides a high degree of wind tightness. The product is also extremely robust and resistant to hailstones. Gutex Ultratherm insulation can be left exposed as the only roof covering for up to three months prior to it being covered with the final roof covering.
Gutex Ultratherm sarking board is made from recycled wood chips generated from the production of other timber products. This means that it has a large amount of stored carbon, which is locked into the building when installed. The stored carbon is more than that emitted during manufacture, meaning Ultratherm is a carbon negative product.
Features
Excellent winter thermal performance
Summer overheating reduction
Weatherproof tongue and groove profile
Exceptional acoustic performance
Robust and waterproof
Breathable
Temporarily protects building a construction phase
Elimination of thermal bridges
Benefits
A robust connection ensures continuous insulation which prevents wind penetrating into the building.
The unique profile allows rainwater to run off the surface.
Can be used without an external breathable membrane on roofs over 15° pitch and can be used as a temporary roof cover (exposed to weather) for up to 3 months.
Extremely effective, it can achieve overall SAP targets or BER targets with reduced insulation thicknesses (lower psi values).
Creates a cosy, comfortable indoor environment and helps reduce heating bills.
Rooms in the roof are prone to overheating; this is significantly reduced with Ultratherm's ability to absorb and slow heat penetration.
Allows moisture vapour to move through the insulation eliminating the build-up of damaging condensation. This prevents mould growth and results in good indoor air quality in the living space.
Exceptional acoustic performance due to its fibrous nature, high density and inherent windtightness.
Questions
There are currently no questions and answers published for this product
Technical Details
Key Technical Data
How to Install
The boards should be temporarily fixed into place using thermally broken mushroom headed screws. The boards are then permanently fixed by screwing through the counter battens into the Gutex Ultratherm and then into the timber underneath.
Fixing patterns for locations and directions of screws can be obtained by contacting our technical team.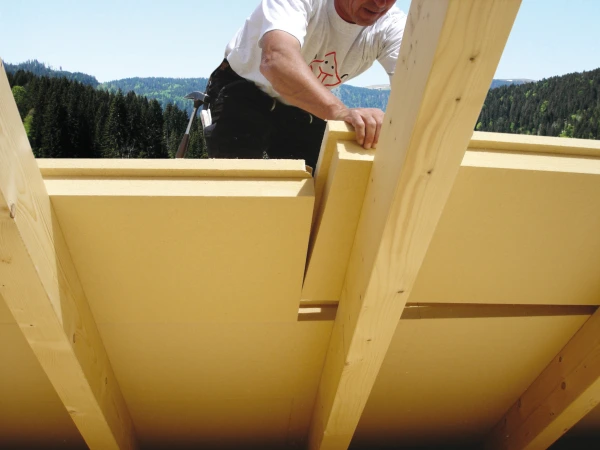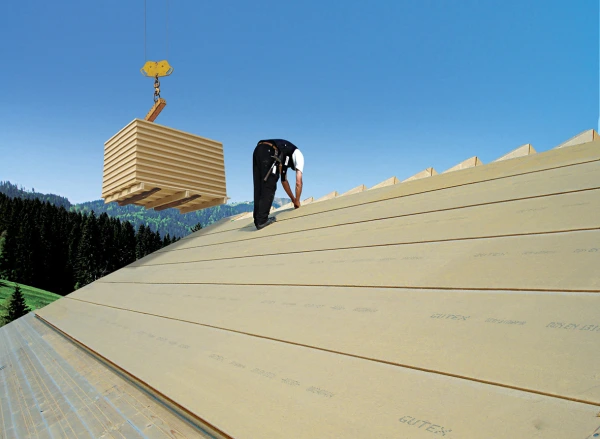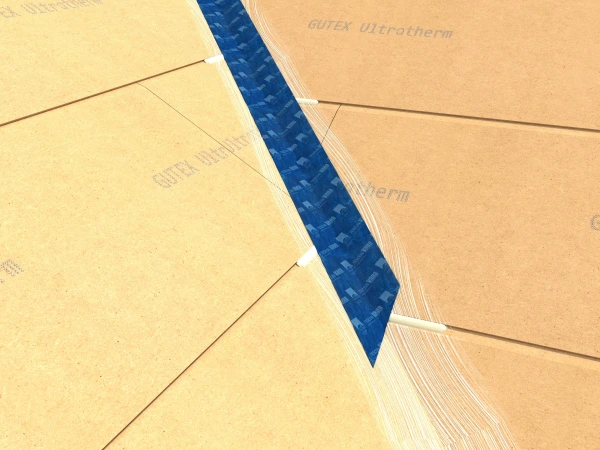 Hints and Tips
If the roof slope (pitch) is less than 15°, the Gutex Ultratherm needs to be covered with a breathable membrane such as Pro Clima Solitex Plus or Solitex Plus Connect.
In the case that no membrane is applied over the Ultratherm a number of important details must be addressed. All butt joints and service penetrations of the boards must be primed and securely sealed at the ridge of the roof, use Tescon RP Primer or Tescon Sprimer to prime the wood fibre then tape over with 150mm Tescon Vana airtight tape.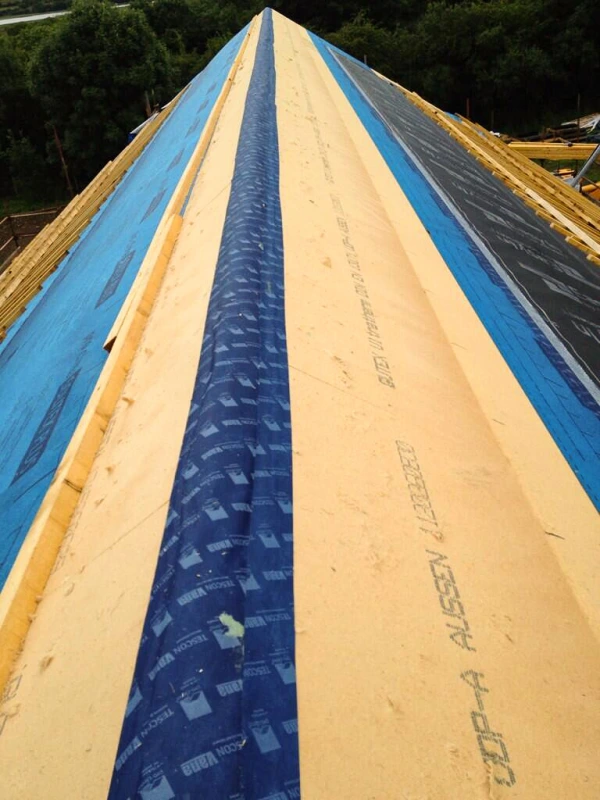 Rain protection with Gutex Ultratherm
https://www.youtube.com/embed/pF6Nu8IpxGM Pitched Roof Installation
https://www.youtube.com/embed/Z3lJ95tmWlY?rel=0 https://www.youtube.com/embed/g5aC0D8u5y4?rel=0 https://www.youtube.com/embed/HY4TJlm0Td0?rel=0 https://www.youtube.com/embed/VarycrToPlo?rel=0 https://www.youtube.com/embed/Og9idZ56kvY?rel=0 https://www.youtube.com/embed/PqspLXetqAk?rel=0 https://www.youtube.com/embed/RIBnzAlK7wM?rel=0