Pro Clima Contega Solido Exo
Main purpose
External wind and driven rain resistance. Sealing of gaps that surround windows and doors externally including any other building opening or service penetrations.
Use it on
Concrete, masonry, timber, PVC, metal, wall breather membranes, P5 particle boards.
Overview
Contega Solido Exo is for the windtight and waterproof sealing of window and door openings externally. It ensures that these unavoidable building junctions are windproof and resistant to driving rain immediately after application.
Where to use it
Pro Clima Contega Solido Exo windtight tape is designed for the exterior weather-tightness and diffusion permeable sealing of windows and doors to adjacent building surfaces, such as a window to wall.
What it does
Contega Solido Exo sealing tape prevents air and water penetration into the building fabric caused by gaps created between intersecting building elements.
Why we love it
Contega Solido Exo is quick and easy to apply for the wind tight sealing of windows and doors to the external building elements. Thanks to its solid acrylic glue, it ensures the joint is immediately windproof and protected against wind driven rain. The joint may also be subject to loading after application. Once applied, the tape can be directly plastered to conceal it and allow for a seamless transition between doors/windows and openings that surround them. The plaster supplier should be consulted to ensure maximum adhesion to the fleece of the tape.
System warranty
Pro Clima provide a limited system warranty, backed-up with public liability insurance, for all airtightness system, roof and wall sealing system and construction products that they supply. A 10-year warranty is provided for these products when correctly installed in combination with approved thermal insulation materials and other Pro Clima system products. When correctly installed in combination with other manufacturers' products (not made by Pro Clima), a 6-year warranty is provided.
Features
Wind & waterproof
NSAI certified as part of the Intello Plus airtightness system and IFT certified
UV stable
Plasterable waterproof solid adhesive
Benefits
The joint is both wind and waterproof immediately after application and can be subjected to loading.
Ensures high levels of reliability and compatibility with the Pro Clima system.
Can be left exposed for up to 3 months.
Can be plastered directly over.
Ensures fast acting and permanent adhesion to the surface and optimum reliability even in humid conditions.
Questions
There are currently no questions and answers published for this product
Technical Details
Key Technical Data
How to Install
Inspect the surface before application to ensure no grease or repellent substance is present, mineral surfaces like concrete will require pre-treatment with Tescon RP Primer or Sprimer to ensure a sufficient bond.
Remove the release paper on the underside of the tape and carefully place the narrow side of the tape to the window frame edge ensuring that the final plastered opening can conceal the tape.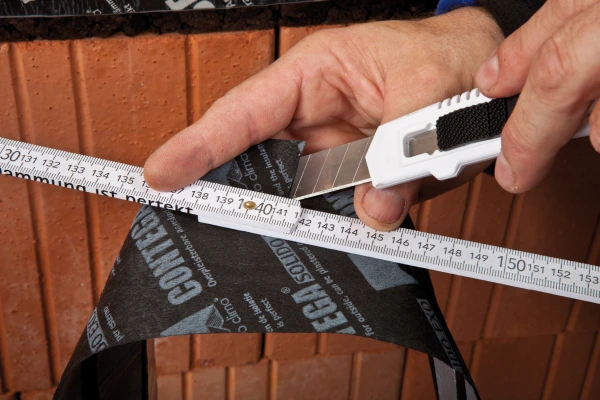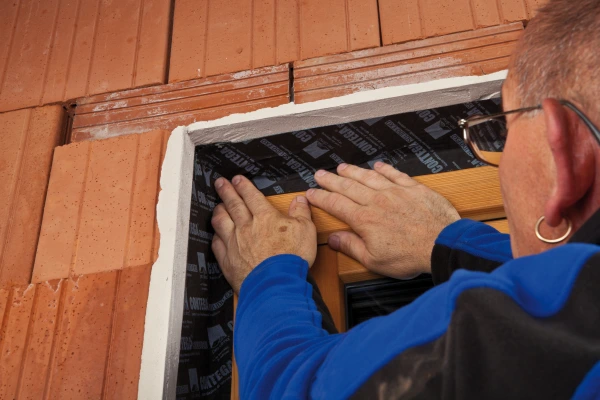 When applying the tape around the perimeter of the window, overlap each strip of tape by approximately 50mm, ensuring the wind tightness is uninterrupted.
When the narrow side of the release film has been removed and the tape is in place and secured using the Pressfix tool; the second larger release film can then be removed and the tape adhered to the building surface.
Hints & Tips
The use of Tescon RP Primer or Sprimer is always recommended to ensure the surface is in a condition where the bonding of Contega Solido Exo will not be compromised.
It is always recommended to use the Pressfix application tool to ensure that adequate pressure is applied to the tape in order to ensure the Contega Solido Exo reaches maximum adhesion to the chosen surface which it is being bonded to.