Pro Clima Extoseal Encors
Main purpose
Weatherproof and watertight sealing tape for window sills and door thresholds or anywhere standing water is likely to be present.
Use it on
External Pro Clima membranes, tapes and airtight accessories, timber, wood-based panels, metal, foil membranes, foil covered insulation, polythene, sheathing, brick, concrete and stone.
Overview
Extoseal Encors is a highly elastic butyl rubber airtight and watertight flashing tape. It is most commonly used as a weatherproof and watertight tape for sealing around window sills, door thresholds or any area where standing water may be present. The high elasticity of Extoseal Encors allows it to be easily moulded around corners and junctions while maintaining the same level of watertightness and weatherproofing.
Where to use it
Extoseal Encors sealing tape will stick to all Pro Clima membranes, tapes and airtight accessories. It will also bond to planed wood, painted wood, hard plastics, metal, hard wood-based panels (e.g. chipboard, OSB, plywood, MDF), wood fibre insulation panels, concrete and all types of plaster & un-plastered masonry. Wood fibre boards must be primed with Tescon Primer RP or Sprimer before applying.
All surfaces must be sufficiently dry, clean and free of water-repelling substances like grease and silicone. Concrete and plaster surfaces must be sound, not sandy, crumbling or loose.
What it does
Extoseal Encors protects building elements from weather and water ingress by providing permanent yet flexible airtight and watertight seals at window and door junctions.
Why we love it
Pro Clima Extoseal Encors is extremely flexible and can stick to anything commonly found on site. It can be pulled, stretched and moulded to follow irregular shapes, corners and edges of building elements to attain the best possible weatherproof seal. The flexibility is due to its strong butyl layer and highly stretchable carrier film over the top, the flexibility and stretching does not affect its water and airtight qualities.
It is supplied with two release strips, so it is easier to apply it precisely where needed. The narrow strip is stuck down first then the other side of the tape can be pulled or stretched to where it is needed before removing the remaining strip.
How it works
The butyl rubber adhesive of Extoseal Encors penetrates deep into the surface on which it is being adhered to. Once it has been stretched from its original form, the restoring forces are extremely low. This means the possibility of shrinking (retraction) to cause air or moisture leaks is greatly reduced.
System warranty
Pro Clima provide a limited system warranty, backed-up with public liability insurance, for all airtightness system, roof and wall sealing system and construction products that they supply. A 10-year warranty is provided for these products when correctly installed in combination with approved thermal insulation materials and other Pro Clima system products. When correctly installed in combination with other manufacturers' products (not made by Pro Clima), a 6-year warranty is provided.
Features
UV protected
Highly elastic
Blocks moisture
High Adhesion
Multi-purpose
Time Saving
Benefits
It can remain exposed to UV light for up to 6 months.
Extremely malleable and stretchable without affecting its airtight and watertight sealing properties.
It will not retract to its original form over time.
Protects the structural elements from water ingress with proven resistance to driving rain up to 2400 Pa.
Its high adhesion allows it to bond to slightly damp and cold surfaces.
Can also be used for sealing penetrating such as nails and screws.
Easy to work with and saves time compared to EPDM applications.
Questions
There are currently no questions and answers published for this product
Technical Details
Key Technical Data
How to Install
Roll out the tape to the required length and cut to size.
In stages, remove the narrow release paper while gradually adhering it to the windowsill, frame or door threshold.
Gradually remove the central release paper stick the exposed adhesive to the window soffit/sill detail. Guide the tape into the corners details and apply pressure using a Pressfix Tool to ensure maximum adhesion is achieved.
Cut off any excess tape on the vertical window/door reveals, while keeping the horizontal edge flush with the external finishes e.g. external insulation panel etc.
The tape must return at least 200mm up either side of the door/window reveal.
Trim any additional horizontal tape leaving 15mm excess in order to bridge the plaster layer when applied.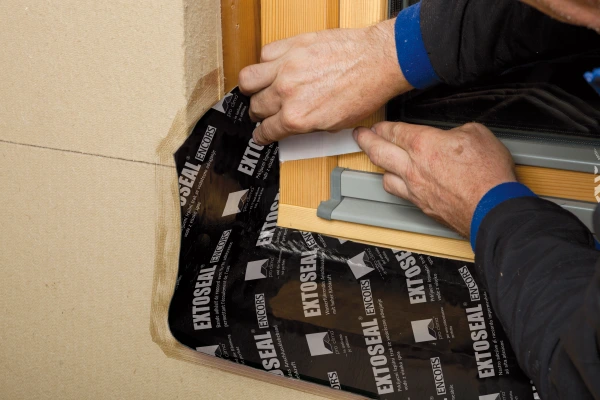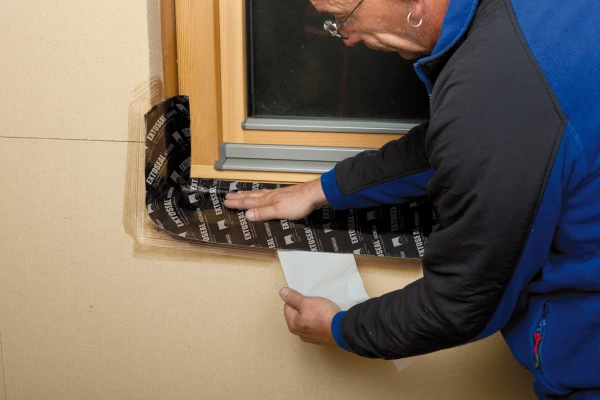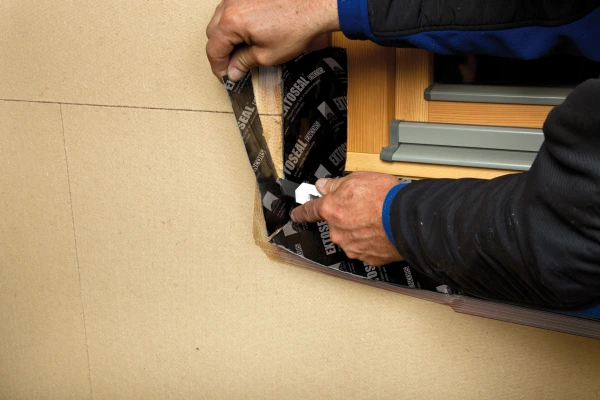 Hints &Tips
Surface preparation such as the use of Tescon RP Primer or Tescon Sprimer may be needed due to on site conditions and the substrate which the material is being applied.