Pro Clima Roflex Solido Airtight Grommet
Main purpose
Self-adhesive grommet that can be plastered over to quickly seal around pipes and ducting both indoors and outdoors. Instantly bonds to masonry, concrete walls and ceilings to create a permanent airtight and waterproof seal.
Use it on
Pipes and ducts of 50-220mm diameter that penetrate masonry, concrete, wood fibre insulation boards and wood-based panels on walls and ceilings. Maximum temperature of the pipe or duct must not exceed 150°C.
Overview
Pro Clima Roflex Solido grommets are heat resistant EPDM rubber seals for airtight sealing around circular pipes and ducting. With a self-adhesive backing made from Contega Solido Exo waterproof tape, the grommet can be plastered over for quick, permanently sealed joints for pipes penetrating masonry, concrete walls, ceilings wood fibreboards and wood-based panels, both indoors and outdoors.
Where to use it
Roflex Solido heat-resistant EPDM plasterable rubber grommets can be used internally or externally on walls, ceilings and floors. It is compatible with circular pipes, flues and ducts where there is access to one end so the grommet can be slid onto the pipe or duct like a tight-fitting collar. The temperature should not exceed 150°C. Roflex Solido can be used with pipe diameters from 50-220mm.
What it does
Pro Clima Roflex Solido provides an airtight seal around pipes and ducting. It grips the pipe or duct tightly to provide a perfect airtight seal but also allows the pipe to be re-positioned or pulled through the grommet if required.
The robustness of the EPDM rubber plus the high performance integrated adhesive ensures the pipe grommet can also be exposed to external UV and weathering for up to 3 months.
The stretchable heat resistant EPDM material allows for a swift installation and an easily achieved airtight seal.
How it works
The holes are pre-cut on all single-pipe Roflex Solido grommets. The holes are undersized, and the EPDM rubber is very flexible, easily fitting around pipes and duct penetrations passing through airtight materials.
The undersized pre-cut holes tightly grip the outer surface of pipes and duct work. Once the rubber grommet is stuck to the airtight material being penetrated, any air leakage through gaps around the pipework is fully prevented. The self-adhesive on the back of Roflex Solido Exo facilitates the instant bond to most backgrounds, which may be plastered at a later stage.
Why we love it
Roflex Solido grommets make airtight detailing and sealing much easier and quicker. They also allow the pipes and ducts to be pulled or pushed freely through the grommet without compromising the airtight seal. This is much easier than using strips of tape or airtight sealants (mastics) as they do not allow for any movement, replacement or repositioning of the pipes in the future or during construction.
Heat resistant- the Roflex Solido EPDM grommet has a heat resistance of up to 150°C and are suitable for most pipe and ductwork sealing requirements, if additional heat requirements are necessary such as for sealing around stove flue pipes consider the use of the specific highly heat resistant grommets for these areas – Hotschott grommets have a heat resistance up to 250°C.
Warranty
Pro Clima provide a limited system warranty, backed-up with public liability insurance, for all airtightness system, roof and wall sealing system and construction products that they supply. A 10-year warranty is provided for these products when correctly installed in combination with approved thermal insulation materials and other Pro Clima system products. When correctly installed in combination with other manufacturers' products (not made by Pro Clima), a 6-year warranty is provided.
Features
Easy professional or DIY solution
Does not stick to the pipe
Highly adaptable
Easily seal around all common pipe and duct sizes
No expanding foam required
Instant bond to many backgrounds
Plasterable
Benefits
Stretchy EPDM rubber allows the user to easily create an airtight seal around pipes and ducts.
The grommet allows for pipes and ducts to be re-positioned after installation without affecting the airtight seal.
Highly versatile with multiple sizes available to seal any pipe/duct between 50-220mm diameter.
The full contact self-adhesive grommet means pipe penetrations can be sealed extremely quickly.
Avoid the use of messy, less effective and non-permanent expanding foams.
The installer can bond the grommet directly to masonry internally or externally and plaster the grommet at a later stage.
Questions
There are currently no questions and answers published for this product
Technical Details
Key Technical Data
How to Install
Clean the substrate onto which the Roflex Solido will be bonded, before sticking.
Adhesion to frozen surfaces is not possible. There must be no water-repellent substances (e.g. grease or silicone) on materials to be bonded. Substrates must be sufficiently dry and stable. Permanent adhesion is achieved on stable mineral substrates such as masonry, concrete or plaster. Concrete or plaster substrates must not be sandy or crumbling.
If the grommet is stuck to a thermal insulation composite system made from wood-fibre insulating material, such as Gutex, the use of Tescon RP Primer or Tescon Sprimer is necessary. In the case of rain or other wetting, the contour of Roflex Solido may become visible due to its different water absorption/drying behaviour.
After the Roflex Solido is bonded to the background, the fabric must be pressed firmly into position with the Pressfix Tool to activate the pressure sensitive high performance adhesive.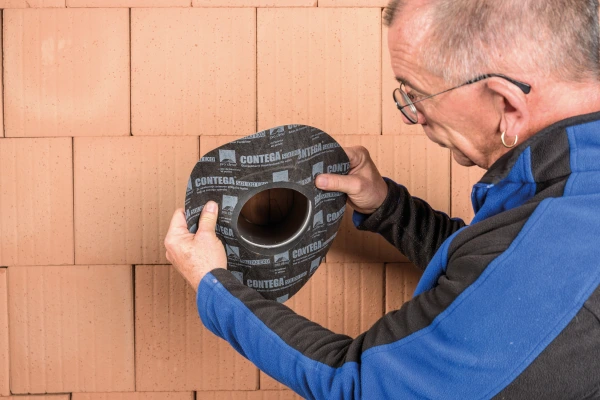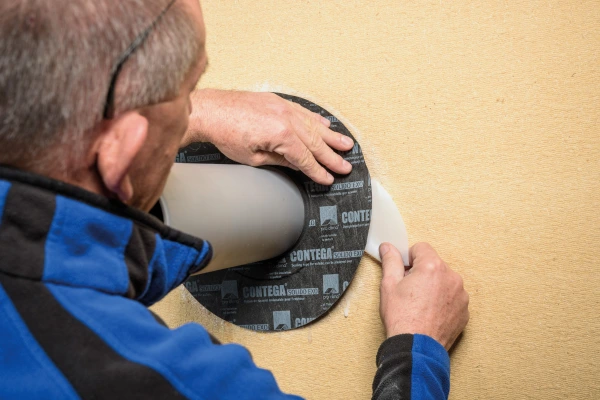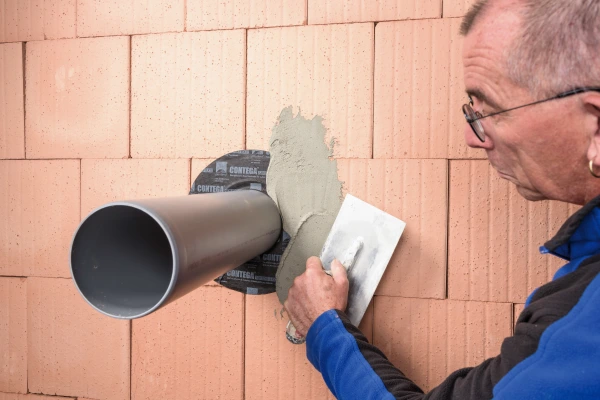 Hints & Tips
Roflex Solido grommets should be installed before pipe work is completed. At least one end of the pipe must be accessible so the grommet can be slid over the end. Grommets must never be cut or split to fit around fully completed pipe work.
It is important that the maximum pipe diameter for a grommet is not exceeded; overstretching the EPDM rubber will compromise the integrity of the material and lead to air leakage.
It is installers responsibility to check the suitability of the substrate; adhesion tests are recommended in certain cases.