Pro Clima Solitex Plus Connect
Main purpose
Robust windtight and vapour permeable (diffusion open) sealing of exterior roofs, walls and suspended timber floors. Has built-in self-adhesive strips so overlaps can be sealed with no additional tape.
Use it on
Roofs (over 15° pitch), timber frame walls and insulated suspended timber floors
Overview
Solitex Plus Connect is Solitex Plus with the added advantage of two built-in self-adhesive strips along its horizontal edges. Solitex Plus Connect functions as a fully windtight and breathable (vapour open) roofing membrane/underlay that can be easily sealed without the need for any additional sealing tape.
Where to use it
Designed for external weatherproofing, Solitex Plus Connect can be used as a fully windtight breathable roofing underlay on pitched roofs (over 15° of pitch) and as a windtight breather membrane on timber frame walls. It can also be used on the underside of an insulated suspended timber floor to prevent draughts.
As it is a reinforced membrane with high nail tear and pull-out resistance, it is fully compatible with blown-in insulation.
What it does
Pro Clima Solitex Plus Connect is identical to Solitex Plus but with two additional self-adhesive strips added along its horizontal edges. It functions as a fully windtight and breathable (vapour open) roofing membrane/underlay that can also be easily sealed without the need for any additional sealing tape. Compared to conventional roofing underlays, it has a significantly lower resistance to moisture vapour. This ensures the structure remains dry and the risk of condensation occurring within the roof or walls of the building is extremely low.
Solitex Plus Connect will not be affected by preservatives, resins and oils in timber. Substances like these reduce the performance of microporous membranes by lowering the surface tension of the rainwater and allowing it to pass through pores in the membrane. Solitex Plus Connect is a monolithic membranes which has no pores and remains watertight.
Why we love it
With the adhesive strips, Solitex Plus Connect is easily and quickly sealed. The adhesive is in the optimal location to ensure the correct amount of overlap can be achieved. As additional tapes are needed for sealing overlaps, a cost saving can be achieved as 2-3 rolls of tape are not required. When this is combined with the reduced installation time, potential cost savings will increase.
The fleecy backing of Solitex Plus Connect reduces friction for easier installation and protects the membrane from rough timbers on site, and the reinforcement layer of mesh gives it a high nail tear resistance and robustness when construction workers walk over it during construction.
It can be used in any of the exposure zones throughout the UK and Ireland and is 3rd Party approved by both the Irish Agrément Board and the BBA.
System warranty
Pro Clima provide a limited system warranty, backed-up with public liability insurance, for all airtightness system, roof and wall sealing system and construction products that they supply. A 10-year warranty is provided for these products when correctly installed in combination with approved thermal insulation materials and other Pro Clima system products. When correctly installed in combination with other manufacturers' products (not made by Pro Clima), a 6-year warranty is provided.
Features
Superb resistance to wind driven rain
Fully windtight and vapour open
Built-in self-adhesive strip for overlap sealing
Extreme nail-tear resistance
Super-strong reinforcement layer
Innovative nonporous membrane
High resistance to all wood preservatives/natural wood resins
Superb heat resistance
Benefits
Extreme water-tightness (>2500mm W1) making it suitable for all UK and Irish exposure zones.
Super-handy strip of solid acrylic glue saves time (and costs) by providing quick windtight installation without the need for additional on-site taping.
Ensures optimal moisture management and lowers condensation risk by helping transfer water vapour from the fabric of the building.
Water tightness is unaffected by wood preservatives, resins and oils in the timber. No water seepage or leaching.
Offers far greater long term resistance to high temperature (hot sun) than other conventional breather membranes; will not break down due to continual high temperature stress.
Reinforcement layer provides strength, avoids the membrane tearing and offers outstanding protection from heavy foot traffic from construction workers.
Unlike conventional microporous roofing felts, this monolithic membrane is fully windtight with no drop in insulation performance even during extreme winds.
Questions
There are currently no questions and answers published for this product
Technical Details
Key Technical Data
How to Install
Solitex Plus Connect should be installed with the printed side facing outwards towards the installer.
The membrane is intended for use on pitched roofs, and must not be laid in areas where water constantly may pond/rest.
Upon laying the second row of membrane over the first horizontal layer the self-adhesive release strips should be lined up along the horizontal edge of the membranes, remove the release strips and the overlaps section fully pressurized together. Press down firmly on the adhesive strip with a Pressfix tool to ensure the strongest permanent windtight seal is achieved.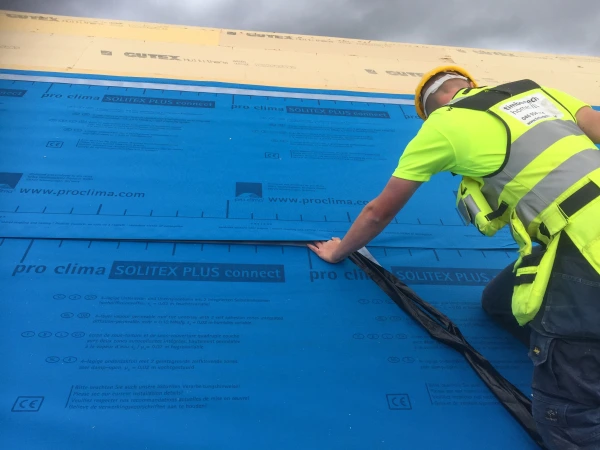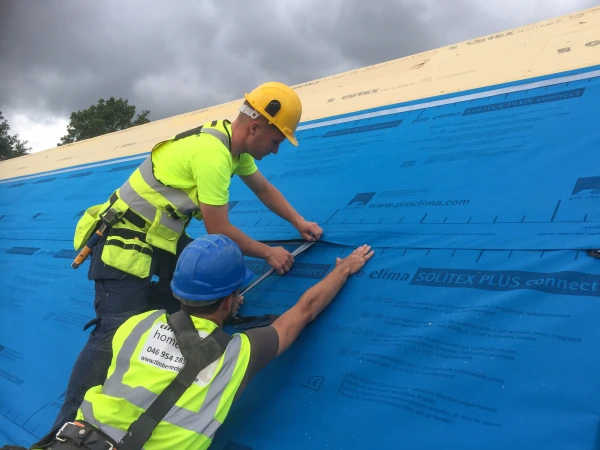 When installed with counter battens, the membrane should be installed horizontally from left to right parallel to the eaves in a taut manner with no sagging. In this case the membrane should be used on roofs where a batten and counter battens will be installed over this to allow for adequate water run-off and uninterrupted ventilation above the membrane.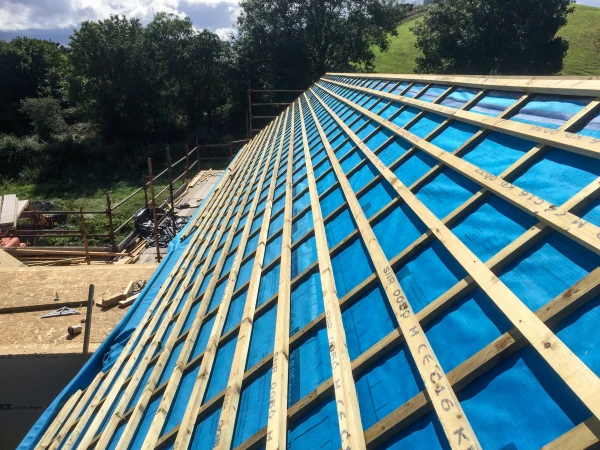 Hints & Tips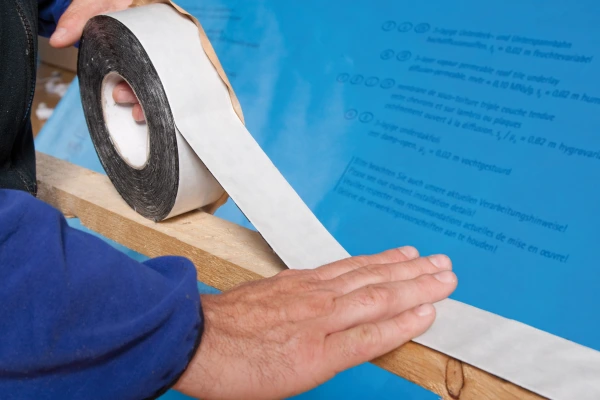 The maximum span between rafters should be no wider than 1 metre.
The roof pitch must at 12.5 degrees +. On low pitched roofs nail sealing tape Tescon Naideck should be used on the underside of the roofing batten being fixed through the membrane.
Due to the membrane's reinforcement it is ideal for use with blown-in insulation (such as Gutex Thermofibre) as it prevents stretching and bulging of the membrane. Prior to blowing in the insulation; external roofing battens much be installed and galvanised rust resultant staples/fixings used at max. centres of 50mm along the rafter.