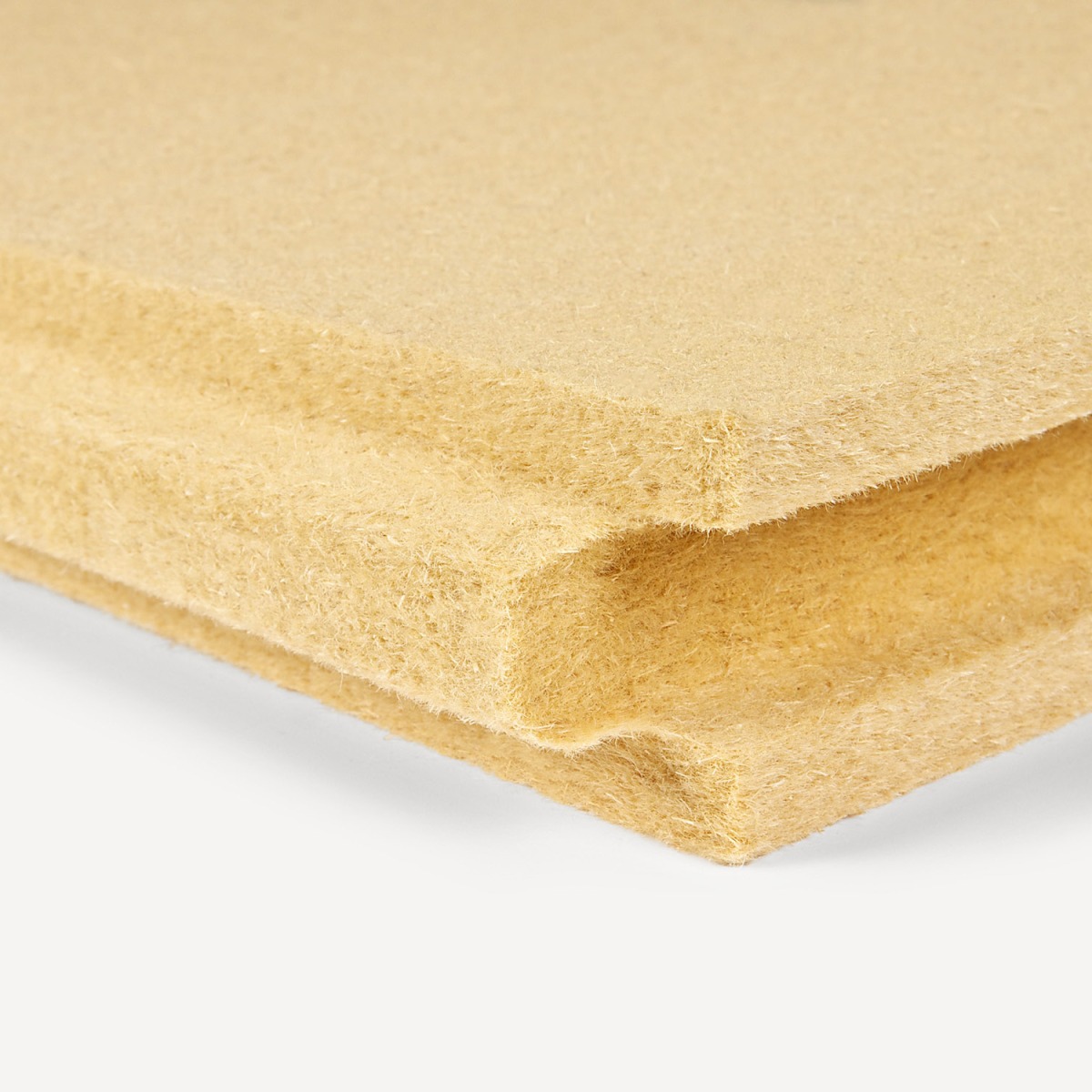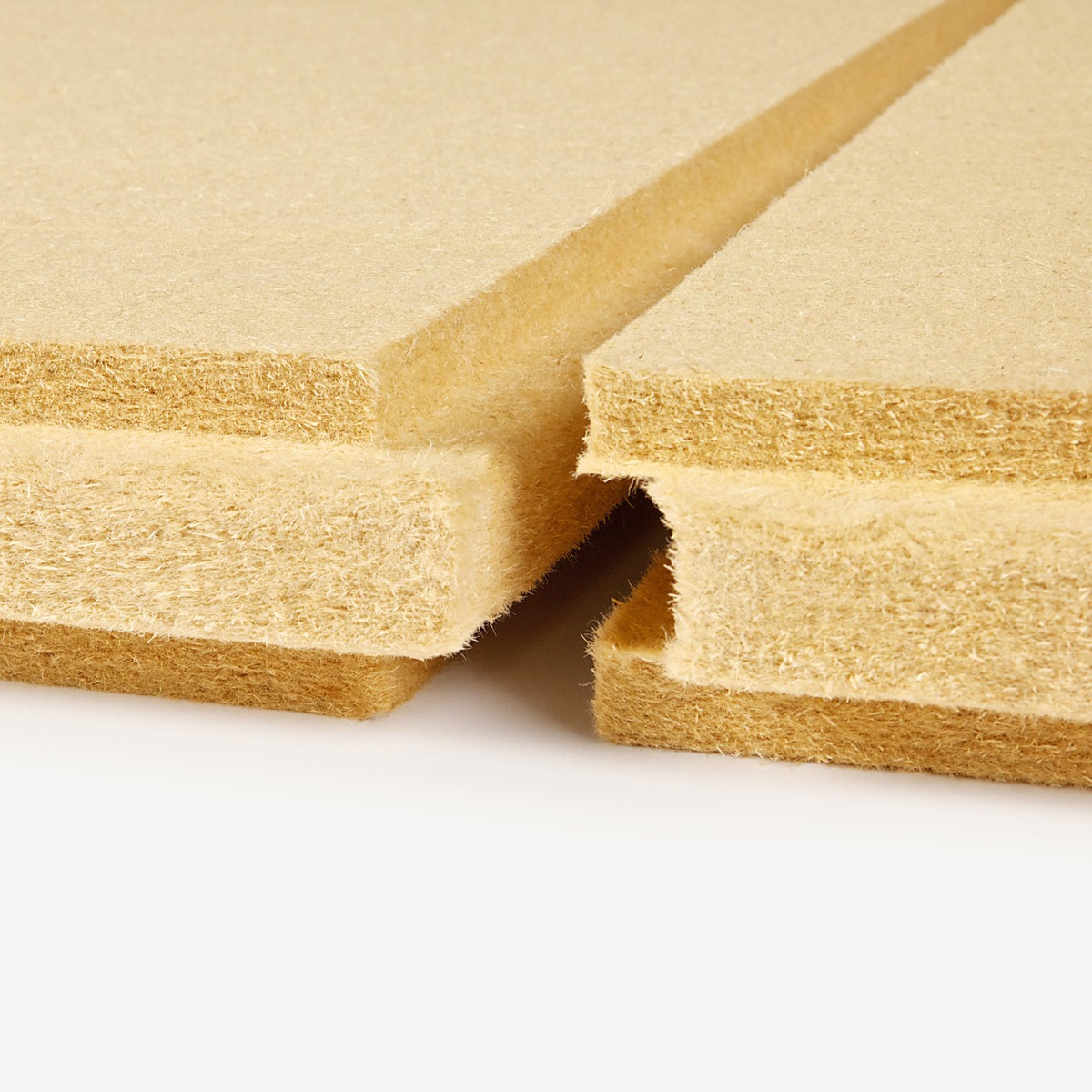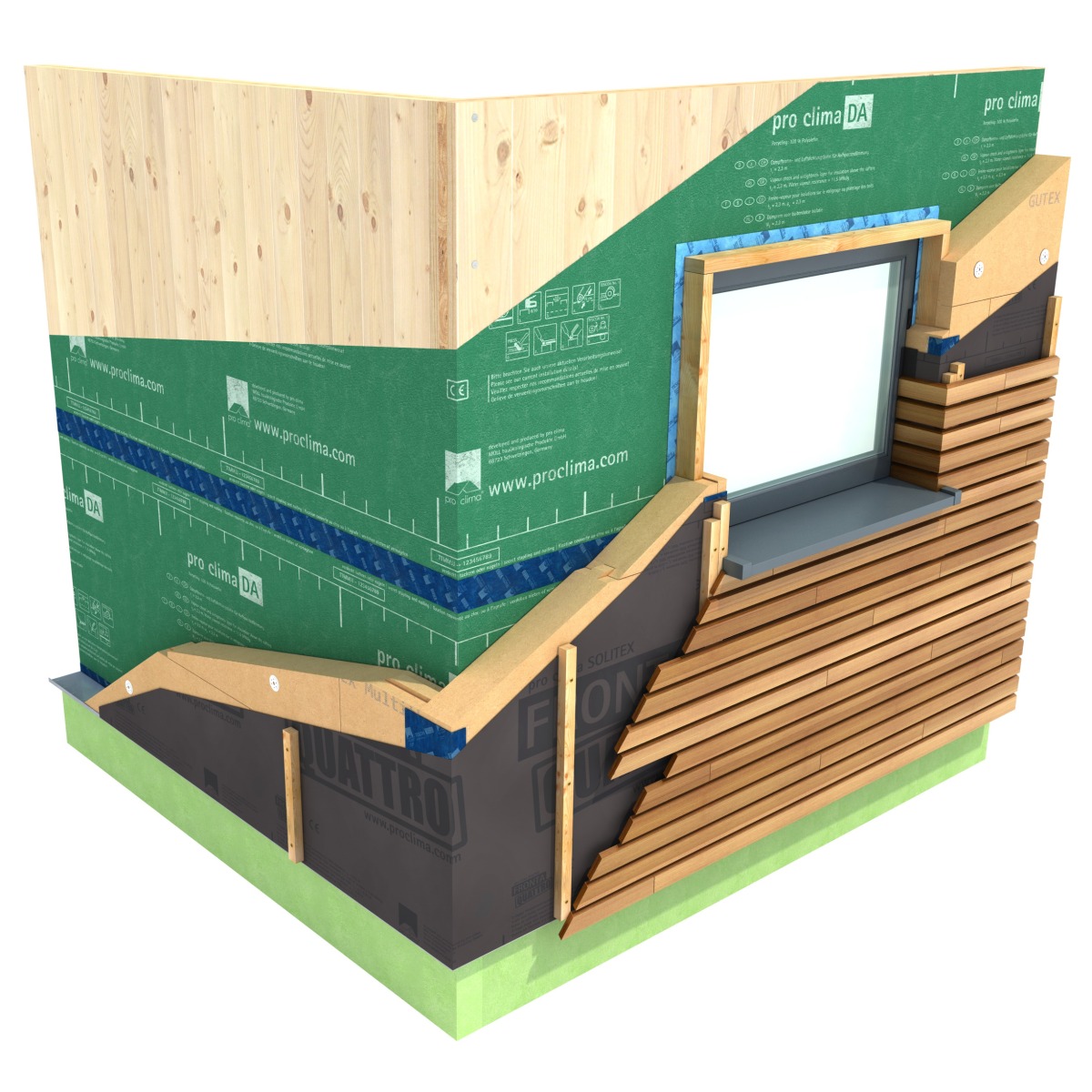 Gutex Multitherm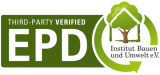 Gutex Multitherm
Natural wood fibre T&G external insulation board
Main purpose
External insulation, thermal bridge reduction and windproofing of timber frame and Cross Laminated Timber (CLT) walls and roofs
Use it on
Use on the exterior side of timber frame walls and direct to Cross Laminated Timber, 60mm thickness and above can be used on on pitched roofs (at least 12° pitch and in conjunction with pro clima Solitex Plus). Can also be used internally on the underside of rafters and on studs in timber frame buildings (plaster board can go on top).
Overview
Gutex Multitherm is a breathable insulated sarking board made from recycled wood chips. It is windproof, repels water and is used externally on timber frame and CLT walls and roofs. It provides excellent warmth in winter and prevents overheating in summer. It reduces thermal bridging, has excellent acoustic reduction properties and is carbon negative due to the absorbed carbon in the wood chips being greater than the carbon emissions of manufacturing.
Where to use it
Over studs on the exterior side of timber frame walls and on top of rafters on pitched roofs (at least 12° pitch and in conjunction with Pro Clima Solitex Plus breather membrane). It can also be used internally underneath rafters or over studs in timber frame buildings. When used internally plaster board can go on top. It can also be directly installed to external Cross Laminated Timber walls. Multitherm is non-load bearing.
What it does
Gutex Multitherm provides high levels of thermal insulation in the winter and help prevent summer overheating. The boards also provide an external windtight barrier due to their close-fitting tongue and groove edge profile. Since Multitherm is mainly used over the external face of timber, thermal bridges that cause heat loss through the timber are eliminated.
Gutex Multitherm can be exposed to the elements for up to 4 months during construction to protect the structure underneath from the effects of hail and wind driven rain before the roof or walls are fully completed.
Why we love it
Gutex Multitherm wood fibre insulation board is an excellent multi-faceted insulation product. It provides excellent thermal insulation in the winter, reduces summer overheating, eliminates cold bridging through timber, is breathable and can be used as temporary weather protection during the construction phase.
Features
Excellent thermal conductivity and mass
Interlocking tongue and groove
Vapour open
Environmentally friendly and sustainable
Carbon negative
Woodfibre from renewable forest sources
Chars rather than burns
Fully certified
Natureplus certified
Benefits
Insulates and stores heat making the building warm in winter whilst protecting from overheating in summer.
Tongue and groove edges make a tight connection between boards, providing wind and water tightness.
Reduces the risk of interstitial condensation and mould growth, minimising the risk of structural damage.
Carbon negative. Manufactured from renewable timber that has absorbed and sequestered more carbon than is produced during manufacture.
Offers up to 90 minutes charring rather than explosive flash fire.
Complies with building and environmental standards.
Questions
There are currently no questions and answers published for this product
Technical Details
Key Technical Data
Moisture management, Preventing condensation and mould, Thermal insulation, Wind/Weatherproofing
Cross Laminated Timber (CLT), Prefabricated (off-site manufactured) timber frame, Timber frame
Exterior side of external walls, Roofs, Walls (timber frame), Walls with closed timber cladding (no gaps), Walls with open timber cladding (35-50mm gaps ), Walls with open timber cladding (up to 35mm gaps )
Recycled wood chips, Sustainable FSC/PEFC timber
Cover and protect from rain
Installation Guide
How to Install on a wall
Gutex Multitherm wood fibre insulation boards should be temporarily fixed into timber studs/rafters using thermal broken screws. A breather membrane is then installed over the top of the boards if required, this may be pro clima Solitex Fronta WA or Solitex Fronta Quattro or Solitex Fronta Humida
Once all the boards have been installed and covered with membrane if necessary, they can be permanently fixed using screws. This is achieved by screwing through counter battens, Gutex Multitherm and back into the timber studs.
Screws should be fixed perpendicular to the counter battens (known as suction screws) and additional screws should be fixed at 60° to the counter battens (known as shear screws).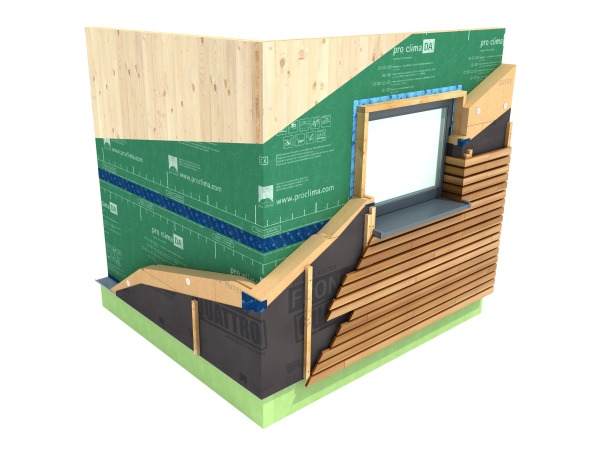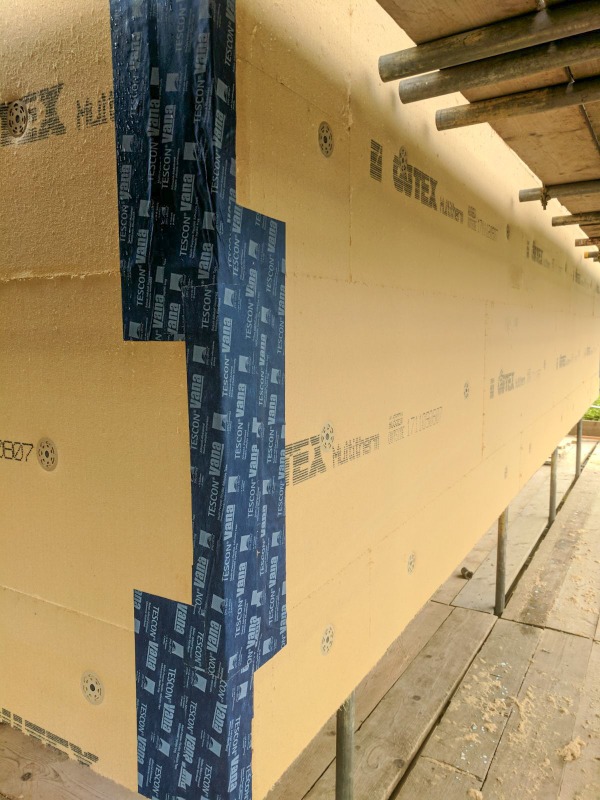 How to install on a pitched roof
60mm thickness Multitherm and above can be used on pitched roofs (at least 12° pitch) but must be covered with a suitable breather membrane like Pro Clima Solitex Plus.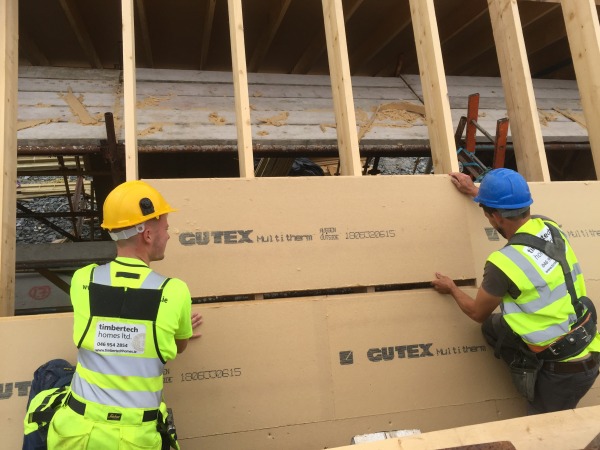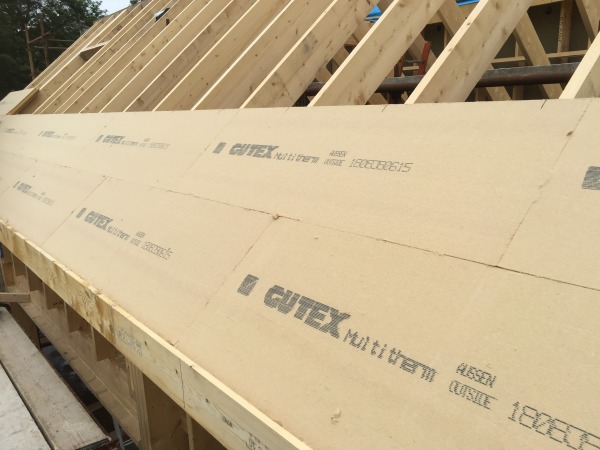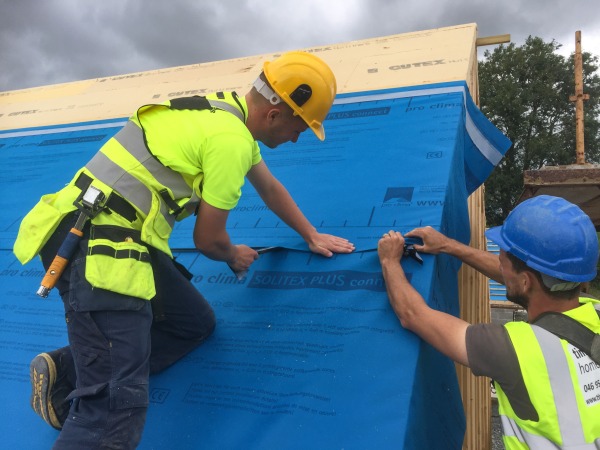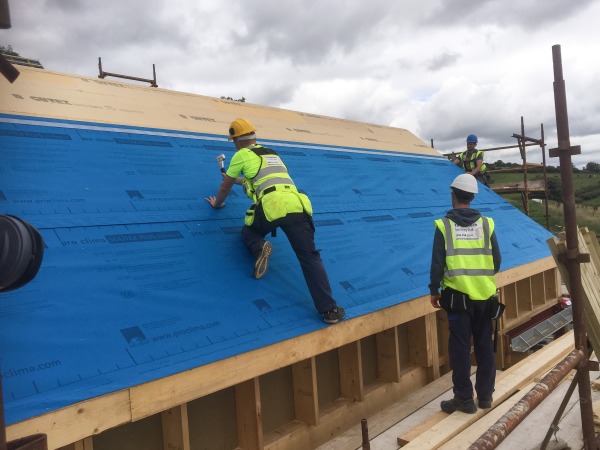 Hints & Tips
The product should be stored under dry conditions with the printed side facing externally towards the elements. The board joints should be butted (joined together) tightly, and the counter battens fixed immediately after fixing the boards.
In the following video, more tips are discussed. It includes how and when to stagger corners and how to fit the final row under the eaves without damaging the boards.