Pro Clima Solitex Fronta Humida
Main purpose
Wind, water and weatherproof breathable (vapour open) membrane that prevents any potential moisture build up in the wall and lets it dry out.
Use it on
Timber frame buildings where wood fibre insulation boards are used behind a masonry/brick exterior wall.
Overview
Solitex Fronta Humida is a slightly diffusion resistant breather membrane for use in the ventilated cavity between wood fibre insulation boards and exterior masonry cladding.
Where to use it
Pro Clima Solitex Fronta Humida membrane can be used in external timber frame walls that will be finished off with masonry cladding. It should be installed in the ventilated cavity between the exterior wood fibre insulation boards and the outer masonry wall.
What it does
Solitex Fronta Humida offers timber frame structures with external wood fibre insulation boards optimum protection against harmful levels of humidity. Due to the membrane's slight diffusion resistance, the wood fibre insulation boards behind the masonry wall are protected from unsafe levels of moisture that occur within the ventilated cavity. This is necessary due to the low level of ventilation achieved behind a masonry wall.
Why we love it
Solitex Fronta Humida is a unique weatherproof membrane within the Pro Clima range. The membrane's ability to alter its vapour resistance based on the surrounding humidity means that the timber frame structure is protected against undue moisture risk and potential condensation issue. It is the only Pro Clima membrane that can protect against high humidity found behind masonry cladding.
During construction, Solitex Fronta Humida can be exposed to sunlight and the elements for up to 3 months, protecting the building effectively while the external cladding is being built.
How it works
Solitex Fronta Humida is highly suited for use on structures that are exposed to changing external weather conditions; something very common in the UK and Irish climate.
As heavy driving rain falls on the outer wall, the wall will get wet and some of this rainwater can be absorbed by the masonry. When the sun reappears, shines and heats up the wall, the moisture within the masonry is driven inwards toward the insulation and timber frame by solar driven vapour diffusion. The amount of water vapour being diffused into the timber frame and insulation can be significant and could condense causing moisture issues; this is where the Solitex Fronta Humida membrane comes in to its own.
When higher humidity levels occur within the cavity after heavier rain falls, the membrane will resist the transfer of harmful moisture levels to the inside. The membrane will also retain its primary function as a breather membrane allowing the structure to transport moisture vapour to the outside so the timber frame can dry out in the long term.
Solitex Fronta Humida safely protects the construction in various situations through a balanced diffusion resistance sdValue = 0.50m and thus meets the requirements of the current DIN 68800-2 standard.
System warranty
Pro Clima provide a limited system warranty, backed-up with public liability insurance, for all airtightness system, roof and wall sealing system and construction products that they supply. A 10-year warranty is provided for these products when correctly installed in combination with approved thermal insulation materials and other Pro Clima system products. When correctly installed in combination with other manufacturers' products (not made by Pro Clima), a 6-year warranty is provided.
Features
Humidity sensitive properties
Dual moisture protection
Excellent water tightness
Temporary weather protection
Diffusion resistant
Benefits
Whether unintended moisture comes from the inside or the outside, Solitex Fronta Humida allows the building to dry out and prevents condensation risk.
While it is breathable, it also features a slightly diffusion inhibiting layer preventing moisture vapour within outer leaf masonry walls penetrating back into timber frame walls through woodfibre softboards such as Gutex in summer months.
A water column resistance of 10m+ offers fantastic building protection.
Offers up to 3 months direct weather exposure.
Perfect for use with timber frame construction.
Questions
There are currently no questions and answers published for this product
Technical Details
Key Technical Data
How to Install
Roll the membrane out horizontally with the printed side facing outwards. Start at the bottom of the wall and work upward; this provides additional protection from water running down the surface of the membrane.
Fix along the 100mm overlap sections nearest the membrane edges. For fixing into wood fibre boards use 16mm or longer galvanized staples or thermally broken mushroom head screws, at a distance of 10-15cm.
Alternatively, use airtight double sided adhesive tape Pro Clima Duplex, priming the wood fibre with Tescon Sprimer or Primer RP first.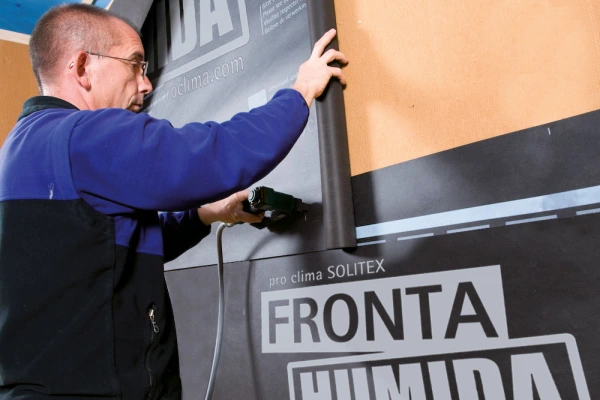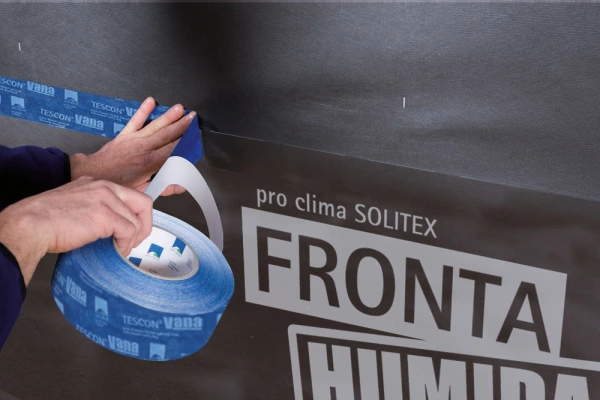 For sealing overlaps, use Tescon Vana airtight tape applied along the printed tape guide on the edge of the membrane. Press the tape firmly with a Pressfix tool to achieve the best seal.
For joining Solitex Fronta Humida to rough concrete surfaces, use Pro Clima Orcon F airtight adhesive. The surface must be clean and free from contaminants before applying the adhesive. Apply a 5mm bead to the concrete surface; Orcon F is very flexible so do not press the adhesive completely flat. This ensures any membrane or wall movements can be absorbed.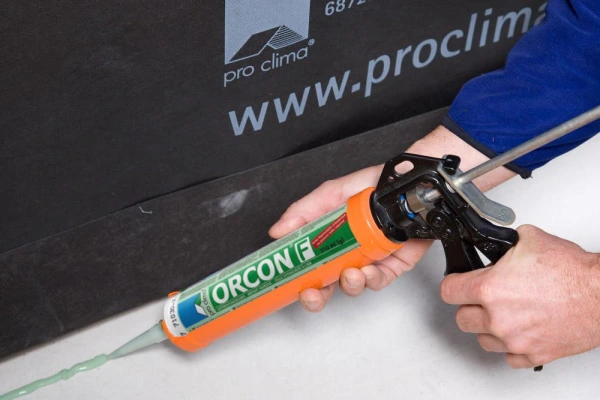 https://www.youtube.com/embed/gEKUdD46oY8?rel=0