Airtightness & Active Moisture Management Virtual CPD
Airtightness is critical when creating a low energy building. The benefits are significant and numerous, including structural durability and longevity, reduced energy consumption, improved levels of comfort and a healthy environment for occupants. Since we spend around 90% of our time indoors and most building failures are caused by moisture related issues, the need for active moisture management, lifetime building durability and a healthy living environment become more crucial than ever. This is covered in detail in our Airtightness and Moisture Management CPD.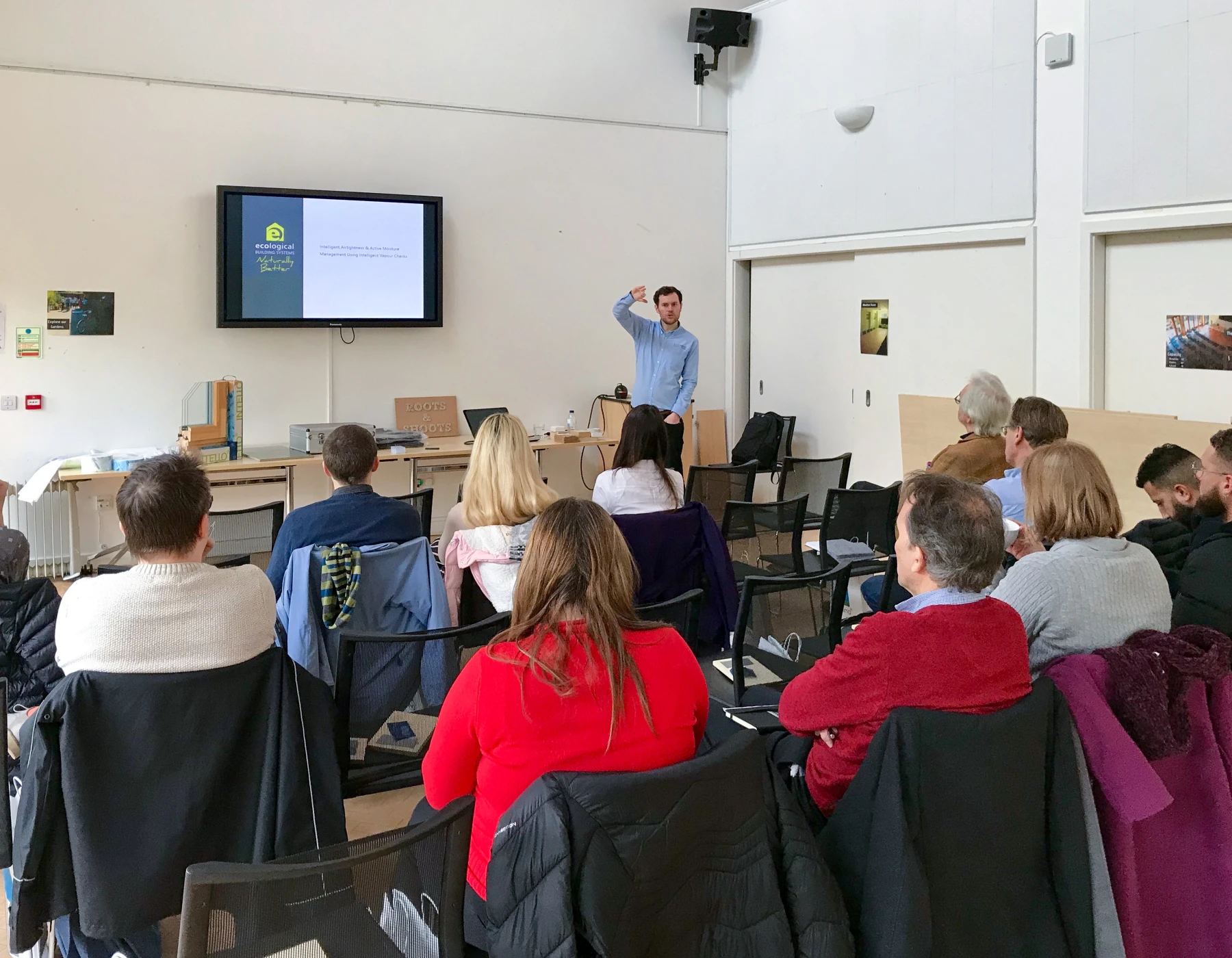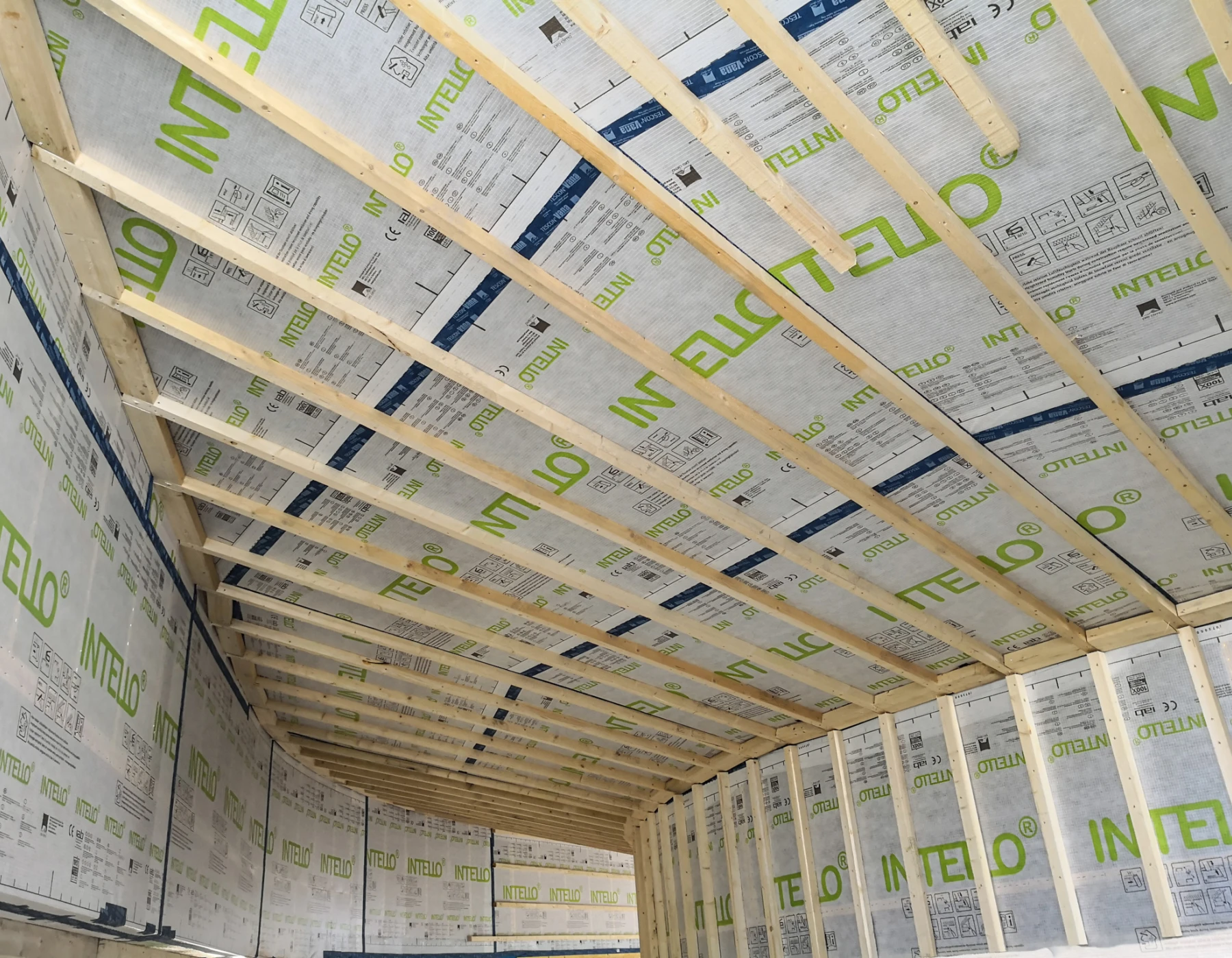 21st June
Date and time
21st June 2023
1:00pm - 2:00pm
Location
Interactive Online Training
53 spaces left
Future Dates
13th September
1:00pm - 2:00pm
Interactive Online Training
15th November
1:00pm - 2:00pm
Interactive Online Training
Ideal for
Architects
Architectural Technologists
Specifiers
Building Surveyors
Contractors
Consultants (Energy, Passivhaus)
Students
Anyone interested in sustainable, energy efficient building
Key learning
What is Airtightness and why does It matter?
Designing for Airtightness from the outset (Fabric First Approach)
Moisture Management to avoid structural damage and damp
Best practice techniques to achieve long-lasting airtightness
Practical airtightness installation techniques
Airtightness hints and tips from world leading experts
How to "Build Tight & Ventilate Right"
Description
Who it is for
This training is aimed at professionals from all disciplines of the building design and construction industry who are interested in taking an ecological and sustainable fabric first approach to creating better buildings.
This is an open CPD with participants joining from different organisations. We are offering virtual design reviews with individuals following the CPD to enable you to discuss the details of specific projects with our technical team.
If you have a number of colleagues wanting to attend and a more tailored approach would be preferable, we can provide a dedicated virtual CPD for your team, which can be requested by sending an email to us at info@ecologicalbuildingsystems.com
What you learn
You will learn what airtightness is (and isn't), why it matters, the causes and effects of poor moisture management and current vs. future airtightness standards. This CPD training highlights the need for a collaborative approach and for a change in attitude in order to design and construct buildings that are more durable, healthy and fit for the future.
The CPD training includes how to design for airtightness and looks at the pros and cons of different commonly used materials on site. It explains the crucial "Red Line" rule to define the air barrier and the need for diligent attention to detail and co-operation between all trades on site.
We will look at moisture levels on site, the movement of moisture through various materials and the associated consequences caused by this moisture. We also look at how choosing fit-for-purpose materials is essential in ensuring sustainable buildings and a healthy comfortable living environment is achieved.
What you will do
You will receive industry leading training from highly experienced technical professionals with the opportunity to ask questions. We will show examples of various airtightness solutions including membranes, tapes and accessories and we can arrange to send samples following the training.
What happens on the day
You will receive an email containing the link to join the virtual CPD which will be taking place via Zoom.
There will be a brief introduction, followed by the presentation, with the opportunity to ask questions throughout the presentation via the chat box. We'll answer as many questions as possible at various points during the session and afterwards via email if we run short of time.
As this is an open CPD with participants joining from different organisations, we are offering virtual design reviews with individuals, to enable you to discuss specific projects in more detail with our technical team. This can be requested by sending an email to us at info@ecologicalbuildingsystems.com
What you will gain with this CPD
designing for airtightness from the outset
specifying the most effective products
ensuring robust airtightness installation on site
how to ensure buildings are sustainable, durable and provide comfortable healthy economic indoor living environments for future generations.
Points Gained
This CPD is a 1 hour stand-alone CPD providing 1 point towards maintaining your professional standard. This can be doubled with an additional 1-2 hour related activity (see RIBA website for more details).
Sustainable architecture is a rapidly developing area and is a RIBA core curriculum topic. There is a requirement for a minimum of 2 hours to be spent on each of the core 10 topics.
Continued Development
The content of this CPD is a great background knowledge for the creation of long-lasting energy efficient sustainable buildings. Our other CPDs develop these concepts for different types of insulation and building methods.
We have a dedicated training areas in both Ireland and the UK where we offer practical training on a regular basis, giving delegates the opportunity to experience installation first-hand. In Ireland, our Centre of Knowledge training facility can be found in Athboy, Co. Meath, while our UK training facility is based in Cumbria.
Given the current Covid-19 situation, we have temporarily suspended our practical training in both the UK and Ireland but we're reviewing this on a regular basis and hope it won't be too long before we can offer this again.
Agenda
What is airtightness (and what it's not)
Airtightness standards from legal minimum to best in class
Consequences of a lack of Airtightness and common failure areas
Principles behind Insulation
How to Implement an Airtightness strategy from the design stage to the final test on site
Moisture management and intelligent membranes
Intelligent solutions for achieving Airtightness including onsite details
Putting Airtightness at the forefront of building design (why and how)
Support we provide following this CPD
Introduction to other CPDs that support low energy sustainable building
Speakers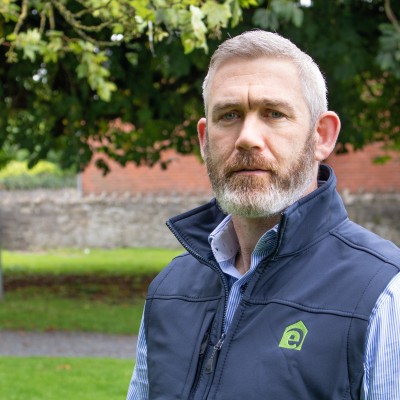 Cronan Kennedy
Technical Sales
Cronan has over 15 years' experience in the construction sector across multiple technical roles. Having originally started out as a Tradesman, Cronan gained considerable experience on numerous large-scale projects before progressing to Specification Manager - a role that led him to working alongside Architects, Engineers, County Councils and local businesses for the past decade. Cronan was also heavily involved in providing on-site technical installation training to contractors and external sales representatives as a method of improving their product knowledge, efficiency and understanding of building materials.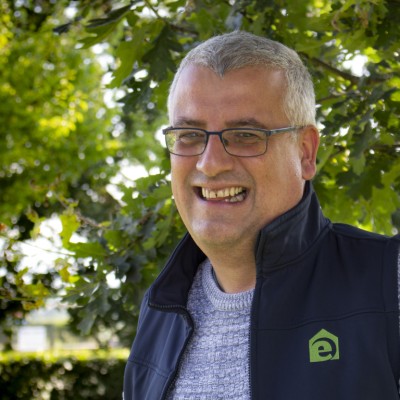 Neil Turner
UK Technical Manager (BSc Hons)
Neil Turner is Technical Manager at Ecological Building Systems. A former competent person of the BBA/TIMSA U-Value and Condensation Risk Calculation Competency Scheme, who has been involved in developing CEN (Comité Européen de Normalisation) European standards, Neil has extensive experience in the building products sector. Neil advises architects, contractors and timber frame specialists on the specification of sustainable insulation products and has been involved in numerous sustainable projects throughout the UK.