Opportunities And Challenges In Insulating Existing Buildings
Friday 23rd August 2019
Niall Crosson, Senior Engineer with Ecological Building Systems outlines the key steps to ensure existing solid walls are thermally upgraded with compatible materials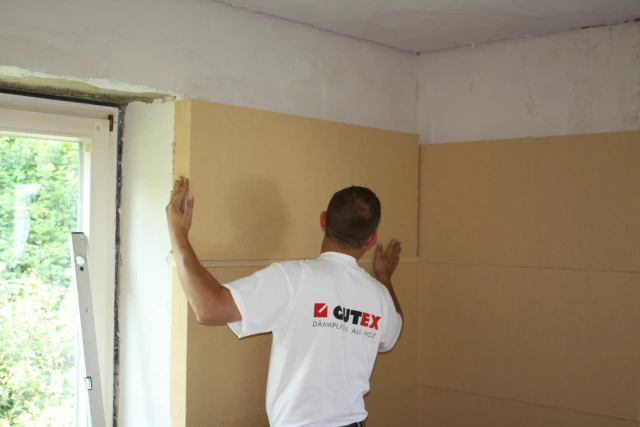 Buildings which feature details of architectural significance where a client or heritage officer may wish to preserve the external facade or exposed stone work can only be insulated internally. Thermally upgrading such buildings present major challenges. Without sufficient analysis of the existing building and its surrounding environment, introducing an unsuitable insulation in terms of its material properties or depth into such buildings, may lead to major condensation problems, potential structural issues, mould growth and a reduction in indoor air quality and comfort levels.
Energy performance is only one aspect of the requirements of upgrading buildings, but "U" values are often prioritised without sufficient consideration given to the material used to achieve them and if they are compatible with the existing building. Using materials compatible with the existing building is key to ensure durability of the construction and just as importantly a comfortable, healthy living environment for the occupant. If material properties are not considered we may inadvertently deliver a low energy, but, uncomfortable, unhealthy living environment, which may require further refurbishment in the future and leave a permanent impact on the existing building!
Many modern thermal insulation systems were originally designed for modern methods of construction, which tend to utilise more impervious materials such as cement, concrete and foils. Historic single leaf solid stone or brick walls contain lime mortar and plasters which have significantly different hygrothermal characteristics compared to modern plaster and masonry systems. Such walls are more forgiving to unforeseen moisture penetration and have an inherent capacity to absorb and release moisture in cycles, therefore providing a stable dry construction in the long term. Modern cementitious plasters and vapour resistant insulation materials and membranes are much less forgiving. While they will function reliably as long as they are kept dry, if moisture were to penetrate the structure, failure will ensue over a short period of time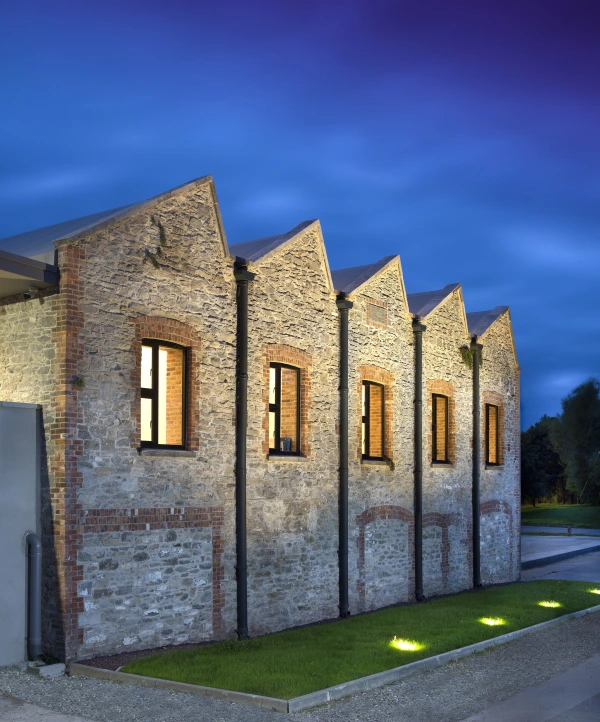 Internally insulating buildings also presents major challenges in terms of addressing the thermal bridges which may be introduced. Numerous innovative solutions have been developed to address issues which may arise when refurbishing single leaf solid walls on existing buildings internally. One such product is called Calsitherm Climate Board. This board is made from calcium silicate, a micro porous mineral building material with effective insulating properties, its high capillary action ensures humidity regulation and the nature of the material means that mould cannot form on its surface. This form of insulation material contains primarily sand, lime and water. In the future the market will require more innovative thermal solutions such as this to address heat loss in existing buildings, and at the same time, provide adequate protection against interstitial condensation without impacting on the existing wall.
Another diffusion open "breathable" solution for solid masonry walls may be woodfibre thermal insulation such as Gutex Thermoroom. Thermoroom is fully bonded to lime plastered walls with a diffusion open capillary active adhesive and plastered directly with a breathable lime based plaster system. Once a single leaf solid wall, particularly those which are not plastered externally, is insulated internally this greatly reduces if not eliminates, the potential for any moisture which may penetrate the wall externally to dry to the interior. This has been validated in many independent studies. When this is combined with the potential for warm air to leak through the inevitable gaps in the internal insulation, condensation on the now cooler wall surface may occur. The combination of these two factors may lead to an annual increase in moisture between the wall and the insulation. Given the damp humid climate conditions particularly in coastal areas of the UK, this is particularly critical for walls which are unplastered externally.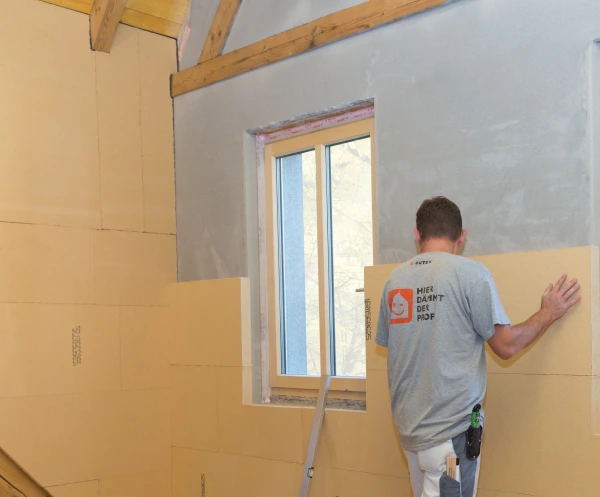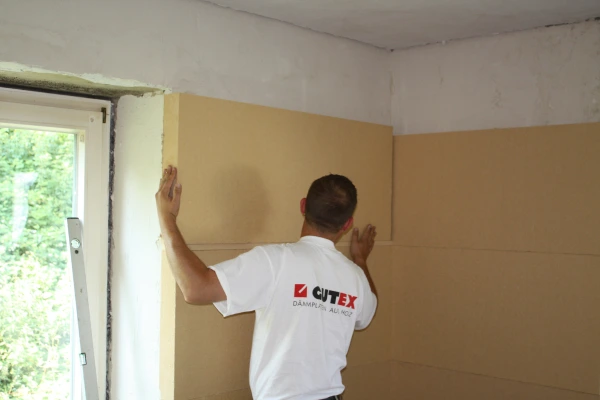 Introducing interior insulation on the inside of single leaf solid walls in existing buildings should be addressed by carrying out the required analysis. It is essential to speak to the relevant experienced building professionals to assess the condition of the existing wall. It is also important to carry out the required condensation risk assessment to the relevant standards in order to ensure that the proposed thermal solution is robust and presents minimal risk. Until recently condensation risk assessments have been carried out based on the Glaser method (i.e. to BS EN 13788). While this standard is suitable for many constructions, it does not account for many of the factors which may have a significant impact on solid walls, such as driving rain, wall orientation, solar exposure, capillarity, local weather conditions etc
In order to account for these critical factors, a numerical simulation calculation should be conducted as opposed to a conventional Glaser condensation risk assessment. The menu-driven PC program WUFI (Wärme und Feuchte instationär - Transient Heat and Moisture) is such a program, developed by the Institute for Building Physics in Germany and validated using data derived from outdoor and laboratory tests. This software facilitates the realistic calculation of the transient hygrothermal behaviour of multi-layer building components exposed to natural climate conditions.
WUFI is based on the latest research regarding vapour diffusion and liquid transport in building materials. WUFI can use measured weather data - including driving rain and solar radiation - as boundary conditions, thus allowing realistic investigations on the behaviour of the building element under exposure to natural local weather.
WUFI can be used to:
Assess the drying time of masonry with trapped construction moisture,
The danger of interstitial condensation
The influence of driving rain on exterior building components
The effect of repair and retrofit measures
The hygrothermal performance of roof and wall elements under unanticipated use or in different climate zones
WUFI complies with standards as set out in BS EN 15026 - Hygrothermal Performance of Building Components and Building Elements. While there are countless existing buildings which require to be thermally upgraded, there is little point in spending precious money on such projects if it introduces other problems. It is critical that prior to the introduction of insulation on the inside of the existing buildings, particularly single leaf solid walls, that a hygrothermal analysis should be carried out according to the standard highlighted above, and that the relevant building professionals are consulted prior to work being carried out.
Blog author
Niall Crosson
Technical Director (BTech, MEngSc, MIEI, CEPHC)
Niall is the Technical Director for Ecological Building Systems and was also the company's first employee. Niall holds a first class honours degree as a Bachelor of Technology and a Masters in Eng.Sc. Niall is a certified Passivhaus Consultant and has provided technical guidance on many award winning low energy projects in Ireland and the UK, and has authored or co-authored several chapters in both the Passivhaus Handbook and the Passivhaus Designers Manual. Niall is also on the board of directors of the Irish Green Building Council and provides guidance on several national standards committees. Along with this, Niall has contributed to several construction publications including The Journal of the RIAI.