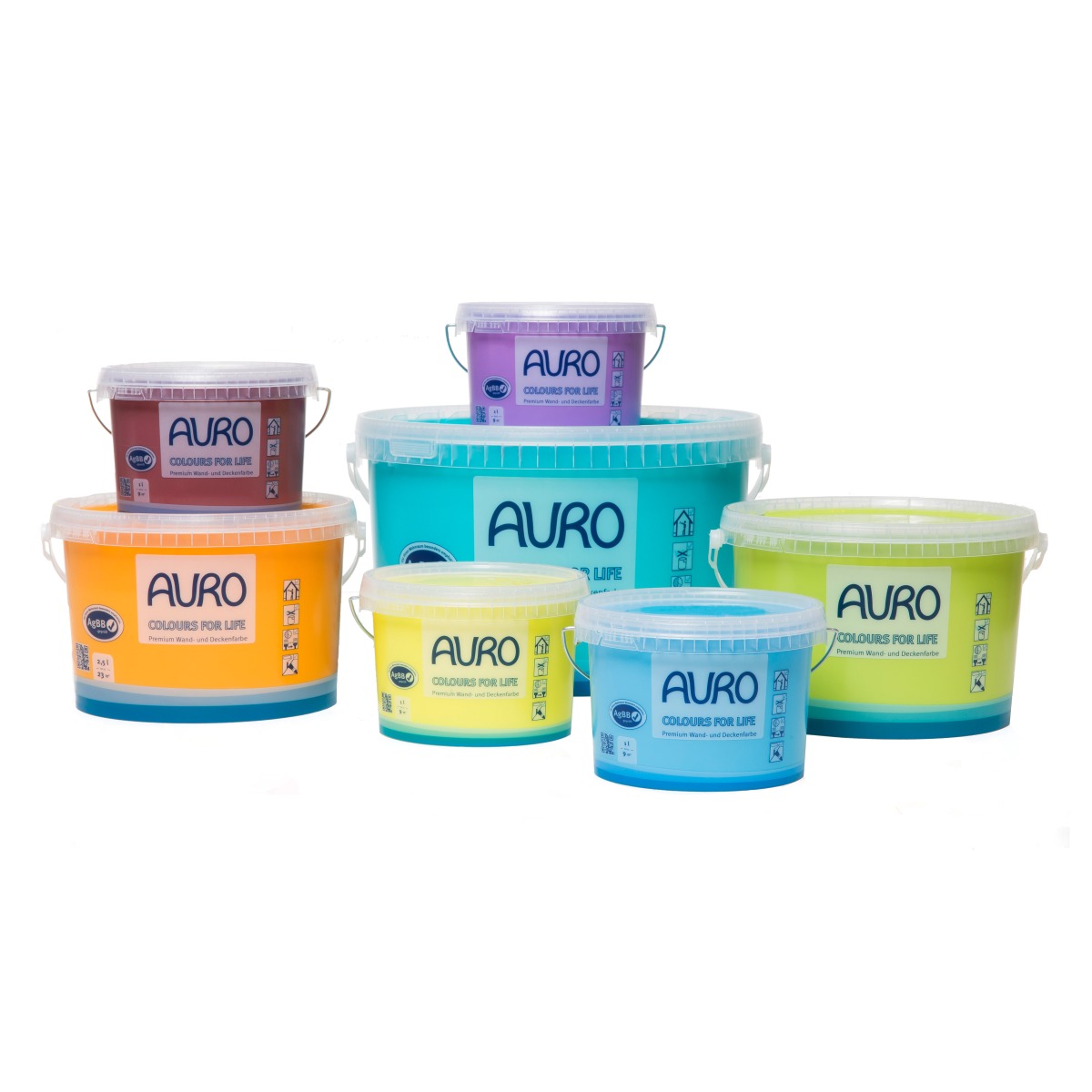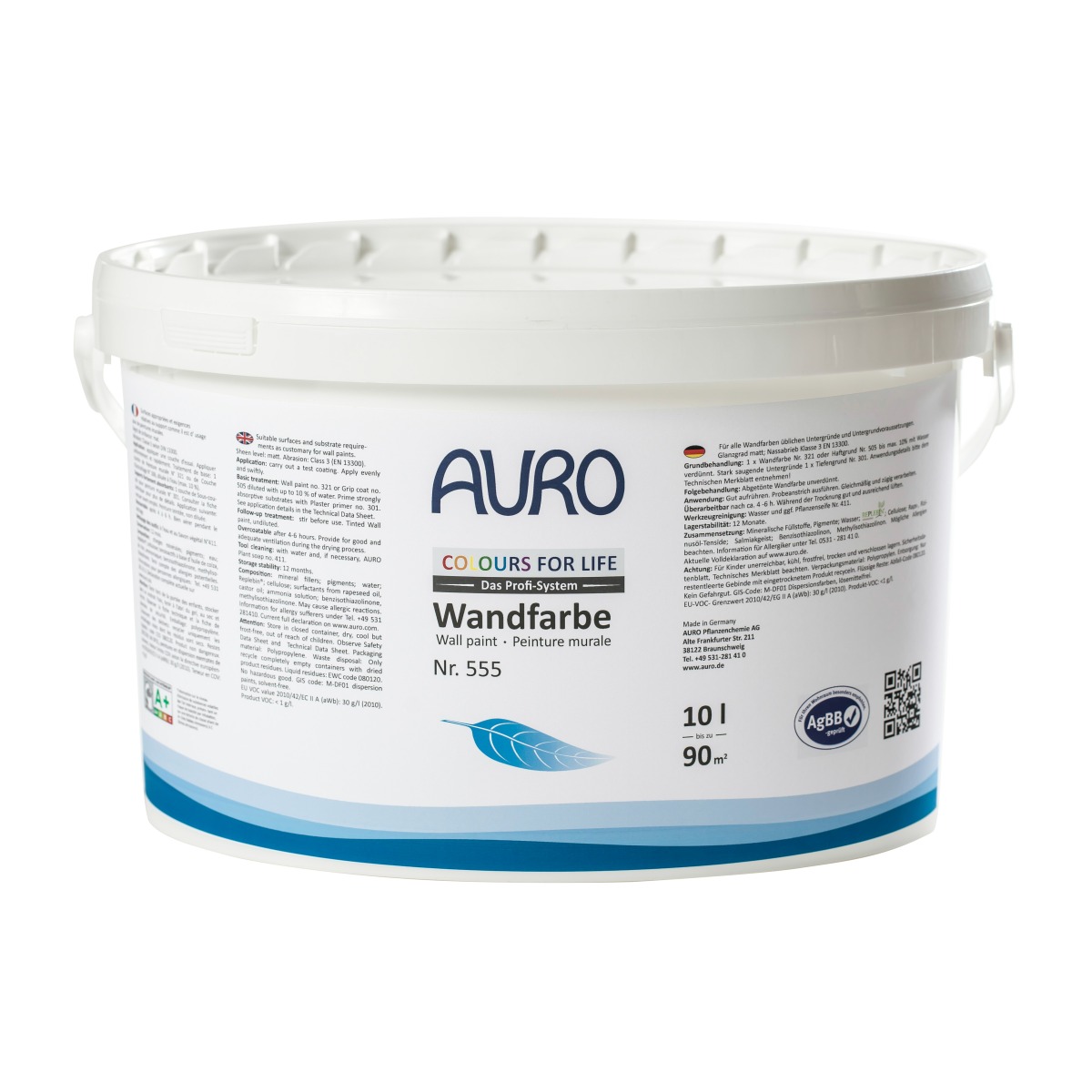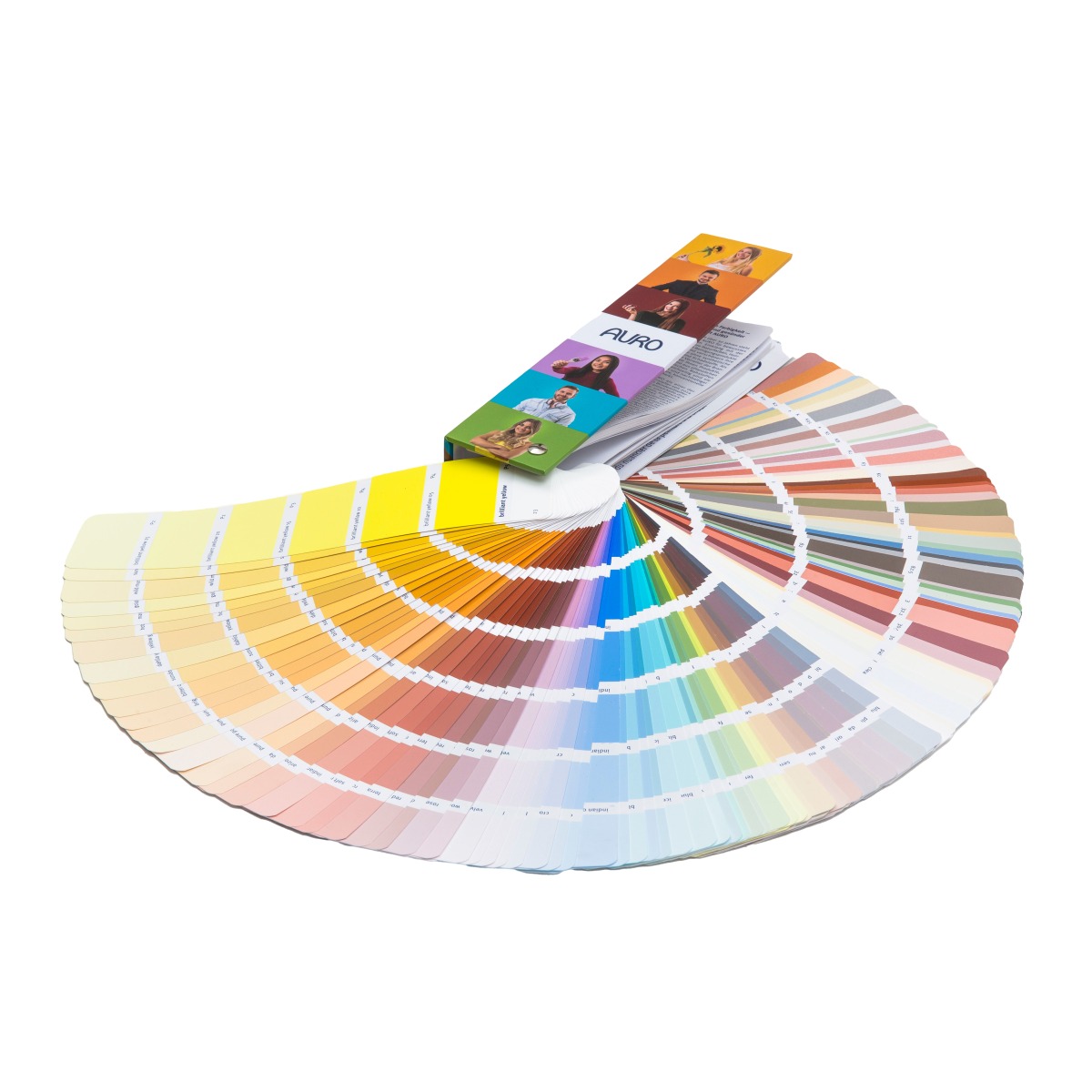 Auro Premium Wall & Ceiling Paint 555 - Colours
Auro Premium Wall & Ceiling Paint 555 - Colours
Breathable colour emulsion for interior use
Please note: screens cannot be relied upon to accurately replicate colours. All colours are mixed to order and are non returnable. Sample pots available.
Main purpose
A breathable Matt Finish for interior walls and ceilings available in a wide range of ecologically consistent colours
Use it on
Interior walls and ceilings including lime, clay or gypsum plaster (that has been primed with Auro 321/524/301), wallpaper, concrete or brick. Also suitable for use over previously painted surfaces that are compatible with all water-based paint.
Overview
This is Auro's ready mixed premium paint. Available in 100's of colours it is a breathable paint suitable for interior surfaces. It is made from natural ingredients from renewable and mineral sources. It is VOC free, water thinnable and wipeable. Unlike most conventional paints, this paint does not contain any harmful ingredients or plastics and it is vegan friendly.
Where to use it
Auro Premium Wall & Ceiling Paint 555 is suitable for all interior rooms, including kitchens, bathrooms and nurseries. From newly plastered walls to previously painted surfaces (please test a small area first to ensure compatibility). The paint can also be used on wallpaper, all types of plaster (gypsum, clay and lime), concrete surfaces and brick.
What it does
Auro Premium Wall & Ceiling Paint 555 is a fully breathable matt finish made from natural ingredients and unlike most conventional paints the Auro paint does not contain any harmful ingredients or plastics. The paint is a very hard wearing, wipeable paint which is excellent for the indoor air climate of a building and the health of the occupants.
The Auro Premium Wall & Ceiling Paint 555 is a breathable matt coloured finish for interior walls and ceilings.
It has a good abrasion resistance (class 2-3, DIN 53778) and opacity (class 2).
The light to medium colours are wipeable but due to the amount of pigment required to make dark or vibrant colours, these colour are not.
Why we love it
This product is a vegan friendly paint and impressively the paint is fully compostable.
How it works
Auro is the first paint manufacturer to develop a fully automated tinting system for wall paints using consistently ecological earth and mineral pigments finely ground into pastes. This is the largest range of ready mixed natural paints available in Ireland.
Hints and Tips
When painting over a previously painted surface a test area should be done by brushing a small amount of paint onto the area which is to be painted. What you are checking is that the paint bonds and dries to the surface without any reaction.
Features
Breathable Paint
Excellent Coverage
AgBB Certified as class A+
Transparency of Ingredients
Plastic Free Paint
Vegan Friendly Product
Easy to Apply
Paint is Compostable
Benefits
Allows the Surface to Breathe
Reduces the Risk of Mould
Coverage up to 9sq/m per Litre
Drip and Splash resistant
Good abrasion resistance
VOC Free
Full declaration of ingredients
Child and Pet Safe
Brush, roller or Spray application
Good coverage 9sq/m per Litre
Overcoatable after 4 – 6 hours
Questions
There are currently no questions and answers published for this product
Technical Details
Key Technical Data
Any surface compatible with water-based paint, Clay, Gypsum plaster, Interior walls and ceilings, Lime plaster, Paper, Plasterboard
Ammonia, Benzisothiazolinone, Cellulose, Methylisothiazolinone, Mineral fillers, Mineral pigments, Replebin®, Surfactants made of rapeseed oil, castor oil, Titanium dioxide, Water
Installation Guide
It can be applied just like any other conventional paint, by brush, roller or sprayer. It is re-coatable after 4 – 6 hours. High humidity and low temperatures could lengthen drying times.
Suitable for all interior rooms, including kitchens, bathrooms and nurseries, older properties with potential damp problems, newly plastered walls and painting over previously painted surfaces. (We strongly recommend a test area to ensure compatibility prior to carrying out the job). The paint can also be used on wallpaper, plaster, clay plaster, concrete, brick and lime plaster.
Newly plastered walls should be primed with Auro Plaster Primer 301 if they are very absorbent (for example Gypsum Plaster) or alternatively priming must be done with a coat of white Auro 321, 331, 524 so that the finishing colour is consistent. If a colour is applied directly onto new plaster without priming the finish can be inconsistent and patchy. If any filling needs to be done the Auro Wall Filler 329 can be used.
It is important if being used on new lime plaster that adequate drying time passes before painting. The pH level of new lime is high and this needs to neutralize before painting can take place. We generally recommend leaving it for at least 6 weeks before painting.
For previously painted surfaces a test patch is always recommended for compatibility. On difficult or unknown surfaces, it is a good idea to use the Auro Grip Coat 505 as a primer.
It does not contain any oils so will not yellow and emits very little odour during the drying process. It is VOC free. It is rated as A+ by the Agbb (Health – related evaluation of Emissions of Volatile Organic Compounds)
Tools can be cleaned with water, add Auro Plant Soap 411 if needed.
Hints and Tips
When painting onto new plaster a coat of Auro white paint or Auro plaster primer will allow for a more consistent colour finish.