Push for Passive – Yet Another Passive House Takes a Natural Approach
Monday 9th August 2021
This stunning Passive House in Co. Mayo is the perfect example of how a modern, low-energy build can be achieved using environmentally sensitive and sustainable building materials.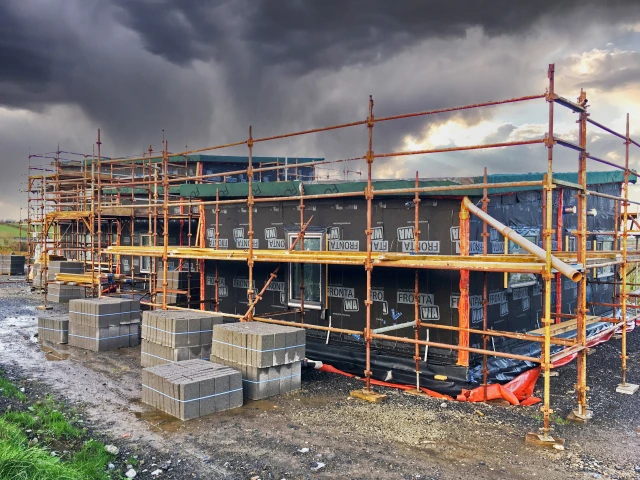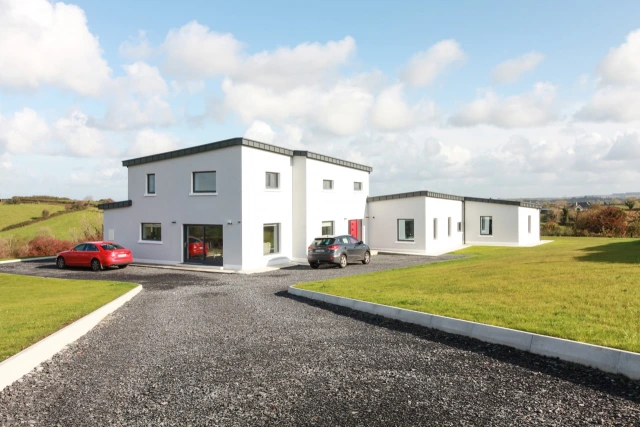 Having originally been planned as a standard block cavity construction, the decision was made to switch this build to prefabricated timber frame due to its lower environmental impact. Sustainably sourced PEFC and FSC certified timber was used along with ecologically sound natural insulation, which, together with an integrated airtightness and ventilation strategy ensured that the build would be as energy efficient as possible.
As required by building regulations, an airtightness test is needed on all new builds. In order to attain an airtightness rating, a door blower test must be undertaken which then determines and validates how 'leaky' a building is. In the case of Passive Houses, this rating must be 0.6ACH@50Pa or lower. In general, the lower the result, the better the build. An impressive airtightness result of an N50 of 0.43ACH was achieved on this Passive House which demonstrates both the quality of build, and the attention to detail given throughout every stage of the project.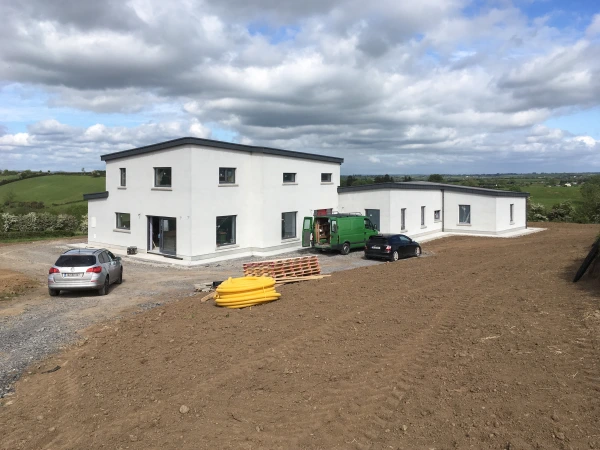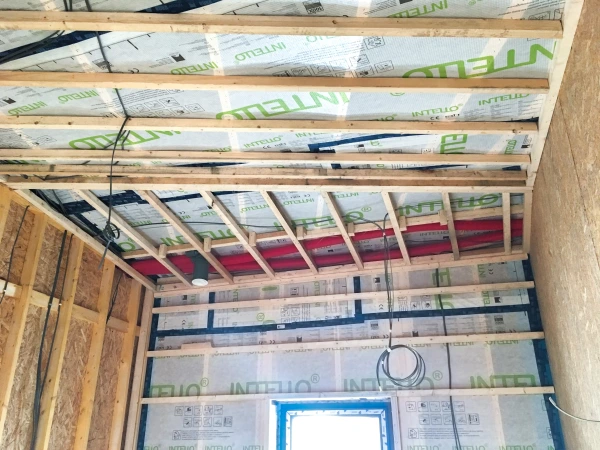 Attaining the same level of airtightness as achieved on this build is no mistake. It requires effective communication between the builder, client and designer from the offset, along with the use of appropriate fit for purpose materials. As airtightness is now of key importance in any new build, Pro Clima Intello Plus was chosen as the vapour control membrane. The Intello Plus was installed directly onto the insulated timber frame, protected internally by an insulated service space, and finished with skimmed and painted plasterboard.
Intello Plus has a life expectancy of 50 years and beyond, a level of performance which no other membrane manufacturer has attained to date by way of a European Technical Approval (ETA). This verifies the durability of humidity-variable functionality over the expected lifetime of the building which is vital in the regulation of moisture in the structure. The membrane was then sealed at junctions and overlaps using Tescon Vana airtight multi-purpose tape, with floor to wall junctions being primed beforehand using Tescon RP primer.
To prevent draughts around window and door frames, a specially designed airtight tape for corner junctions called Tescon Profil was used. As airtightness contributes directly to a building's energy performance over the course of its lifetime, the execution of the installation is vital when aiming to achieve a value of 0.43ACH such as this. In this instance, the expertise of Clíoma House Ltd. was called upon and the forethought and planning that went into detailing is quite apparent.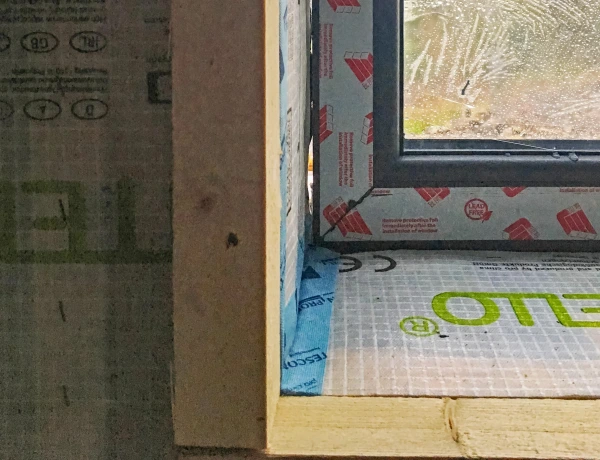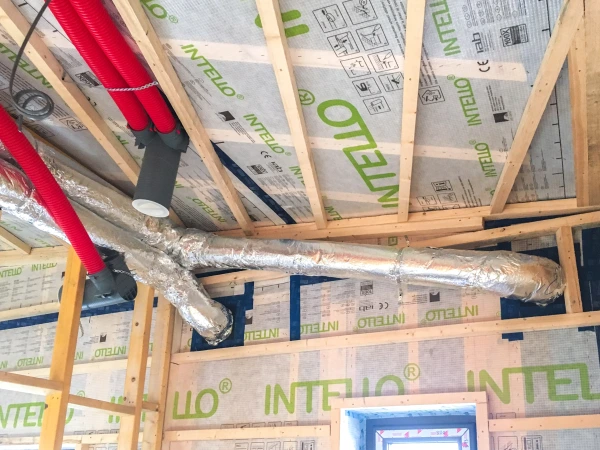 For healthy indoor air quality, ventilation is a key consideration in all buildings, especially in a building with extremely high levels of airtightness such as this. Following the "Build Tight, Ventilate Right" best practice principles, a Mechanical Ventilation & Heat Recovery (MVHR) system was installed to supply controlled fresh air to the building. This fresh air is pre-heated using energy extracted from the warm stale air inside the dwelling. As this building has no additional heat source such as a stove or fireplace, it was essential that the timber frame be able to retain heat. For the floors, a U-Value of 0.1[W/m2K] was achieved by fitting EPS floor insulation to a depth of 200mm, and openings such as windows were fitted with triple glazed windows.
As in all buildings, a large portion of heat loss occurs through the roof and the walls of the building. Dämmstatt insulation, made from recycled newspapers and ground into cellulose fibres, was used in these locations to ensure the continuity of insulation in voids and hard to reach areas and to avoid the risk of slumping. The choice of cellulose was in line with the core principles of this project – that of sustainability - as Dämmstatt has the highest percentage of recycled content compared with any other form of insulation. This was held within the timber frame behind the Intello Plus airtight membrane, which was fixed to the walls and ceiling and supported with 50mm service battens.
Before the plasterboard was applied, the space behind the service battens was insulated with Thermafleece Cosywool – a natural insulation made from sheep's wool, which negated the effects of thermal bridging on the 220mm structural timber. The wall achieved a U Value of 0.16[W/m2K] while the roof, which had a thicker joist depth of 300mm, came in with a U Value of 0.136[W/m2K].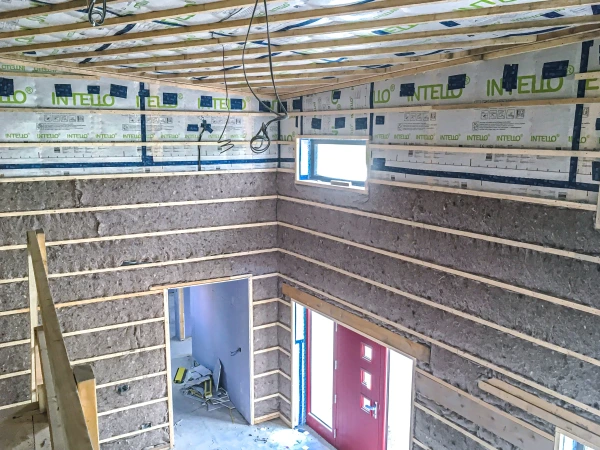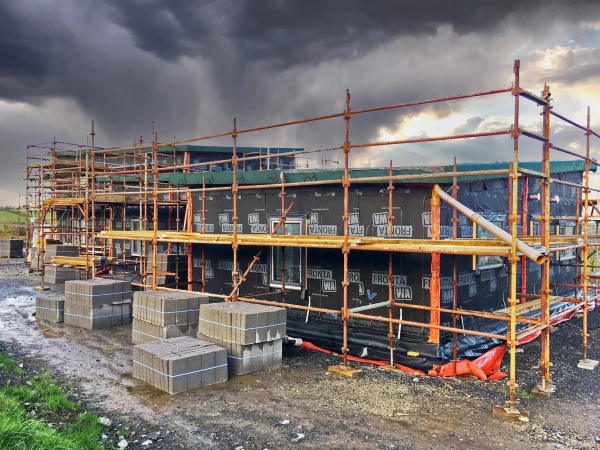 Externally, a black windtight breather membrane called Solitex Fronta WA was used over the racking boards while Solitex Plus was used on the roof as the breathable windtight membrane beneath the roof covering. These wind tight breather membranes are fitted on the cold side of a timber frame build up (wall and roof), and ensure that the structure remains protected while construction is ongoing. This in turn helps prevent any future issues from moisture trapped within the fabric.
Overall, this stunning home is a perfect example of combining best practice detailing and work practices using more sustainable materials to attain Passivhaus levels of performance.
Architect / Mark Stephens Architects
Main Contractor / Long Life Structures (LLS)
Insulation Sub-Contractor / Clíoma House Ltd
Year of Completion / 2019
Floor area / 276 sq./m
Building Energy Rating / A2
Airtightness / 0.43 Air Changes Hour
Blog author
Joe Fitzgerald
Technical Specification Manager
Joe is a trained Energy Manager and graduated from TUS with an Degree in Sustainable Construction and an Honours Degree in Energy Management. Following this he went on to complete a Postgraduate Diploma in Green Engineering and joined Ecological shortly after. In addition to his academic studies, Joe has also spent many years as a tradesman and has completed the Passive House Contractor exam. Most recently, Joe qualified as an Advanced Thermal Modeller and Hygrothermal Risk Assessor from Dublin Technological University.