Diasen Grip Primer
Main purpose
For priming non-absorbent surfaces prior to application of Diasen Decork external paint or Diasen plasters. Ensures excellent adhesion can be achieved.
Use it on
Internal or external non-absorbent surfaces such as smooth concrete, glazed/unglazed ceramic tiles, concrete tiles, metal, glass or plastic surfaces. Also suitable for use on any stable material that has been painted with non-absorbent glossy paint or varnish.
Overview
Grip Primer is a water-based primer mainly used over smooth and non-absorbent surfaces prior to the application of Diasen plasters and finishes such as Decork. It is a transparent liquid supplied in a bucket.
Where to use it
Grip Primer is a water-based primer for internal or external use over smooth and non-absorbent surfaces where Diasen products including Decork weatherproof paint will be applied. It can be used on smooth concrete, glazed/unglazed ceramic tiles, concrete tiles, metal, glass or plastic surfaces. It is also suitable for priming any stable material that has been painted with non-absorbent paint, glossy paint or varnish.
When applied over concrete, the surface should be free from dust and debris and not in a crumbling state. Any damaged or crumbly surface should be made good prior to application. The concrete must be dry and fully cured prior to application with Grip Primer.
On screeds or retaining walls that are in contact with the ground or subjected to rising damp; Watstop waterproof plaster should be used prior to application of Grip Primer. The Grip Primer should be fully dry and cured before applying Watstop.
When applied over a tiled surface, you need to make sure tiles are well bonded to the substrate, otherwise these should be removed and the gaps filled with lime or cement mortar (depending on the wall type). The surface should be stable and clean of debris, greases, waxes, oils, or water-repellent chemical products like silicone. It is recommended to sand the surface of the tiles with a suitable abrasive and clean the surface thoroughly prior to Grip Primer application. The joints between the tiles can be filled with Watstop waterproof plaster to reduce unevenness and even out the absorption between the tiles and the grout. Given the wide range of tiles available, it is always recommended to perform an adhesion test to confirm the suitability of the primer.
For application on metallic surfaces, any rust or oxidisation should be treated with a suitable remedy or treatment prior to Grip Primer being used. On surfaces that have been painted with metallic paint, it is recommended to perform an adhesion test.
What it does
Grip Primer improves the adhesion of Diasen Decork and proceeding coats of Diasen plasters when they are applied over smooth non-absorbent surfaces.
The product is available in two sizes: a 5kg bucket (covering approximately 25-30m²) and a 20kg bucket (covering approximately 100-120m²).
Why we love it
Grip Primer makes it possible to apply Diasen plaster and finishes over a wide variety of surfaces. When a whole wall is to be painted with Decork; Grip Primer will ensure you can paint the entire area even if non-absorbent materials (e.g. pipes or cables) are present in the area to be painted. It is water-based, breathable and dries out quickly (4 hours at 20°C degrees at 40% relative humidity) so will not delay the application of Decork or other Diasen plaster or finishes.
Features
Only needs one coat
Dries quickly
Breathable and vapour open
CE marked
Benefits
Grip Primer is ready to use straight out of the tub and dries fast
Easily applied by brush or with a long-pile paint roller
Has a high vapour permeability so maintains the breathability of the wall and all other breathable product systems being used
Questions
There are currently no questions and answers published for this product
Technical Details
Key Technical Data
How to Install
Apply Grip Primer when the temperature is between +5°C and +35°C.
The surface must be stable, dry and clean. It can be used straight from the bucket. In warm temperatures and direct sunlight you may need to dilute by adding up to 5% water.
Apply Grip Primer in one coat by brush or long-pile paint roller, making sure the surface is fully covered with no gaps. At 20°C and a relative humidity of 40% the product dries in approximately 4 hours. Applying excessive amounts of Grip Primer (i.e. overloading the brush or roller) will increase the drying time. If the environmental conditions are very humid or colder than 20°C the drying time will also increase. When applied over metal or plastic surfaces the product dries out more slowly due to the impervious properties of the material.
Do not wet the surface before applying Grip Primer.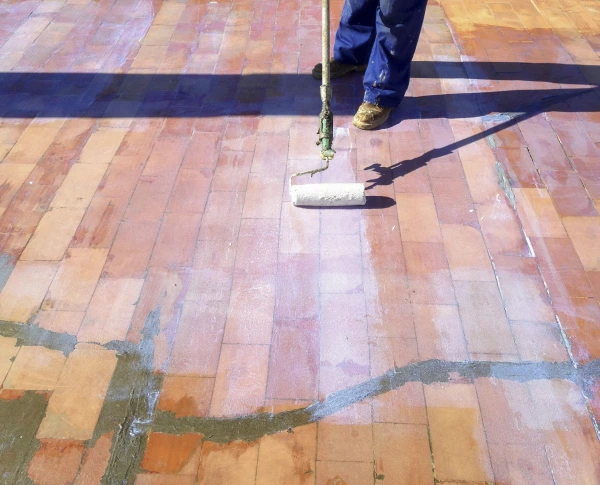 Hints & Tips
If a primed surface gets any water or rain on it before the Grip Primer has fully dried, make sure none of the Grip Primer has been washed away. If there are any gaps or you are not sure of complete application, apply one more coat of Grip primer.